Top 10 Adult Sex Toys To Take On Vacation
This post was last updated on August 2, 2020 at 11:36 a.m.
There's a lot of things to remember when traveling with adult sex toys. You worked hard for this well-deserved holiday. So, make it even better and more fun with adult sex toys.
Here's our list of the Top 10 Best Adult Sex Toys to Take on Vacation:
SEX TOYS FOR COUPLES
1. We-Vibe Sync Couples Vibrator
PRICE TAG:
$199
(Free & discreet shipping)
We-Vibe Sync Couples Vibrator is a dual stimulation vibrator (stimulating the clitoris and the G-spot). It can be used for solo or couples play. When worn inside the vagina during sex, this remote controlled vibrator allows both partners to experience pleasure at the same time. The We-Vibe Sync offer a customized fit and is controlled with either a standard remote control or your smartphone!
(If you want a more basic version of the We-Vibe Sync, then try the We-Vibe Unite or the We-Vibe Match. The We-Vibe Unite comes with a wireless remote control with a one-button interface, while the We-Vibe Match has a better remote control and is 100% waterproof.)

2. Eva 2 by Dame Products
PRICE TAG:
$135
(Free & discreet shipping)
If you want a hands-free couples vibrator but don't want a vibrator that gets in the way during sex, then you should try the Eva 2 by Dame. Thanks to its wings, it fits securely into the labia majora. It vibrates directly on the clitoris so that both partners feel pleasure. The Eva 2 is:
Smaller and

Light

Short wings and a compact profile for better fit

Simple to use with button at the top

100% waterproof

Includes charging base/travel case
3. We-Vibe Pivot Vibrating Penis Ring
PRICE TAG:
$109
(Free & discreet shipping)
The Pivot is a luxury sex toy that enhances pleasure for both partners with stronger and longer lasting erections and more powerful orgasms for both partners.
Worn during sex, this high-quality and comfortable vibrating ring provides clitoral stimulation and enhances pleasure for both partners during sex. The Pivot stays put and can be used during many sexual positions.
Connect the Pivot Vibrating Ring to your smartphone with the free We-Connect app for more features including creating your own vibration patterns. Also, you can use your smartphone as a remote control and connect with your partner regardless of distance and control each others We-Vibe in real-time.
4. Sportsheets Under the Bed Restraint System
PRICE TAG:
$69.99
(Discreet shipping)
Then no better time than when you are on a holiday to try new things and experiment with new sexual play. Easy to travel with, the Under the Bed Restraint System by Sportsheets turns any bed into a fun restraint pleasure zone.
Perfect for beginners or advanced user, these restraint straps fit under any mattress or bed frame without hooks. Restrain your partner's arms or legs from the sides or the top and bottom of the bed.
SEX TOYS FOR HER
5. Fun Factory Laya 2 Vibrator
PRICE TAG:
$99.99
(Free & discreet shipping)
LAYA 2 is a versatile luxury vibrator and sex toy.
It can be used during:
Masturbation - LAYA 2 is easy to use on your entire vulva and on your clitoris and labia during masturbation. If you want pinpoint vibration, its tip lets you put all the vibration on your clitoris.
Partner Sex - LAYA 2's discreet shape fits into your hand and allows you to place it between you and your partner during sex for more stimulation and pleasure.
Oral Sex - You can even use LAYA 2 on the underside of the penis during oral sex and foreplay.
6. Femme Fun Ultra Bullet
PRICE TAG:
$59.95
(Discreet shipping)
The Femme Fun Ultra Bullet Vibrator is one of the most powerful mini bullet vibrators on the market!
The Ultra Bullet is easy and convenient to use during masturbation or partner sex. This 100% silicone, inside and out luxury vibrator has one button to push with 20 vibration modes. The Femme Fun is small, lightweight, and 100% waterproof.
7. Womanizer Liberty Stimulator
PRICE TAG:
$99
(Free & discreet shipping)
The Womanizer Liberty features the Pleasure Air Technology that often creates fast and often multiple orgasms — without over-stimulation. This luxury sex toy also has a hygienic cover for easy travel.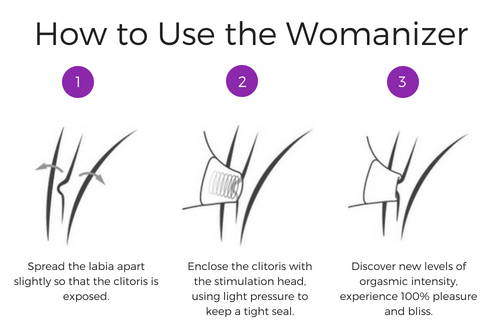 8. We-Vibe Jive G-Spot Vibrator
PRICE TAG:
$129
(Free & discreet shipping)
The We-Vibe Jive is a remote controlled vibrating egg and mini G-spot hands-free sex toy.
This premium wearable G-spot vibrator with Bluetooth works with the free We-Connect app for hands-free pleasure for solo or couples play.
Jive is comfortable and lightweight. It can be worn during any activity, whether you are sitting at the beach/pool or enjoying drinks at the bar. Jive has a tapered waist so that it stays in place even as you move. The retrieval stem/antenna is thin and flexible so that it contours to your body so no one will know you using a vibrator.
9. ON Clitoral Arousal Oil
PRICE TAG:
$29.95
(Discreet shipping)
ON Clitoral Arousal Oil allows her to get aroused quicker and also has the benefits of producing a stronger more intense orgasm! This all-natural arousal oil starts at room temperature and then slowly starts to tingle, bringing the blood flow down to the clitoris to kick start her natural lubrication and arousal.
A MUST for every vacation!
*NOT recommended for people with almond allergies.
SEX TOYS FOR HIM
10. Tantus Super Soft Penis Ring
PRICE TAG:
$10.99
(Discreet shipping)
This 1.5" Super Soft Silicone Penis Ring from Tantus is large enough for comfort and safety. It is an excellent penis ring for beginners because it is super soft and very stretchy.
Made with 100% ultra-premium silicone, the silicone is stretchy enough so that you can put it on anytime.
A penis ring holds the testicles down and keeps the testes from contracting thus slowing down ejaculation. Wearing a penis ring can create longer (from 6 seconds to 45 seconds), harder erections, and intensify the sensation of your orgasm.
BONUS: SEX ACCESSORIES
11. Personal Lubricant
Why use lube?
Lubrication during sexual play is important. That is because lube makes sex better and makes sex more comfortable. The act of sexual intercourse often creates friction. If there is not enough lubrication, small tears could occur in the vagina, which could increase the risk of urinary tract infections, STIs, and other types of infections.
Just as important, lube makes sex much more pleasurable. Every sensation is enhanced which will allow you to feel every movement at a heightened level.
For anal play, lubrication is a must. Unlike the vagina, the anus does not produce natural lubrication. Therefore, lube is necessary. Plus, lube makes anal play more comfortable.
Sliquid Organics Natural Lubricant
PRICE TAG:
Starts at $14.99
(Discreet shipping)
Created using only the most natural ingredients, Sliquid Organics Natural Lubricant is designed to keep your most intimate areas moisturized, while healing your skin.
This premium personal lubricant is water-based and water-soluble, making it extremely easy to clean up. It will not become sticky or tacky, because this water lubricant is designed to emulate your body's own natural lubrication. It can also be used with all types of sex toys.
12. Sex Toy Cleaner
Why clean your sex toys?
It's so important to keep your sex toys clean to not only stop the spread of bacteria but to also prolong the life of the sex toy.
Clean your luxury sex toys before and after each use to ensure that they are free from bacteria build-up.
(You could use soap and water, but soap can leave an unseen residue on the sex toy.)
If your toy has batteries, it is best to always take the batteries out before cleaning. (If your sex toy uses batteries, be careful around the area where the batteries are stored.)
AfterGlow Cleansing Tissues
PRICE TAG:
$10
(Discreet shipping)
AfterGlow Cleansing Tissues are pre-moistened tissues and wipes to clean yourself and/or your sex toys before & after sex.
Excellent For Toys:
For use on any toy material or surface
Disinfects and sanitizes toys
Lint & residue free
Removes lube from toys
Easy & convenient to use
Excellent For Skin:
pH balanced for intimate skin
Soothing & cooling on skin
Great for removing lube or fluids
Naturally & lightly scented
Easy & convenient to use
Can be used by women or men
Final Thoughts
It's always fun to try new things . . . especially when you are relaxed and not stressed while on vacation. This is your opportunity to experiment and have fun. The best part is if you make a lot of noise, you will never see any of your fellow vacationers ever again!
If you have additional questions, please contact a Sex Educator at info@mysecretluxury.com.
Safe travels!