The world has changed.
Once upon a time, sex toys were practically a forbidden subject. You talked about them in hushed whispers, and you could only buy them at seedy, hole-in-the-wall stores or niche party plan catalogs. Human sexuality, however, has always found a way to innovate.
In today's world, we have created masturbatory aids and couples toys so subtle that you could openly carry them and no one would have a clue what it was. Due to the advent of the internet, the ability to buy sex toys online has never been easier. And with new technologically, advanced sex toys are hitting the market every day, making it harder and harder to keep up.
HERE ARE THE MOST PREMIUM AND HIGH-TECH SEX TOYS YOU NEED TO BUY IN 2023
Jett is a powerful luxury male vibrator and hands-free high-tech sex toy for men that is worn against the frenulum, just below the tip of the penis.
Hands-Free Orgasm
The Jett delivers an intense and completely hands-free orgasm. Worn against the frenulum, below the tip of the penis, Jett's flexible and stretchy sleeve expands, enabling you to easily go from flaccid to erect – completely hands-free.
Find your frequency
Incredibly versatile, Jett is the first luxury masturbator that allows you infinite choice over the strength and frequency of vibration. Adjust the Treble and Bass to find your perfect frequency.
Powered by two custom 'bullet' vibrators, each contains a different sized motor. These different motors deliver contrasting vibration frequencies. The Treble Bullet emits intense high-frequency waves, while the Bass Bullet delivers deep, rumbly low-frequency stimulation. You can use each bullet separately or together to find the right strength and frequency of vibration and stimulation for an intense hands-free orgasm.
Jett's innovative, soft silicone sleeve fits your penis no matter your size. It expands as you do, taking you effortlessly from flaccid to erect and enabling you to reach orgasm hands-free.
---
When it comes to men's sex toys, the Pulse Solo and Duo Masturbator is one of the most technically advanced out there. This high tech masturbator uses oscillation technology that stimulates the most sensitive area of the penis: the frenulum.
Essentially, a man inserts his penis, erect or flaccid, into the toy so that his frenulum is pressed firmly against the PlushPlate located at the base of the device. As the toy is activated, the man will feel a unique sensation as the frenulum is stimulated. As he grows, the wings located on the sides will expand until it fits nice and snug around him.
A man does not need to have an erection to use the Pulse and you do not need to use lubricant, either. This is an excellent toy for men who experience occasional erectile dysfunction (ED) and is one of the most high-tech male sex toys available.
Available in:
Pulse SOLO Essential

Pulse SOLO LUX

Pulse DUO

Pulse DUO LUX
---
LELO F1s V2 is a luxury male vibrator and high tech sex toy like no other. With 2 motors uses both vibration and sonic waves for the deepest orgasm you will ever have.
Easy to use, easy to hold, LELO F1s V2 never looses power and can be used hands-free. Use the free app as a remote control and to monitor your progress if you are interested in that kind of data.
Access LELO's SDK (Software Developer Kit) to code your own fun stuff, such customizing your vibration patterns and speeds, as well as linking it to games.
---
SONA 2 is a powerful clitoral stimulator and high tech sex toy that delivers sonic waves that stimulate the entire clitoris (not just the tip, like traditional vibrators).
This luxury stimulator does not rely on vibrations like a conventional vibrator, which only focuses vibrations on external nerve endings. Instead, its mouth rests gently around the clitoris and emits sonic pulses for contact-free stimulation. Therefore, your clitoris will not become sensitive and you can orgasm over and over again. These sonic waves and pulses stimulate the entire clitoris – not just the external part you can see and touch.
The clitoris is stimulated with a sonic hum for a different kind of orgasm produced by the gentle deep-tissue massage of sonic waves. It's a prolonged climax after a sensual build-up. It's a different, fluttering sensation that resonates through the entire body of the clitoris, building to an orgasm. This orgasm will be unlike anything you have ever experienced.
---
Tenuto's unique design stretches and adapts around the penis & perineum for increased blood flow, extended erection and prolonged pleasure.
Soft, stretchy and comfortable, the Tenuto high tech sex toy for men is designed to be worn comfortably during sex. Tenuto's front three motors are not only designed to stimulate the penis but also deliver powerful vibrations to the partner's labia and clitoris.
Multiple Powerful Motors 
6 strong, anatomically positioned motors. Tenuto's vibrations travel through the penis to give you and your partner powerful orgasms.
Remote Controlled
Tenuto can be used alone or with a partner. Take charge or let your partner control your pleasure through the MysteryVibe App. Explore pre set vibrations or create your own with just a few taps!
---
The MysteryVibe Crescendo is most certainly a mystery due to the sheer genius of its engineering. This versatile high tech vibrator and sex toy can be folded, molded, and shaped into any form that you wish, translating into an entirely customizable experience. The Crescendo can be used by both men, women, and during couples play. Due to its unique bendable design, the Crescendo holds an unlimited number of possibilities. As long as you can bend it into your desired shape, it can be utilized in any way possible. Luxury sex toys don't get any better than this!
The Crescendo can be molded to stimulate more than one pleasure zone at a time. For example, if you wish to pleasure both the anal and vaginal areas simultaneously, the Crescendo can be molded to perform the job perfectly. If you wish to add a partner to the mix, you can mold your toy so that you can perform a double insertion. The possibilities are endless!
The MysteryVibe Crescendo even comes with a free app. Once the app is downloaded, it can be used as a remote control with a 100 feet/30 meters Bluetooth range. The app has many uses, but one of the most useful functions is its ability to control the vibration patterns of the Crescendo. With an unlimited number of possibilities, the MysteryVibe is one of the most versatile luxury vibrators out on the market.
Its primary features include 6 motors for intense pleasure, 16 silent power settings, 12 vibration patterns, 2 hours of battery life, premium silicone, 100% waterproof, and a 1-year manufacturer warranty.
---
ArcWave Ion is a Pleasure Air stroker and high tech masturbator, where pulsating airwaves stimulate your sensitive Pacinian pleasure receptors in the frenulum at the tip of the penis, creating an intense orgasm. It is an innovative new type of stimulation that is based entirely on changes in air pressure to target highly sensitive nerve endings, leading to a powerful new type of orgasm.
Orgasms can be more intense and more varied. You might feel a more varied build up, waves of sensation, and a powerful release. Pleasure Air uses pulsating airwaves to suck and massage your penis to a brand-new type of orgasm, one that is not achievable by stroking alone.
---
We-Vibe Chorus, the best selling We-Vibe Sync, is an adjustable couples vibrator and high tech sex toy designed to be enjoyed with a partner during sex. Chorus is worn by her during sex for extra stimulation to the clitoris and/or the G-spot. The penis also feels the vibration of the toy and presses the toy again the G-spot for extra pleasure.
Chorus brings innovation to the bedroom with an intuitive Squeeze Remote, responsive Touch-sense technology, and a new connectivity standard that ensures couples stay connected.
Chorus' Squeeze Remote translates a simple, natural gesture – a squeeze – into more pleasure. The new Touch-sense feature uses advanced sensors to respond to body movements in the moment. And, our new AnkorLink technology ensures couples never lose connection.
---
Sway by Lora DiCarlo is a doubled sided warming high tech vibrator with 2 independent motors for G-spot or P-spot stimulation.
Anatomically contoured, Sway features two different sized ends. Smooth curves and a raised stimulation point on one end is ideal for G-spot exploration, while the larger end provides P-spot and perineal pleasure.
Sway is easy to hold and is also an excellent luxury sex toy for clitoral stimulation. Due to Sway's length, it's super easy to go from external to internal stimulation.
Every side is Sway's good side. Its dual ended motors on each side vibrate and stimulate with powerful intense rumbly vibrations, creating simultaneous sensations.
Its ergonomic design with dual motors provides powerful, rumbly, intense vibrations on the G-spot, clitoris, P-spot or perineum.
---
The We-Vibe Bond is a vibrating ring with a quick-release design and custom fit that enhances pleasure for both partners with stronger and longer lasting erections and more powerful orgasms for both partners.
Worn during sex, this high tech and comfortable vibrating ring provides clitoral stimulation and enhances pleasure for both partners during sex.
With the Custom Fit link you can easily choose between two sizes. Wear Bond beneath your clothes to make every moment extraordinary, and use it to build up to a more exhilarating experience.
Featuring an easy-on quick-release system for comfort and safety, it's the only cock ring that can be put on and worn as easily as your watch. ​
---
Designed in collaboration with leading prostate experts for comfort, safety, and pleasure, Vector by We-Vibe is a custom-fit vibrating prostate massager and high tech sex toy for men that stimulates both the prostate and the perineum.
Customized Pleasure
Vector's adjustable head applies firm yet gentle pressure on the prostate, and Vector's base is flexible yet stable while stimulating the perineum. This luxury sex toy has two motors that work together to stimulate both the prostate and the perineum with rumbling vibrations and gentle pressure.
Remote and App-controlled
You can control both motors independently and change the speed and vibration modes with the easy-to-use wireless remote control or the free We-Connect app. Use We-Connect to play and share control of Vector from anywhere, create custom vibes and play together with other We-Vibe products. Vector's enhanced security feature pairs and trusts only two controllers (phones and/or remotes) at one time. You can also control the Vector by simply using the on/off button.
---
The Fun Factory Sundaze is a hands-free tapping, thrusting, and pulsating high tech luxury vibrator for instant arousal and internal or external stimulation.
Sundaze is not just a vibrator. Using patented new technology, Sundaze moves from zingy to rumbling vibration, but also to light tapping that stimulates like nothing else. The pulsing and stroking motions and hands-free thrusting offer internal or external stimulation.
This thrusting vibrator is excellent if you are sensitive or if you require a lot of power.
This pulsating vibrator gives you so many ways to play with so many different kinds of sensations. After using this luxury sex toy, sex with a partner actually feels more intense, not less.
Most vibrators only stimulate one kind of nerve ending. Sundaze stimulates three kinds. Different nerve endings process different kinds of sensation. Plus, alternating between different types of sensation keeps you from becoming habituated or addicted to just one.
---
The b-Vibe Rimming Plug 2 is a premium vibrating butt plug and high tech sex toy that incorporates rotating beads for an intense rimming sensation and tip vibration for orgasmic stimulation. The rotating beads also help relax the sphincter muscles.
Using vibrations to stimulate the prostate (if you have a penis) or the A-Spot (if you have a vagina) can trigger full body orgasms. With with strong vibrations from the powerful motor located in the tip, get ready for amazing orgasmic stimulation! The b-Vibe Rimming Plug 2 caters to fans of oral stimulation of the anus, aka analingus.
Use with or without the wireless remote control that not only makes use a breeze, it also allows for diverse couple play possibilities.
Also available in Petite and XL.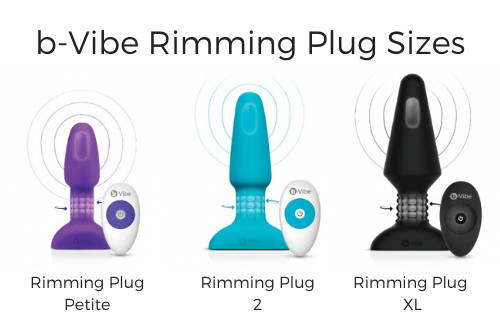 ---
Elvie focuses on one of the most neglected areas of the female body: the pelvic floor. The pelvic floor (the muscles located between the tailbone and pelvic bone) can provide an intense orgasm if stimulated properly. Simply put, Elvie helps you exercise your pelvic floor for stronger and better orgasms.
Elvie is a durable technological wonder. This luxury high tech sex toy and sexual health tool is a smooth silicone pod with a streamlined arm. When you place it in the desired position, sensors enable you to move a jewel icon on your phone, allowing you to control the intensity of your desired vibrations.
Unlike the endless stream of low-quality sex toys and kegel balls out on the market, Elvie will give you real-time biofeedback. You can use this information to better perfect your technique when pleasuring yourself or simply share it with your friends. It even gives you a score of how much force is exerted during play.
Elvie is the epitome of high-tech in the sex toy realm.
---
Lovense Lush 3 is a powerful hands-free, wearable, and insertable luxury high tech vibrator that is controlled remotely with Bluetooth connectivity that can be used in your bedroom, discreet public play, or as a long-distance sex toy.
The fixed tail ensures Lovense Lush 3 "hugs" your body and stays in place putting more pressure on your G-Spot, which results in even more intense, deeper, and rumbly vibrations!
Four times more powerful than most hands-free vibrators, love eggs, vibrating panties, or remote control vibrators, the large motor does not reduce battery life.
---
Moxie by We-Vibe is a wearable, Bluetooth controlled high tech panty vibrator that lets you take the fun, rumbly vibrations with you wherever you go. Plus, no one will know because it's so discreet!
Moxie is designed to be worn under your clothes so that you can take powerful, quiet vibrations anywhere when you want a little more excitement and pleasure. This luxury vibrator and sex toy is held in place by a slip-proof magnet. It rests against the clitoris and vulva while you are lying, sitting, standing, or walking. Moxie's perfectly designed contoured shape combined with a slip-proof magnet keeps Moxie in place.
Use the wireless remote control to change vibration modes and speeds. Or, the free We-Connect app lets you or a partner control the vibrations from anywhere in the world, create custom vibes and play together with other We-Vibe products.
---
Myhixel TR pairs a masturbator with a simple, gamified program designed to help you overcome premature ejaculation, control ejaculation, and last longer during sex.
Myhixel TR is for men who want to improve their ability to control their ejaculation because they can't always do it. This difficulty to control their ejaculation usually occurs due to stress or anxiety.
HOW IT WORKS- MYHIXEL PLAY TR PROGRAM
When using the app together with the masturbator, Myhixel offers a climax control solution designed by doctors, therapists, scientists and sexologists. It's a program which will help you learn, in a completely natural way, how to control when you ejaculate.
In an easy, comfortable, and fun environment, from the privacy of a phone or tablet, you'll have fun improving your performance whenever and wherever you want. With the Myhixel, you progress through 8 planets. On the first planet, Kronos, you watch an animated video about the key role pelvic floor muscles play in ejaculation and then are asked to masturbate using the masturbator while identifying the muscles you tense in the process.
Exercises become more challenging as you, known as astronauts in the game, progress. As you level up in the game, you learn to last longer by cultivating muscle awareness and control. The ultimate goal: habituating the penis to maintain control during real penetration. After each exercise, you record your duration stats. When using Myhixel, you will learn to control the physical and mental aspects that are involved in climax.
Last between three and seven times longer before ejaculating after completing the program.
We recommend doing the program 2 – 3 times per week. Treatment should last from 7 to 12 weeks.