b-Vibe Vibrating Snug and Tug Ring and Weighted Butt Plug
Description
b-Vibe Vibrating Snug & Tug Ring and Weighted Butt Plug

The enhanced version of the Snug & Tug combines vibration with the erection-boosting power of a silicone cock ring with perineum massage, anal stimulation, and light prostate play.
MULTI-SENSATION
One part penis ring and one part weighted butt plug, the Vibrating Snug & Tug is a hybrid sex toy perfect for solo or partnered sex.
Penis Ring — The penis ring make erections stronger and last longer.
Weighted Butt Plug — Snug & Tug is based on the popular B-Vibe Snug Plug Collection, a weighted butt plug that offers a sense of fullness.
Vibrations — b-Vibe has added even more sensation to the mix with the addition of vibration. With 4 vibration intensities and 6 patterns, deliver intense pulses of pleasure to the prostate and anal canal.
COMFORT
Made from 100% body-safe silicone, the stretchy silicone penis ring is sized to fit most users for a harder, fuller erection. Combined with a weighted plug for a feeling of fullness, excellent anal and prostate stimulation, the ring and plug are connected by a narrow base. The smooth silicone ridge that connects the plug and the ring constantly massages the perineum – a highly sensitive area full of nerve endings and erectile tissue.
The design of this unique luxury sex toy has a flexible narrow base that makes the Snug & Tug easy to insert and comfortable for extended wear, as the soft silicone fits between the cheeks. As you move, your motion will tug gently on the toy, sending waves of pleasure from the base of your penis to your prostate.
The combination of a delayed orgasm from the penis ring with intensified stimulation from the internal prostate stimulation is perfect for partner sex, solo sex, or to enjoy discreetly for extended wear.
We recommend using anal lubricant and cleaning the Snug and Tug with sex toy cleaner or the b-Vibe UV Sterilizer Pouch.
RECHARGEABLE
b-Vibe's Vibrating Snug & Tug in M and XL sizes are USB rechargeable with an anti-bacterial travel bag for convenient storage.
IDEAL FOR COUPLES PLAY
Experience prostate stimulation while penetrating your partner with the hardest erection you've ever experienced.
SIZES
Medium
Measures: 4.4″ x 1.3″
Insertable Length: 3.8″
Neck Diameter: 0.47″
Ring Diameter: 1.57″
XL
Measures: 5.5″ x 1.7″
Insertable Length: 4.9″
Neck Diameter: 0.47″
Ring Diameter: 1.57″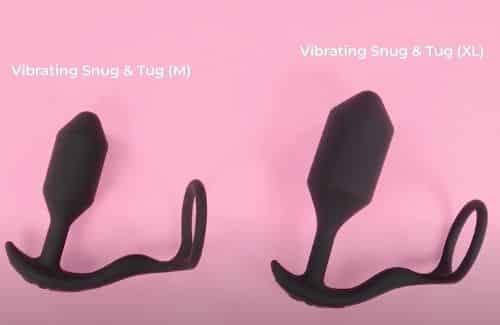 b-Vibe Snug and Plug Features:
Stretchy silicone cock ring combined with a weighted butt plug
6 vibration patterns and 4 intensities.
Raised area massages the perineum
Tapered tip for easy insertion
Base fits perfectly between your cheeks for comfort and extended wear
For beginners to advanced users
Amazing solo or with a partner
Rechargeable
Splash-proof