Eternal Swan Strapless Strap On Vibrating Dildo
Description
Eternal Swan Strapless Strap On Vibrating Dildo
The Eternal Swan is a strapless strapon double dildo that also vibrates. You no longer need to worry about harnesses and their annoying straps & buckles because it has been specifically designed for penetration without a harness. A firm bulb/egg shape on one end allows her to grip the toy firmly using her inner pelvic muscles and possibly stimulating her G-spot. The other end, the curved shaft with sculpted tip, is inserted into her partner for amazing pleasure.
This double dildo offers powerful deep & quiet vibrations with 2 separately controlled Powerbullet motors at each end giving pleasure to both partners. The "Press and Hold" technology gives you complete control over power and speed and is easy to operate. The longer you press & hold the button, the more the stronger the vibrations.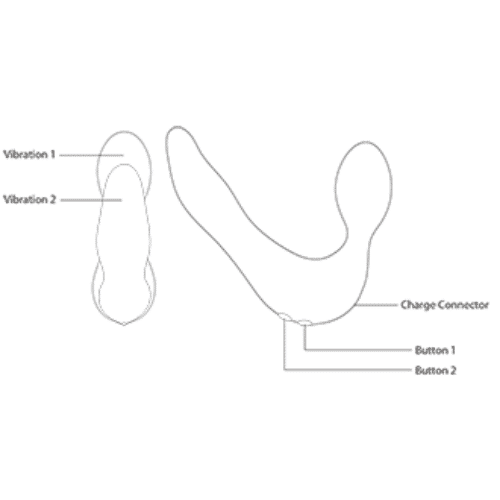 How to use the Eternal Swan: Unlock the Swan by pressing both buttons for at least 4 seconds. Both buttons will flicker for a moment and then disappear. To lock, press both buttons for another 4 seconds. Once again, the lights will flicker for a moment, and then disappear. To use the "Press and Hold" function, press and hold the button for 1-2 seconds and then let go at your desired speed. To increase the vibration, press and hold again and let it go at your desired speed. To turn off, press the button again quickly.
Made of 100% medical grade seamless silicone, this strapless strap on is super soft. It is 100% waterproof and can be easily cleaned with mild soap and water. Water-based lubricant is recommended.
Eternal Swan runs on a rechargeable lithium ion battery which provides up to 7 hours of use after a 3 hour charge.
Perfect for lesbian sex or pegging (or even male/female solo play!), create an intimate, shared experience with the Eternal Swan Strapless Strap On Vibrating Dildo.
Features:
Strapless strapon dildo
A curved shaft penetrate the non-wearer & a firm egg-shaped end stimulates the wearer
2 separately controlled powerful & quiet motors
100% medical-grade silicone
100% waterproof
Lockable
Rechargeable
Measures | 6.23″ x 4.5″ x 1.5″
Insertable Length | 2.5″l x 1.25″d (thumb) | 5″l x 1.25″d (Two Fingers)
Weighs | 6.5 oz.