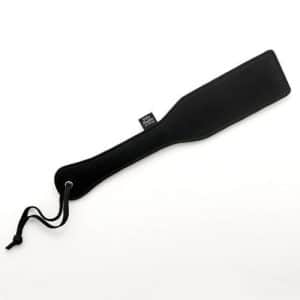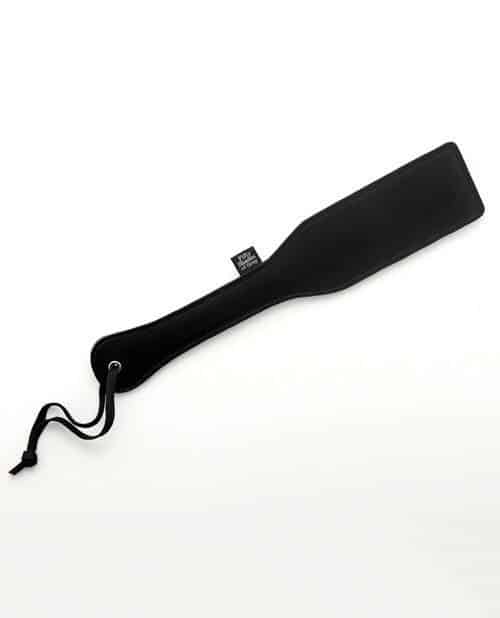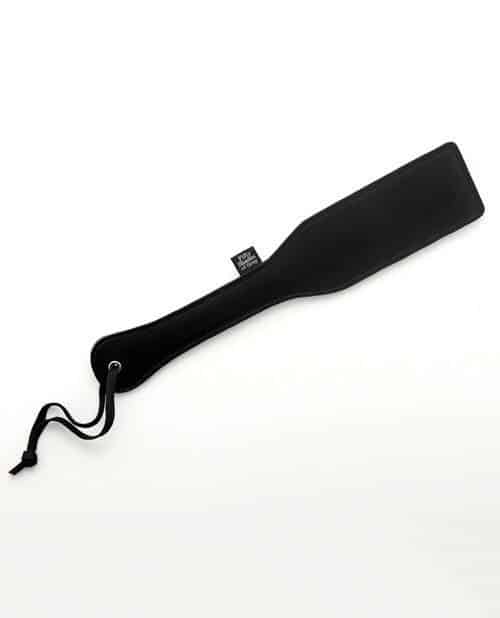 Fifty Shades of Grey Twitchy Palm Spanking Paddle
Description

Fifty Shades of Grey Twitchy Palm Spanking Paddle
Part of the Fifty Shades of Grey The Official Pleasure Collection approved by author E L James
"Do you want me to spank you, Anastasia?" "Yes." My voice is a hoarse whisper. Suddenly there are butterflies in my stomach. Perhaps this is what I need… this is what I have been missing. I surrender myself to his rhythm, absorbing each blow, savoring each one. – Anastasia Steele and Christian Grey.
This dual sided spanking paddle offers one side with soft padded satin and the other side with firm faux leather.
Start gently with the satin side to awaken the flesh before building sensation to sharper spanks with the faux leather side for intensified play. Beneath the satin is a cushion of neoprene to diffuse the impact of each hit. Meanwhile, the faux leather side is firm to the touch and has a sharper sting for a deeper, more resonant hit. Start off slowly by stroking the satin over the skin, building up pressure for firmer spanks. Soothe the skin with a soft touch before introducing the faux leather side, taking time to caress between each hit for maximum sensation.
Ergonomically shaped and with a strategic hanging loop for your wrist, this spanking paddle is comfortable and always ready to spank.
Fifty Shades of Grey Twitchy Palm Spanking Paddle is the ideal erotic gift for fans of the trilogy.
Length | 12.65″
Material | Satin