Liberator Hipster Sex Pillow
Description
Liberator Hipster Sex Pillow
Sculpted to follow the contours of your body, the Liberator Hipster sex pillow and positioning aide cradles you perfectly for comfort and support during sex and sexual play.
The flowing arches and design of the Hipster will give you and your partner comfortable access to more sexual positions and deeper penetration. The high and low curves are designed to bolster your head, back, and knees to create optimal lift and angles in missionary or from-behind positions. This sexual aide also helps make oral sex more comfortable by boosting the body to provide better access.
Thanks to its slope, the Hipster can also be used to support the neck and back while reading or watching TV in bed.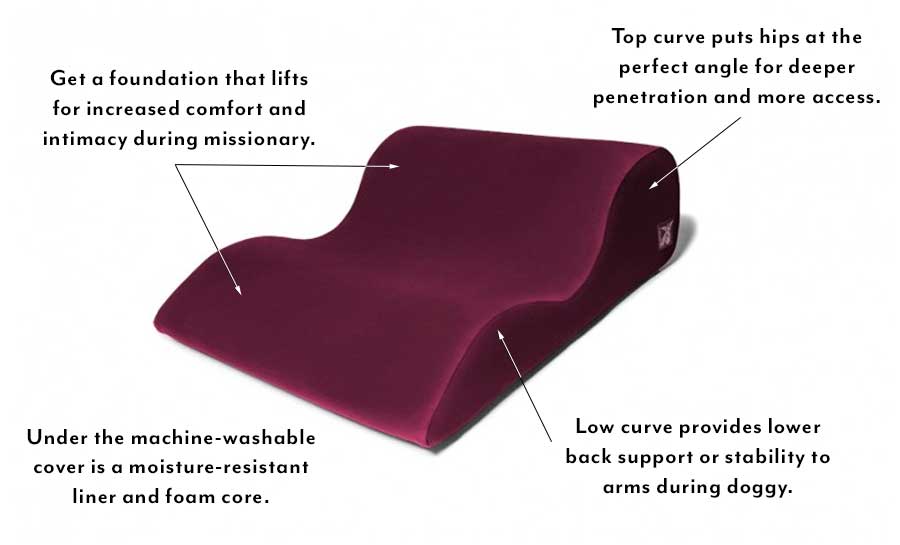 Experience fun and comfortable sex liked you have never done before with the Flip Ramp from Liberator.
Features:
Full-body support lets from-behind positions last longer
High and low curves offer easy access and options for lift
Lower angle is perfectly suited for longer oral play sessions
Higher angle delivers deeper penetration for doggie
Multi-use sex pillow provides comfortable neck and back support for inclined relaxation
High-density foam supports the body and prevents sinking into a bed
Easy to clean machine washable plush faux velvet cover – 100% polyester
Moisture resistant linerand foam core
Liberator position guide
Made in the USA
Measures | 24″ x 10″ x 30″
Available for US Customers Only