Njoy Pure Plug
Description
Njoy Pure Plug
The Njoy Pure Plug is a stainless steel butt plug with a bulbous head, a narrow stem, and loop handle. The Njoy Pure Plug is where science, art, beauty and lust collide.
COMFORTABLE
Equally fun for the bedroom or to wear all day, Njoy's butt plugs never disappoint. These metal anal plugs combine a large head for penetration with a tapered narrow stem for easy retention and long-term comfort.
EASY TO INSERT AND REMOVE
The loop handle design allows for simple insertion and removal.
STAINLESS STEEL
The weighty and medical grade stainless steel of this metal plug adds a lovely sense of fullness. Cast in 316 medical-grade stainless steel and hand polished to a mirror shine, this anal sex toy retains heat and cold beautifully for temperature play.
EASY TO CLEAN
The Njoy Pure Plugs are completely non-porous and can be cleaned or sterilized by any means. We recommend soaking your Pure Plug in a 10% bleach solution for at least 5 minutes. Then wash immediately with soft soap & water (or a very gentle toy cleaner) and give it a good rinse with water. Allowing bleach to dry on your toy can cause the toy to oxidize the finish (rust, discoloration, de-chrome the mirror finish, etc.).
USE ANY LUBRICANT
We recommend using silicone lubricant or water-based lubricant with stainless steel toys.
Available sizes:
Small | 3.25″ L x 1″ D (2.25″ insertable), Weighs | 5 oz.
Medium | 3.25″ L x 1.25″ D (2.5″ insertable), Weighs | 7 oz.
Large | 3.75″ L x 1.5″ D (2.75″ insertable), Weighs | 11 oz.
2.0 XL | 4.75″ L x 1.5″ D (3.5″ insertable), Weighs | 1.3 lbs.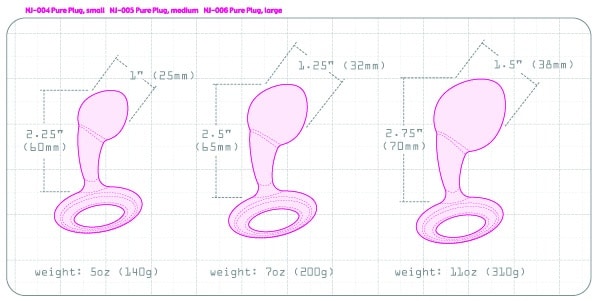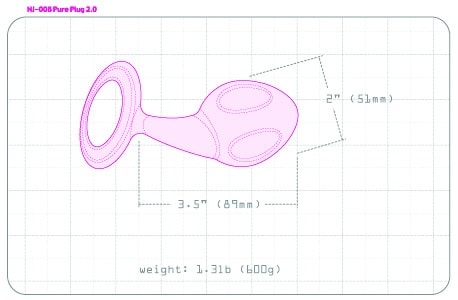 Customer Reviews
Nice Feeling
Very good product…. well built….very smooth sliding in your ******. feels great in your ******… The weight of the Njoy feels great….I love it..
Awesome
This was my first try with **** toys and the small Njoy plug works very nicely as an introduction
Very good store
Very good products and professional shipping and handling. I will buy more things in the future.