Fun Factory vibrators and sex toys are amazing premium sex toys.
Why?
Fun Factory upholds the highest standards in the industry.
Fun Factory toys are made in their safe, accessible factory in Bremen, Germany—not in a sweatshop.
Toys are designed, produced, and packaged under one roof, for a tiny carbon footprint.
Each product meets strict EU standards for safety, health, and environmental impact.
Fun Factory sources local. Toys are made with top-quality medical grade German silicone.
Their factory workers are paid fair wages and benefits. Some of them have been with the company since inception.
Their German exhaustive quality controls give us the lowest return rate in the industry. That means Fun Factory toys can live in the nightstand, not in a landfill.
THE TOP 10 BEST FUN FACTORY VIBRATORS IN 2023
---

BEST OVERALL VIBRATOR: Fun Factory Sundaze
The Fun Factory Sundaze is a hands-free tapping, thrusting, and pulsating luxury vibrator for instant arousal and internal or external stimulation.
Sundaze is not just a vibrator. Using patented new technology, Sundaze moves from zingy to rumbling vibration, but also to light tapping that stimulates like nothing else. The pulsing and stroking motions and hands-free thrusting offer internal or external stimulation.
This thrusting vibrator is excellent if you are sensitive or if you require a lot of power. The tapping and pulsing settings help awaken your nerve endings and boost blood flow, making you feel more aroused and more sensitive.
Sundaze gives you so many ways to play with so many different kinds of sensations. After using this luxury sex toy, sex with a partner actually feels more intense, not less.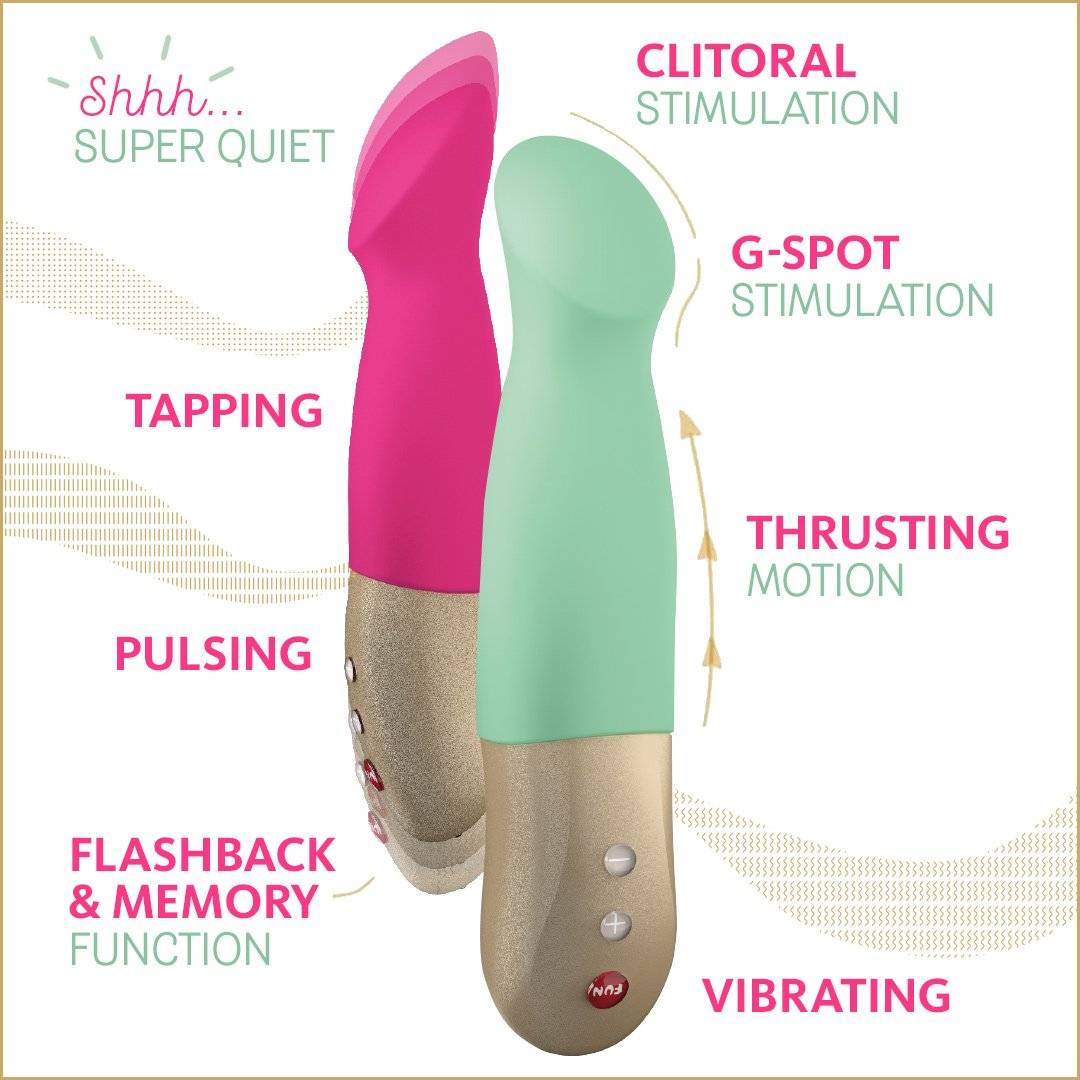 Most vibrators only stimulate one kind of nerve ending. Sundaze stimulates three kinds. Different nerve endings process different kinds of sensation. Plus, alternating between different types of sensation keeps you from becoming habituated or addicted to just one.
BEST G-SPOT VIBRATOR: Fun Factory Tiger G5
The Fun Factory Tiger G5 is a powerful luxury vibrator with prominent ridging and a bent tip to massage the G-spot or the prostate.
With its ultra-strong motor and deep rumbling vibrations, this is an excellent luxury vibrator if you like ridges that deliver intense stimulation upon insertion. The wide base makes it safe for vaginal or anal play and massages the clitoris or perineum.
The Tiger G5 has FlexiFUN Technology™, which means that this luxury sex toy is 100% flexible. Its shaft moves with you when you switch positions and flexes to accommodate your body. Although very flexible, the toy is still stable thanks the complete silicone sheath and shortened battery compartment.
Unlike other vibrators, the Tiger G5 is only made with medical-grade silicone — not silicone with a plastic core. This means greater comfort, better fit, more positions, and it adapts to your body and movement.
BEST GIRTHY G-SPOT VIBRATOR: Fun Factory Big Boss G5
The Fun Factory Big Boss G5 Vibrator is a rechargeable strong vibrator that offers a deep, rumbling vibration. Big Boss is an excellent vibrator for those who want power and fullness to stimulate the G-spot (or the P-spot/prostate).
It's thick rounded tip has a ridge similar to a penis and a gentle curve for optimal G-spot stimulation. The smooth shaft is lined with realistic veins for a light massage when inserted or removed.
G5 technology delivers vibration throughout the shaft — not just the handle. The G5 Big Boss also has FlexiFUN technology, which means that this luxury sex toy is 100% flexible — it is only made with medical-grade silicone — not silicone with a plastic core.
BEST VIBE WITH BATTERIES: Mr Boss Battery Plus
Mr Boss Battery Plus Vibrator from Fun Factory combine the convenience of batteries with the powerful vibration and eco-friendliness of a rechargeable toy. These innovative vibrators are the strongest and most powerful battery vibrators on the market. You can choose whether you want to use your Battery Plus Vibrator with batteries or upgrade your Fun Factory vibrator with the Battery Plus Hybrid Kit to make it rechargeable.
Mr Boss is the scaled-down version of Fun Factory's Big Boss with the same realistic shape and stimulating veins, a great curve for G-spot stimulation, and very powerful vibrations.
The pronounced head of Mr Boss makes this luxury vibrator ideal for G-spot massage. Its realistic shape and stimulating ridges add even more pleasure upon entry. Extra flexible medical-grade silicone and deep rumbling vibrations offer you 4 speeds and 6 vibration patterns.
BEST ORAL SEX VIBRATOR: Fun Factory Volta
The Volta is a unique luxury vibrator with a split-tip that flutters against the clitoris and labia with every vibration.
The movement of Volta's tips amplifies the vibration. This boosts arousal and heightens sensitivity by stimulating more blood flow. Increased blood flow offers more sensation than ever before. With a deep, powerful vibrator at the bottom, vibration is transferred towards the top of the toy. As soon as the vibrations flow through the tips, they begin to touch and tickle each other.
Volta's powerful and quiet motor has the rumbling, bass tone vibration. This Fun Factory vibrator's loop handle makes it easy to hold exactly where you want it. The positioning of the raised buttons makes it simple and intuitive to use. Best of all, the Volta is shaped to feel amazing against your clit and labia no matter which angle you try.
BEST THRUSTING SEX TOY: Fun Factory Stronic G
Patented Fun Factory pulsator technology makes these toys thrust and pulse in a variety of speeds and patterns, for solo satisfaction or creative fun with a partner!
The Stronic G is a hands-free thrusting sex toy that targets the G-spot and gives it exactly the kind of thrusting, pulsing sensations for amazing stimulation.
With an amazing curve and a firm tip, this thrusting luxury sex toy is perfect for stimulating the G-spot. Plus, its rhythmic thrusts provide exactly the kind of massage that experts recommend for deepening and strengthening an orgasm.
This toy converts high magnetic force fields into thrust motions (kinetic energy). Its weight is distributed so that the Stronic G matches the natural rhythms of sex, creating deep and intense thrusts in a back and forth motion that works with its 10 speeds and thrusting patterns. (However, when set to a higher speed, the thrusting motion can create a stimulation like a vibrator.)
BEST THRUSTING RABBIT: Fun Factory Bi Stronic Fusion
Girthier, heavier, and with an external clitoral stimulator, the Fun Factory Bi Stronic Fusion thrusts and pulses in a variety of speeds and patterns for solo satisfaction or creative fun with a partner!
The Bi Stronic Fusion pulsating sex toy combines the back and forth movement of penetration with the added vibration of a flexible external arm with 2 motors that also flutters.
The Fusion allows you to separately control the internal and external vibrator speeds and patterns. Pick from 6 vibration speeds and 8 pulsation modes and lie back and enjoy hands-free fun. You can also save a favorite vibration pattern or speeds and enable the Fusion to always start up with your preferred setting.
The Stronic Fusion has a sizable shaft and is a rounded curve for optimal G-spot stimulation. The external, flipper-shaped stimulator is flexible enough to cover the entire clitoris for maximum pleasure.
BEST VIBRATING STRAP ON: Fun Factory ShareVibe
An ideal toy for couples in search of a luxury strap on or a pegging toy, Fun Factory ShareVibe is a vibrating strap on dildo that does not require a dildo harness. (Wear a strapless strap on by clenching the vaginal muscles to hold the curved bulb in place.)
Enhance intimacy with this Fun Factory vibrator by allowing more skin-to-skin contact between partners since a harness is not needed. It also allows more sensation for the wearer thanks to the inserted bulb that echoes the penetration movements into the receiver's body. The wearer also has more control over the intensity of penetration by using their pelvic muscles, which is not possible with a classic strap-on harness.
ShareVibe looks and feels like an extension of the body, allowing it to seem completely natural. This luxury sex toy flexes naturally to reach your partner in missionary, doggie or other positions.
ShareVibe has a 5 pattern rechargeable bullet vibrator incorporated into its base. The vibration travels throughout the entire toy so that both partners can experience pleasure. The removable bullet vibrator can be used on other parts of the body, which makes the ShareVibe two toys in one!
BEST MALE VIBRATOR: Fun Factory Manta Masturbator
The sleek, easy-to-handle Fun Factory Manta Masturbator and Male Vibrator is designed to be perfect for partner sex as well as solo play, sliding between your bodies and basically turning your penis into a vibrator. It's also an amazing accessory for oral sex!
The Manta's ridges hold lube, for a better stroking sensation. The unique shape of the manta ray shape allows for better coverage. Plus, the "wings" and the cleft in the center also enhance the power of the motor, adding movement to the vibration.
The easy-to-hold handle makes Manta comfortable. The intuitive three-button interface lets you change the settings without pausing the action.
BEST VIBRATING COCK RING: Fun Factory Nos
Nos vibrating cock ring has a low profile unique shape made to stimulate the clitoris during penetration, so both partners can orgasm at the same time.
The unique shape is designed with both the clitoris and penis in mind. Flexible extensions or fingers on the Nos envelope the clitoris and clitoral glans for more stimulation with two rumbly motors. Both partners enjoy vibration ranging from delicate to powerful until they reach an electrifying orgasm together.
Nos is not circular like other cock rings … because your penis isn't! The slightly tapered and flexible interior of this luxury sex toy for men caresses your penis while providing precise pressure on two of your shaft's hotspots, ensuring a comfortable fit and longer, harder erections.
Nos gives your and your partner countless ways to play since this vibrating penis ring can be flipped to face any direction. You can point the vibrating fingers down, for instance in the reverse cowboy position or for doggy-style sex to stimulate the clitoris and testicles at the same time. You can also use Nos during oral sex for added stimulation.
Who Is Fun Factory?
In 1996, two recent university grads, Dirk Bauer and Michael Pahl, wanted to design a silicone dildo that was body-safe, unlike the toxic jelly rubber toys that dominated the market. With their dildo prototypes made out of Play-Doh, they have since revolutionized the sex toy industry.
Fun Factory designs and manufactures vibrators, sex toys, and sexual wellness products for all genders and couples.
Now that you are interested in learning more about Fun Factory vibrators, let's make sure that you understand the basics…
Why Use Vibrators?
Vibrators are designed to stimulate your most pleasurable areas. This includes the clitoris, vulva, G-spot, penis, and prostate. You might also want to feel different sensations on your clitoris, vulva, G-spot, and penis with the help of something other than a finger, tongue, or penis.
SEX TIP: Approximately 70% of people with vulvas need clitoral stimulation to orgasm.
Of course, toys are also called toys for a reason – they add pleasure, fun, and playfulness to your sex life and relationship. They let you explore what feels good, add variety to your sexual play, and experiment with new types of sensation.
Sex toys and vibrators help you figure out what feels good and brings you to orgasm, all good things to know for yourself and to share with a partner. Plus, they never get tired like fingers or your partner's tongue and can reach places that are difficult to reach!
Vibrators are just another way to experience pleasure.
What Happens If You Don't Like A Vibrator?
Give it at least 3-4 tries before you judge the vibrator. Whenever you try something new, the first couple of times you are focused more on the newness and sometimes awkwardness of the situation. Your body isn't used to the sensation and your mind might wander a bit. Also, depending on where you are in your menstrual cycle (or even menopause), your body can react differently to a vibrator. Your body has different needs during those times, which can affect how well vibrators can work.
It's also important to remember that everyone is different and has a different body. What works for one, may not work for you. So, there is no one "best" vibrator out there – there's only the best vibrator for YOU!
Why Do You Want A High-Quality Luxury Vibrator?
Luxury vibrators are higher-quality products. Would you rather have a smartphone or a flip phone? If price were no object, the answer is simple: you would want to have a smartphone.
Why?
There are more features, there's more research that goes into it, and it's made better. The same is true with high-quality luxury vibrators. They are:
made of body-safe materials (rather than toxic chemicals that are harmful to your body)
quieter
more powerful
rechargeable
waterproof
built to last a long time (and have warranties!)
Luxury sex toy manufacturers maintain rigorous standards for their products. They spend a lot of time and money on research and development. Thus, they stand by their products with at least one-year warranties.
High-quality premium vibrators do NOT have:
rough seams
a rubbery chemical smell like that of a new shower curtain
"jelly" materials/latex, which contains rubber
Luxury, quality, and safety come at a price! Remember: you get what you pay for when it comes to vibrators. High-end vibrators are made with body-safe materials. The best materials are non-porous and non-toxic. Medical-grade silicone is often used, which is excellent at transferring vibrations. Silicone sex toys come in many different textures and finishes. Other premium vibrator materials include Elastomed and ABS plastic.
How To Choose A Vibrator?
Before getting started with vibrators, ask yourself these questions:
What size vibrator do you want?
Do you want clitoral/external stimulation, G-spot/vaginal/internal stimulation or both internal AND external stimulation? If you have a penis, do you want to stimulate your penis or prostate?
Will you use your vibrator for masturbation or during partner sex or both?
What should your vibrator look like? Do you want something discreet, where it doesn't look like a sex toy?
How should your vibrator feel against your skin? Vibrators come in all shapes and sizes. It can be firm, flexible, hard, soft, textured, or smooth.
Do you want rechargeable batteries or continuous electrical power?
How much power do you need? Plug-in vibrators have more power.
Will you be traveling with your vibrator? If you will be traveling with your toy, you will want a travel lock.
Do You Need to Use Lubricant?
YES!!!
Lubrication during sexual play is important. That is because lube makes sex BETTER and makes sex more comfortable. The act of sexual intercourse often creates friction. If there is not enough lubrication, small tears could occur in the vagina, which could increase the risk of urinary tract infections, STIs, and other types of infections.
Just as important, lube makes sex much more pleasurable. Every sensation is enhanced which will allow you to feel every movement at a heightened level.
For anal play, lubrication is a must. Unlike the vagina, the anus does not produce natural lubrication. Therefore, lube is necessary. Plus, lube makes anal play more comfortable. Anal lubricant, which is thicker than regular lubricant, stays on the skin longer and provides a more comfortable feeling by reducing friction and sensation.
If you are using sex toys, it's always smart to use personal lubricant. Toys tend to dry up as they are exposed to air, making for uncomfortable re-entry.
Most of the time, our bodies produce enough natural lubricant to be comfortable everyday. However, if you are having sex or using toys, you may need more than what nature provides, especially if you are experiencing hormonal changes, on medications or experiencing stress.
Using personal lubricant is not a sign of a broken body or a failed libido. Instead it's the most normal thing in the world.
We recommend water-based lubricant when using sex toys and silicone-based lube when using non-silicone sex toys or during sex or during sexual play in the shower/bath tub.
Water-Based Lube
How to Clean Your Luxury Vibrator
Luxury vibrators can be washed with sex toy cleaner. We recommend cleaning your luxury sex toy before and after each use.