Top Picks For The Best Prostate Massagers
Prostate massagers, prostate vibrators, and male vibrators – all these male sex toys and sex toys for men are becoming mainstream fast! Men, who are either beginners or advanced users, can use toys to experience pleasure too, right?
Some of the best men's sex toys are prostate massagers and stimulators that stimulate the prostate.Using prostate massagers — whether they vibrate or not — gives you different sensations of pleasure and for some, the most AMAZING orgasm ever!!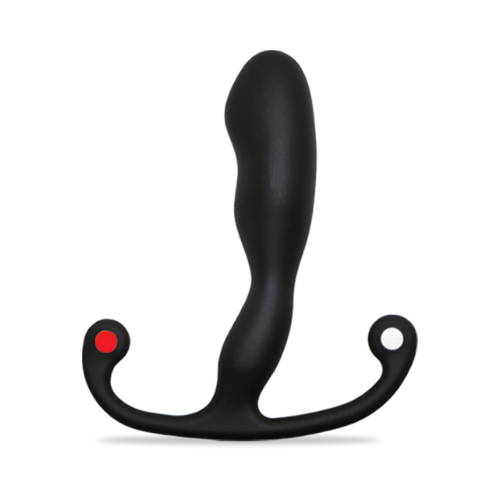 Many men use these male sex toys during solo or couples play. Prostate massagers are even more fun when used with a remote control! They are a great addition to anyone's toolbox because they add variety, fun, and more pleasure to your sexual play!
The Top BESTPROSTATE MASSAGERS IN 2023
BEST NON-VIBRATING PROSTATE MASSAGER: Aneros Helix Syn Trident
Excellent for beginners, theAneros Helix Syn Trident is a prostate stimulator that is super comfortable and smooth for a mind-blowing prostate orgasm.
Combining the original Helix design with a solid inner frame that maintains the rigidity necessary for an amazing prostate massager, the Aneros Helix Syn Trident has:
A large angled head for more focused stimulation
"W" arms for external perineum stimulation
A contoured body that is great for beginners and advanced users
Super soft silicone
Medically researched and designed, the Aneros remains the only patented device of its kind. With its 4 inch insertable length and curved design, the Aneros Helix Syn Trident is a hands-free sex toy with a self-pivoting mechanism that simultaneously massages the prostate (male G-spot) and perineum giving you the most intense orgasm that you have ever had.
BONUS: Vibrating Aneros Helix Syn
The fifth generation hands-free male G-spot stimulator, the Aneros Helix Syn V combines the award-winning shape and anatomically designed contours of the best-selling prostate massager with the added intensity of vibration. The result is orgasms of enormous power and depth, experiences so intense they will forever change your frame of reference about sexual pleasure.
Aside from a small control tab extending from the base, and magnetic charging contacts, the Aneros Helix Syn V is almost indistinguishable from the Helix Syn Trident, yet it's a far more versatile, more powerful device.
BEST ADJUSTABLE PROSTATE MASSAGER: We-Vibe Vector
Vector's adjustable head applies firm yet gentle pressure on the prostate, and Vector's base is flexible yet stable while stimulating the perineum. This luxury sex toy for men has two motors that work together to stimulate both the prostate and the perineum with rumbling vibrations and gentle pressure.
You can control both motors independently and change the speed and vibration modes with the easy-to-use wireless remote control or the free We-Connect app. Use We-Connect to control Vector's two motors independently, play and share control of Vector from anywhere, create custom vibes and play together with other We-Vibe products.
BEST REMOTE CONTROLLED PROSTATE MASSAGER: Lovense Edge 2
Lovense Edge 2 is a powerful remote controlled adjustable prostate massager.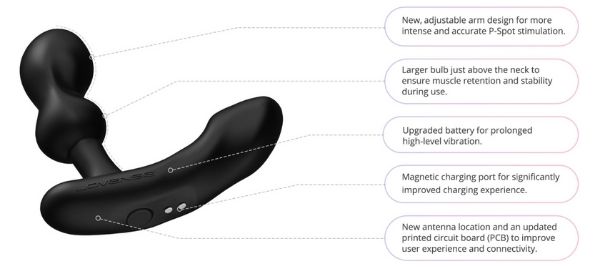 Edge 2's adjustable arm and head gives you a more intense and direct prostate stimulation. The adjustable head ensures it hits the right spot for most men and doesn't move after adjusting.
The larger bulb just above the neck ensures more stability during prostate stimulation and stronger prostate stimulation. The combination of a longer/thinner neck and enlarged bulb ensures better toy retention.
Dual, whisper-quiet motors in the internal head and external perineum arm provide maximum pleasure.

Smartphone control makes solo play, foreplay or discreet public play easier and more fun! Edge 2′ optimized layout and design of the antenna ensures a more stable connection.
BEST DUAL MOTOR PROSTATE MASSAGER: PLEX WITH FLEX BY HOT OCTOPUSS
PleX with Flex is a customizable and remote controlled vibrating butt plug with a unique flexible base that uses Hot Octopuss' patented Treble and Bass Technology.
Unlike conventional butt plugs that are rigid, PleX with Flex is designed to fit your body with extra comfort. Offering the ultimate comfort and targeted prostate stimulation, PleX features a flexible base that bends up to 90 degrees.
Ergonomically designed for comfort and vibration transfer, PleX with Flex is perfectly sized for all levels of experience. PleX features a smooth bulb shape that is tapered to deliver orgasmic vibrations to your booty as well as pinpoint prostate stimulation for those looking for incredible prostate play.
The Treble motor at the tip emits powerful high-frequency waves, while the Bass motor in the body delivers deep, rumbly vibrations. Adjust the Treble and Bass to find your perfect customized frequency.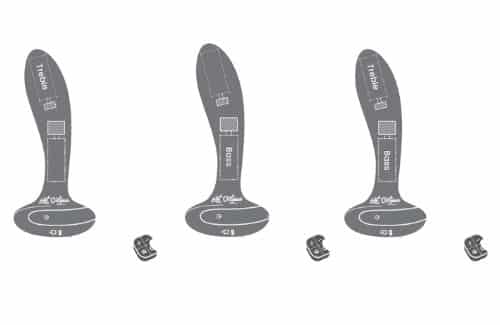 PleX includes a remote control, enabling seamless switching between settings without ever needing to touch the toy.
BEST STAINLESS STEEL PROSTATE MASSAGER: Njoy Pfun Plug
The Pfun Plug Prostate Massager by Njoy is an ergonomically smooth stainless steel prostate massager that a delivers firm and controlled prostate massage.
The prostate stimulator is designed at a slight angle, which mirrors the curves of the body. The larger rounded head delights while the second smaller bulb delivers additional stimulation. Whether manually controlled or activated with your own muscles as a hands-free sex toy, the Pfun Plug prods the P-spot with precision.
Cast in 316 medical-grade stainless steel and hand polished to a mirror shine, the Njoy Pfun Plug Prostate Massager retains heat and cold beautifully for temperature play.
Some honorary mentions of popular products include: Fun Factory Duke Prostate Massager and Lelo Bruno Prostate Massager.
Thank you for reading this guide!
---
SHOP ALL HIGH END PROSTATE MASSAGERS
THE BASICS . . .
---
What Is A Prostate?
The prostate is a walnut-sized gland in people born with penises. It stores semen and is located about 2-3 inches inside the anus toward the belly. It's near the root of the penis (the place inside the body where the penis starts), just below the bladder.
The prostate gland is considered to be the male G-Spot, also known as the P-Spot. When stimulated, this area of the body gives you mind-blowing pleasure.
To find the prostate with your fingers, insert one or two fingers and move them in an upward motion along the wall of the rectum that faces the front of the body.
During a prostate massage, excess semen is released and the prostate is cleansed. When there is too much semen, bacteria builds up and you then have a larger prostate.
The prostate helps with reproduction and orgasm. It creates a fluid that protects sperm and helps with ejaculation. This fluid helps sperm move more quickly and stay alive much longer after ejaculation. Prostate fluid actually makes up about 30% of ejaculate and is responsible for the bitter taste.
What Are the Benefits of Prostate Massage?
Regular prostate massage reduces the size of your prostate. If you have a larger prostate, you can experience prostatitis, prostate cancer, genital pain, erectile dysfunction and frequent nighttime urination. (This is why people with prostate issues have to pee a lot: it's pressing against the bladder.)
Other prostate massager benefits include:
Bigger, long-lasting, and more intense orgasm … and sometimes multiple orgasms
Thicker erections with frequent prostate massages
Helps with erectile dysfunction
Improves overall erectile function
Reduces pain from prostate swelling and soreness
Cleans toxins out of your reproductive system
Increases seminal fluid and circulation for a better chance of conceiving
Does A Prostate Massage Hurt?
NO, so long as you are doing it the right way. Many men experience intense, long-lasting, and multiple orgasms from a prostate massage. These orgasms are even stronger than a penile orgasm. The prostate is often called the 'male G-spot' or the 'P-spot' because just like the G-spot, it brings deep sexual pleasure when it's massaged.
Are You A Homosexual If You Enjoy A Prostate Massage?
NO!!!!
What makes you gay or a homosexual is the partner you choose to do sexual play with — NOT the actual sexual play! Both straight and gay men enjoy prostate massages and use a prostate massager because of the sexual pleasure that they get from it.
Anal pleasure is part of maintaining a man's peak sensual health.
How To Do A Prostate Massage?
When the prostate is stimulated, it can lead to enhanced pleasure and amazing and powerful orgasms. The prostate can be stimulated externally, but very minimally. To massage it externally, use your fingers (or a sex toy) to touch, rub, stroke, or press the perineum(or taint…the area between the testicles and the butt).
Externally is a good place to start if you've never explored prostate stimulation before, if you aren't ready for anal play, OR as a warmup before internal play. Play around with different sensations like rubbing or tapping and pressures to see what feels best.
An internal prostate massage can be accomplished with a finger(s). With clean finger(s) and lots of personal lubricant, move your finger(s) in a reverse come-hither position. (This is similar to how you would stimulate the G-spot.) You can sit up, with your legs wide or lie back with something like a Liberator pillow below your hips. Of course, this can be difficult to do to yourself and is easier with the help of a partner.
SEX TIP: Unlike the vagina, the anus does not produce natural lubrication. Therefore, you should use lubricant!!
The easiest and best way to massage your prostate is with a prostate massager and stimulator.
How Do Prostate Massagers Work?
Most prostate massagers have a large, round head that curves down and rubs against the prostate, creating maximum arousal. Some prostate massagers and stimulators also feature external stimulation on the perineum, which gives you an even more pleasurable experience.
Whenever you put anything in the butt, you want to make sure you or your partner is relaxed, you start small, and work your way up to longer, wider things.
A lot of personal lubricant is needed with prostate massagers, which will make prostate massagers easier to insert and make the prostate massage more comfortable. Depending on the material of the toy, most toys work best with thicker water-based lubricant, which feels wet and makes the experience more comfortable. Use a silicone-based anal lubricant when using non-silicone sex toys.
It is very important to clean your prostate massager before and after each use because you do not want any bacteria living on your prostate stimulator. Prostate massagers should be washed before and after every use with soap and warm water or sex toy cleaner.
Are There Different Types Af Prostate Massagers?
There are two different types of prostate massagers: non-vibrating and vibrating.
Non-vibrating prostate massagers require you to do all of the work whether you are rocking back and forth so that the prostate massager stimulates the prostate or moving the prostate stimulator manually.
Vibrating prostate massagers do all the work for you. With different speeds and vibration patterns, you will have a lot of options during your prostate massage exploration. Some vibrating massagers also have a remote control, which makes it easier to use and very fun to use with a partner.
When Should You Use A Prostate Massager?
You can use a prostate massager during foreplay to add variety to your sexual play. You can also massage the prostate during oral sex or vaginal penetration for a different type of stimulation.
Why Should You ONLY Use A Premium Prostate Massager?
It's simple.
Premium luxury sex toys are of higher quality products.
Would you rather drive a Maserati or a Ford? If price were no object, the answer is simple: you would want to drive a Maserati. Why? It's faster, made with better materials, more exclusive, etc.
The same is true with high-quality luxury sex toys. They are:
made of body-safe materials (rather than toxic chemicals that are harmful to your body)
quieter
more powerful
innovative
rechargeable
waterproof
built to last a long time (or will be replaced if they don't!)
Luxury sex toy manufacturers maintain rigorous standards for their products, spend a lot of time and money on research and development, and stand by their products with at least one-year warranties.
High-quality premium adults toys do NOT have:
rough seams
a rubbery chemical smell like that of a new shower curtain
"jelly" materials
Luxury, quality, and safety come at a price! Remember: you get what you pay for when it comes to adult products.