Top 10 Best Bluetooth Vibrators for Men, Women, and Couples
Technology has improved every aspect of our lives from shopping, watching shows on demand to even sex. Sex toy technology has progressed from non-powered toys to electric power to rechargeable batteries. Now it's more common to find high-quality luxury bluetooth vibrators for men, women, and couples.
Not only are luxury bluetooth vibrators convenient as a remote control (that you will rarely misplace!), they are also very helpful if your partner is in another room or if you are a long-distance relationship with your partner. Allowing your partner to control your sex toy, creates additional intimacy and trust for your relationship. Plus, it's fun to experiment and add variety to your sexual play!
THE BASICS . . .
---
What Is A Luxury Sex Toy?
Luxury sex toys and bluetooth vibrators are higher quality products.
Would you rather drive a Maserati or a Ford? If price were no object, the answer is simple: you would want to drive a Maserati. Why? It's faster, made with better materials, more exclusive, etc.
The same is true with high-quality luxury sex toys and bluetooth vibrators. They are:
made of body-safe materials (rather than toxic chemicals that are harmful to your body)
quieter
more powerful
innovative
rechargeable
waterproof
built to last a long time (or will be replaced if they don't!)
Luxury sex toy manufacturers maintain rigorous standards for their products, spend a lot of time and money on research and development, and stand by their products with at least one-year warranties.
High-quality premium sex toys do NOT have:
rough seams
a rubbery chemical smell like that of a new shower curtain
"jelly" materials/latex, which contains rubber
Luxury, quality, and safety come at a price! Remember: you get what you pay for when it comes to adult products.
High-end sex toys and vibrators are made with body-safe materials. The best materials are non-porous and non-toxic. Medical-grade silicone is often used, which is excellent at transferring vibrations and comes in many different textures and finishes. Other premium materials include stainless steel, borosilicate glass, Elastomed, and ABS plastic.
Don't Forget Lube!!!
Lubrication during sexual play is important. That is because lube makes sex BETTER and makes sex more comfortable. The act of sexual intercourse often creates friction. If there is not enough lubrication, small tears could occur in the vagina, which could increase the risk of urinary tract infections, STIs, and other types of infections.
Just as important, lube makes sex much more pleasurable. Every sensation is enhanced which will allow you to feel every movement at a heightened level.
For anal play, lubrication is a must. Unlike the vagina, the anus does not produce natural lubrication. Therefore, lube is necessary. Plus, lube makes anal play more comfortable. Anal lubricant, which is thicker than regular lubricant, stays on the skin longer and provides a more comfortable feeling by reducing friction and sensation.
If you are using sex toys, it's always smart to use personal lubricant. Toys tend to dry up as they are exposed to air, making for uncomfortable re-entry.
Most of the time, our bodies produce enough natural lubricant to be comfortable everyday. However, if you are having sex or using toys, you may need more than what nature provides, especially if you are experiencing hormonal changes, on medications or experiencing stress.
Using personal lubricant is not a sign of a broken body or a failed libido. Instead it's the most normal thing in the world.
We recommend water-based lubricant when using luxury vibrators and sex toys and silicone-based lube when using non-silicone sex toys or during sex or during sexual play in the shower/bath tub.
Water-Based Lube
Silicone-Based Lube
Clean Your Sex Toy!
It's very important to clean your bluetooth vibrators and luxury sex toys before and after each use. Regular soap and water can leave a residue and potentially change your pH making you even dryer. Luxury sex toys should be washed with sex toy cleaner.
THE TOP 10 BEST BLUETOOTH VIBRATORS FOR MEN, WOMEN, AND COUPLES in 2022
---
BEST COUPLES VIBE: We-Vibe Chorus
We-Vibe Chorus is the best selling bluetooth luxury vibrator for couples. It is an adjustable couples vibrator and long-distance sex toy designed to be enjoyed with a partner during sex. Chorus is worn by her during sex for extra stimulation to the clitoris and/or the G-spot. The penis also feels the vibration of the toy and presses the toy again the G-spot for extra pleasure.
The tighter you squeeze the remote, the stronger the vibration. Releasing the grip reduces the vibration. The Squeeze Remote also features standard buttons to change modes or adjust the intensity.
Chorus also features unique touch-sensitive receptors that allow body movements to control the vibrations. When paired to the We-Connect™ app, Touch-sense offers three different modes for the best pleasure experience. When a couple touches or moves against the sensor, the vibration changes, creating a natural rise and fall that leads to epic experiences together.
AnkorLink creates the most stable connection between Chorus and the We-Connect app and makes sure the signal never drops off in the heat of the moment. AnkorLink enhances the traditional Bluetooth connection by bypassing current Bluetooth® connectivity challenges created by the water content of the human body. The Squeeze Remote is the anchor between Chorus and We-Connect and should be kept close by for the best connection.
BEST BULLET VIBE: MysteryVibe Poco
Poco is a luxury bullet bluetooth vibrator that can be bent into different shapes for solo & partner play. Simply bend Poco with your hand into any shape for a customized experience.
Designed to be similar to your fingers – your first 'sex toy' – Poco can be bent to reach, discover, and pleasure your body making it the perfect beginner vibrator.
You can flex Poco into a curved shape to stimulate your clitoris and vulva during solo play or penetration. You can also bend Poco into a curved shape to stimulate the G-spot or a C-shape to stimulate both the clitoris and G-spot at the same.

Perfect for foreplay or sex, Poco has two powerful motors along the length of its shaft with 16 intensity levels and comes pre-set with 8 vibration patterns. Both the motors can be programmed individually and controlled using the app for an even more customized experience.
BEST G-SPOT VIBE: MysteryVibe Crescendo
The MysteryVibe Crescendo is a bluetooth vibrator that bends and allows you to use it in many different ways for a customized experience.
You can flex Crescendo into any shape that works for you or your partner. That could be a curved shape to stimulate the G-spot, an S-shape to stimulate both the clitoris and G-spot at the same or a J shape to curve around the head of the penis. Crescendo is a versatile luxury sex toy that is designed to be unisex and gender-neutral.
Crescendo has 6 powerful motors along the length of its shaft and has 6 different places where it bends. All of these motors give you 12 vibration modes and 16 pre-set speeds. With powerful motors and flexible design, it's the perfect companion for foreplay and sex!
Use your smartphone to control your Crescendo through the MysteryVibe App. Or let your partner take control of your pleasure. Explore the app's pre set vibration patterns or create your own. The free App allows you to create your own vibrations and it can be used as a remote control with a 100 feet/30 meters Bluetooth range. All the motors can be programmed individually and controlled using the App so you can create a vibe that is completely tailored to you. Finally, you can also share your vibes with your partner, friends, or anyone else no matter where in the world you are located.
BEST HANDS-FREE VIBE: Lovense Lush 3.0
Lovense Lush 3 is a best-selling bluetooth vibrator that is very powerful, hands-free, wearable, and insertable.
Four times more powerful than most hands-free vibrators, love eggs, vibrating panties, or remote control vibrators, the large motor does not reduce battery life.
The fixed tail ensures Lush 3 "hugs" your body and stays in place putting more pressure on your G-Spot, which results in even more intense, deeper, and rumbly vibrations!
With the app, you can set up your luxury sex toy in minutes and turn your smartphone into a wireless remote control. Use for solo play or hand your smartphone to your partner as they pleasure you from across the room or for discreet public play. Nearly silent when inserted, no one will ever know that you are using a sex toy!
The app allows you to give control to someone who is far away. Simply have that person download the app and you add them as a friend. Then give them permission to control your toy from their phone. This excellent teledildonic sex toy will spice up your long-distance relationship!
BEST RABBIT VIBE: We-Vibe Nova 2
Nova 2 is an ergonomic luxury bluetooth vibrator and dual stimulation rabbit vibrator that that flexes with your movements and adjusts to your body while simultaneously stimulating the G-spot and clitoris for a blended orgasm.
The ergonomic design includes an adjustable internal G-spot stimulator to fit your body. The adjustable shaft provides added stability, is easy to adjust, and then stays in place once you've found the perfect fit.
Unlike other rabbit vibrators, Nova 2's super soft external arm flexes when you thrust the toy inside of you. The benefit of this unique design allows this luxury sex toy to never lose contact with the clitoris — so that you always stimulate the clitoris.
Nova 2's ergonomic handle makes this luxury sex toy easy to use thanks to a comfortable grip. The shape is easy to adjust and stays in place once the perfect fit is found, ensuring non-stop, comfortable one-handed pleasure inside and out.
With the free We-Connect app, you can play and share control of Nova 2 from anywhere, create custom vibes, and play together with other We-Vibe products.
BEST MASTURBATOR: LELO F1S V2
The F1s V2 features sonic waves with 2 powerful motors and 10 smart sensors. This LELO luxury bluetooth vibrator and sex toy for men has double the power, a more pliable sleeve, and a wider range of sonic intensities.
Thanks to its unique dual-motor design, the F1s V2 combines conventional vibrations with sonic waves or SenSonic technology. In addition to powerful vibrations, which tingles the nerve endings of the skin's surface, one of F1s V2's motors emits powerful sonic waves that penetrate deep into your penis, pleasuring your penis from all directions at once.
The Cruise Control setting ensures that your F1s V2 will never experience a power drop during vigorous use. Instead, the masturbator will monitor and intelligently control the intensity of the sensations so that it never drops in power. Hands-free play can also be achieved with Cruise Control.
F1s V2 can be connected to your smartphone via Bluetooth. Use the free app to control your masturbator, create your own sensations, and track your progress through the 10 sensitive and internal sensors. See all of your performance statistics (temperature, pressure, how many vibrations you experience, or hand the controls to a partner for a new dimension of couples play.
BEST REALISTIC MASTURBATION TOY: Lovense Max 2
Lovense Max 2 Masturbator is a luxury bluetooth vibrator for men and multiple-sensation masturbation sleeve with 360 degree contractions and suction.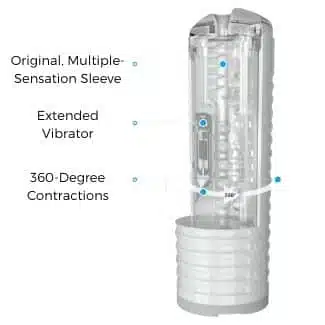 The vibrator sends subtle vibrations throughout the toy. Meanwhile, the air pumps mimic contractions, and the adjustable air vent allows you to control the suction. Use the buttons on the Max 2 masturbation toy or the app to change the air pump settings and adjust the tightness.
Max 2 accommodates most sizes and the inner nubs stimulate your penis while you stroke for a unique sensation.
Compatible with the Lovense App, enjoy close-range control, long-distance control, unlimited vibration patterns, sync to music, sound-activated vibrations, set vibration levels. Use your smartphone as a remote control.
Max 2 includes a neutral hole sleeve. An optional vagina sleeve makes along with the vibration and suction makes Max 2 a realistic masturbation toy.
BEST VIBRATING COCK RING: MysteryVibe Tenuto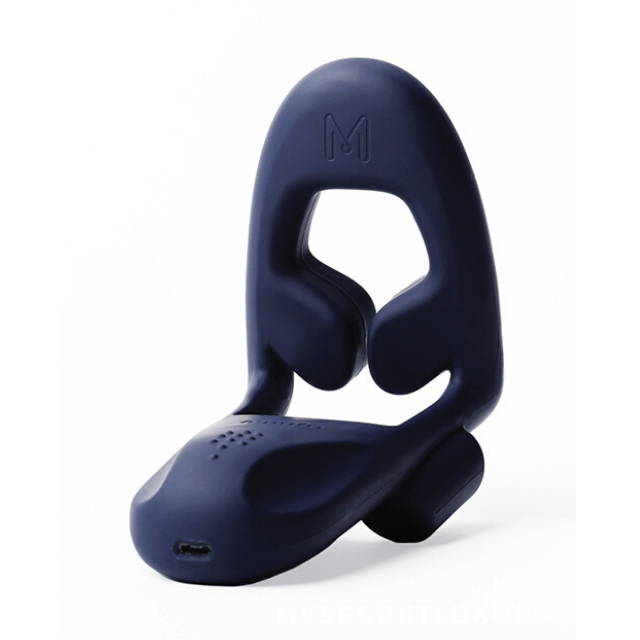 Tenuto is a luxury bluetooth vibrating cock ring that stretches and adapts around your penis & perineum for increased blood flow, an extended erection, and prolonged pleasure.
Soft, stretchy, and comfortable, Tenuto is designed to be worn comfortably during sex. Tenuto's front three motors are not only designed to stimulate the penis but also deliver powerful vibrations to your partner's labia and clitoris.
Take charge of Tenuto or let your partner control your pleasure through the MysteryVibe App. Explore preset vibrations or create your own with just a few taps!
BEST PROSTATE MASSAGER: Lovense Edge 2
Lovense Edge 2 is a powerful adjustable prostate massager and luxury bluetooth vibrator for men.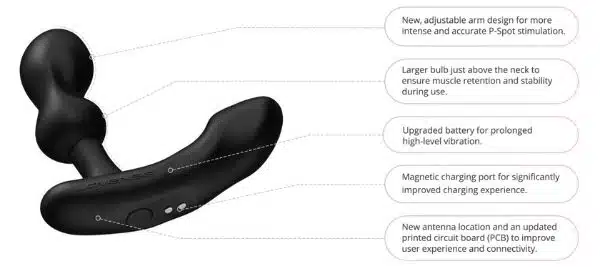 Edge 2's adjustable arm and head gives you a more intense and direct prostate stimulation. The adjustable head ensures it hits the right spot for most men and doesn't move after adjusting.
The larger bulb just above the neck ensures more stability during prostate stimulation and stronger prostate stimulation. The combination of a longer/thinner neck and enlarged bulb ensures better toy retention.
Dual, whisper-quiet motors in the internal head and external perineum arm provide maximum pleasure.
Smartphone control makes solo play, foreplay or discreet public play easier and more fun! Edge 2's optimized layout and design of the antenna ensures a more stable connection.
BEST KEGEL EXERCISER: Elvie Kegel Trainer
Whether you are pregnant, just gave birth, or want more and better orgasms, enjoy the benefits of a toned pelvic floor with Elvie, the award-winning Kegel exercise trainer.
Featuring breakthrough technology, Elvie is a small, ergonomic, discreet, and portable Kegel exerciser that tracks your pelvic floor and Kegel workouts with personalized workouts developed by physiotherapists and other experts. It uses force and motion sensors to measure pelvic floor movement, assisted by the free app to help you visualize the exercises in real-time. The app also lets you know whether you are doing the exercises correctly.
As your pelvic muscles contract, the on screen gem lifts, allowing you to see your pelvic floor exercises in real time. The six unique games were designed with the help of physiotherapists and experts from Imperial College and University of Oxford. From Speed, which challenges fast-twitch muscles, to Hold which builds endurance, the exercises give the pelvic floor a full workout.