What Is A Luxury Silicone Dildo?
Luxury silicone dildos are phallic shaped sex toys and penetrative objects that do not always vibrate. They come in a variety of shapes and sizes (from beginner-friendly to large).
People use a silicone dildo sex toy for G-spot or prostate stimulation, whether it's during solo or couples play.
Will A Silicone Dildo Make You Orgasm?
It depends on what kind of stimulation you want.
Clitoral Stimulation
Silicone dildos may not help you with clitoral stimulation. Silicone dildos are similar to a penis, which doesn't usually provide clitoral stimulation. Of course, you can use your dildo while also stimulating your clitoris with a finger or vibrator. Then it's double the pleasure.
G-spot Stimulation
Most silicone dildos are made to stimulate your G-spot. The best silicone dildos that stimulate your G-spot are curved in order to effectively reach your G-spot. If you have a vibrating, thrusting, or rotating dildo, you might be able to grind on it at an angle where you stimulate your G-spot and your clitoris.
Anal Stimulation
You can also use a silicone dildo for anal stimulation. If you have a vulva, anal dildos can help you achieve orgasm by indirectly stimulating the A-spot in the vagina. If you have a penis, you may can orgasm with prostate stimulation.
Just like other sex toys, you may need to experiment with a silicone dildo to figure out what you and your body likes the most.
SEX EDUCATOR TIP:
Silicone dildos should always be used with personal lubricant. Even if there is enough natural lubrication, more is always better.
Types of Luxury Silicone Dildos
Just like other adult sex toys, there are many different types and sizes of luxury silicone dildos. None are better or worse. It's all about you and your personal preference.
High end silicone dildos include:
Classic and lifelike (where the silicone dildo looks like a real penis)
Discreet and non-phallic
Hollow (excellent if you experience Erectile Dysfunction)
Flexible
Vibrating
Thrusting
Rotating
Remote Controlled
Strap On
Strapless Strap On (these types of strap on dildos do not require a dildo harness – one part is held in place by the vulva and the other part goes inside the receiver's anus or vulva)
Silicone dildos can have two usable sides or just one. Either end can be inserted when using a double dildos. Each end offers you a different type of stimulation, whether it is bigger for a fuller feeling, has ridges, or is meant for anal play.
Meanwhile, strap on dildos are meant to be used with a strap on harness, but they can also be used without the harness. These silicone dildos always have a flat base and/or suction cup base, which makes it easier to use with a strap on harness and can be suctioned to a flat surface.
Silicone dildos that vibrate add extra sensation during insertion. Some vibrating dildos also rotate or thrust. Most vibrating dildos are also strap on dildos.
Why Do You Want a Luxury Silicone Dildo?
Luxury sex toys are higher quality products.
Would you rather drive a Maserati or a Ford? If price were no object, the answer is simple: you would want to drive a Maserati. Why? It's faster, made with better materials, more exclusive, etc.
The same is true with high-quality luxury adult sex toys. They are:
made of premium silicone
quieter
more powerful
innovative
rechargeable
waterproof
built to last a long time (or will be replaced if they don't!)
Luxury sex toy manufacturers maintain rigorous standards for their products, spend a lot of time and money on research and development, and stand by their products with at least one-year warranties.
High-quality premium adults toys and high end dildos do NOT have:
rough seams
a rubbery chemical smell like that of a new shower curtain
"jelly" materials
Luxury, quality, and safety come at a price! Remember: you get what you pay for when it comes to adult products.
How to Clean Your Silicone Dildo
It's very important to clean your silicone dildo before and after each use. Regular soap and water can leave a residue and potentially change your pH making you even dryer. Luxury sex toys should be washed with sex toy cleaner.
Do You Need to Use Lubricant With Your Silicone Dildo?
YES!!
When using silicone dildos, it's always important to use personal lubricant. Dildos tend to dry up as they are exposed to air, making for uncomfortable re-entry. Thus, lube makes sexual play with a dildo BETTER and makes it more comfortable. The act of using a dildo often creates friction. If there is not enough lubrication, small tears could occur in the vagina, which could increase the risk of urinary tract infections, STIs, and other types of infections.
Just as important, lube makes your experience much more pleasurable. Every sensation is enhanced which will allow you to feel every movement at a heightened level.
For anal play, lubrication is a must. Unlike the vagina, the anus does not produce natural lubrication. Therefore, lube is necessary. Plus, lube makes anal play more comfortable. Anal lubricant, which is thicker than regular lubricant, stays on the skin longer and provides a more comfortable feeling by reducing friction and sensation.
Most of the time, our bodies produce enough natural lubricant to be comfortable everyday. However, if you are using toys (or having sex), you may need more than what nature provides, especially if you are experiencing hormonal changes, on medications or experiencing stress.
Using personal lubricant is not a sign of a broken body or a failed libido. Instead it's the most normal thing in the world!
We recommend water-based lubricant when using silicone dildos. You can also use a hybrid lubricant, which is mostly a water-based lubricant with a touch of silicone lubricant for extra glide. Hybrid lubricant should only be used with luxury premium silicone dildos because the silicone in a hybrid lubricant will not degrade your silicone dildo.
Water-Based Lube
Hybrid Lubricant
There's so many silicone dildos out there. How do you know which one is right for you? Silicone dildos come in a variety of shapes and sizes with a variety of features. No matter which one you choose, always pick the size and the design that works for you.
The Top BEST SILICONE DILDOS in 2023
---
BEST DOUBLE SIDED: LELO ELLA
Ella is a classic double sided luxury sex toy and high end dildo. LELO Ella is super soft and made with premium silicone.
Maximize your pleasure with both sides of LELO Ella. LELO's luxury dildo has one end is flatter and designed to stimulate the G-Spot, while the other end has a straighter tip, which is better for thrusting. Beautifully smooth and seamless, Ellais a smaller (5-inches of insertable length) and discreet dildo with its two different giving you a varied experience.
BEST BENDABLE: FUN FACTORY LIMBA FLEX
The Fun Factory Limba Flex is a bendable strap on luxury dildo for personalized prostate (or G-spot) play.
The Limba Flex fits your body perfectly and hits exactly the right spot every time. A firm wire inside is encased in premium silicone, which allows this luxury dildo to flex and bend. Once you bend the Limba Flex, it holds its position until you bend it again.
Long and slim, Limba Flex is perfect for thrusting, and its super thin base allows you to be closer than ever to your partner. The smooth, tapered tip makes anal play easy and comfortable. You can also use the Limba Flex for hands-free solo play as the base suctions to smooth, flat surfaces.
The Limba Flex is available in two sizes, each with a slightly different shape.
Small | 4.7″ x 1.1″
Medium | 6.8″x 1.2″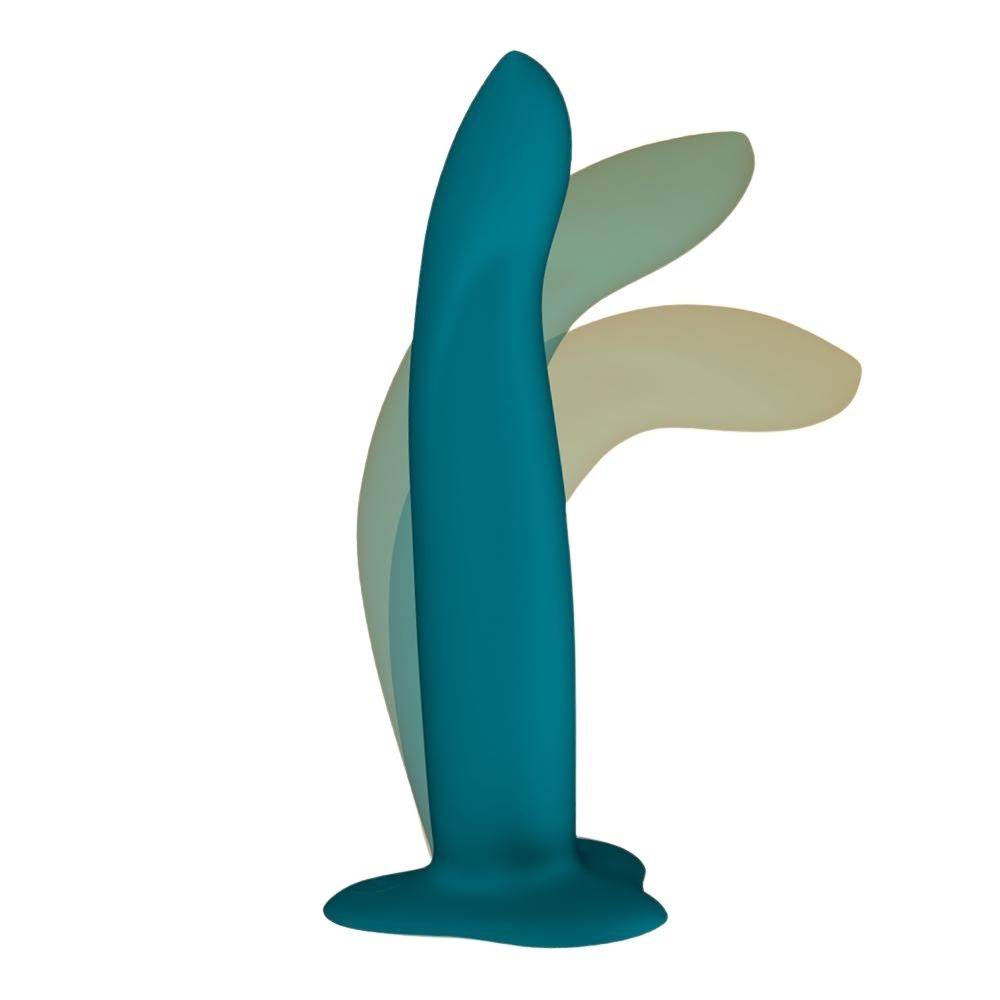 BEST G-SPOT STIMULATION: TANTUS CHARMER
Tantus Charmer is a silicone dildo that stimulates the G-Spot and is ribbed for maximum pleasure.
Excellent for beginners or G-spot aficionados, Charmer is a dildo designed to hit the G-spot over and over as it's worked in and out.
Most G-spot toys on the market are 6″ in length, which has led people to think they are supposed to put the toy in all the way, and they end up missing the mark. The urethral sponge is located 1″ to 3″ inside the vaginal opening, so the Charmer's many ridges are guaranteed to please!
A thicker base adds stability when using Charmer has a strap-on dildo. The average size and subtle shape makes this an excellent strap on dildo for beginners.
Ride Charmer and use it in the shower or against a wall.
Charmer's premium silicone is firm enough to be stable but soft enough to give a little extra comfort.
BEST LARGE: FUN FACTORY MAGNUM
Measuring at 7.52 inches in length, the Magnum luxury dildo has a stable base, which features a strong low profile suction cup, and is harness compatible.
Magnum is excellent for strap on play. It's extra thin base lets you get closer than ever to your partner. With its long length and not-too-rigid shaft, the Magnum is easy to control and great for lots of different bodies and positions. It's also a flexible dildo. So, it moves with the receiver for greater comfort.
Magnum is a high end dildo made of 100% smooth silicone making it easy to insert. Flexible yet firm, this luxury dildo is gentle to the body. Its shaft with just the hint of a head makes it attractive whether you like a realistic or non-phallic dildo.
BEST NON-PHALLIC: TANTUS SILK
The Tantus Silkis both smooth and simple dildo and is ideal if you want fullness without a phallic shape.
One of the first companies in the silicone arena, Tantus specializes in creating luxury strap on dildos that are more realistically-sized and worked with the body's most sensitive areas in mind. This makes the Tantus Silk the perfect choice for a first high end dildo.
The Tantus Silk is flexible and bendable, yet it is still firm enough so that it springs back to its original shape.
This luxury dildo is made from Tantus' own unique formula of 100% ultra-premium silicone, which makes it hypoallergenic, non-toxic, phthalate free, odorless, boilable, bleachable and even dishwasher safe!
AVAILABLE SIZES
Small | 4.25″l x .8″ d | Makes an excellent warm up toy and first dildo
Medium | 5.25″l x 1.1″ d
Large | 7″l x 1.5″ d
BEST DUAL DENSITY: AVANT ERGO
The Avant Ergo Dildo is a luxury artisanal strap on dildo with a suction cup base.
Avant Ergo is made of body-safe platinum cured silicone using a dual-density technology that feels soft, yet rigid and erect – similar to a real penis. This premium silicone warms with your body or by running your luxury dildo under warm water.
Avant Ergo's suction cup base will stick to almost any smooth, flat non-porous surface.
AVAILABLE SIZES
D7/D8 Ergo

Measures | 7.5″ x 1.5
Insertable length | 6″
D9/ D10 Ergo Mini

Measures | 6.5″ x 1.25
Insertable length | 5.25″
BEST HOLLOW: NEXUS BANX
The Nexus Banx is a silicone hollow luxury strap on dildo. Banx is an excellent dildo for someone who experiences Erectile Dysfunction.
Made of 100% body-safe smooth silicone, Banx can be used with a strap on harness with a 2″ o-ring.
BEST VIBRATING: VEDO RIALTO
The Vedo Rialto is a luxury dildo with two powerful motors with 10 vibrations modes and 6 intensity levels.
The simple design and realistic tip of this high end dildo allows for easy entry, and the long shaft provides gentle fullness.
Rialto is made from velvety smooth silicone and a flexible shaft that feels like a real penis. Rialto is 100% waterproof and is USB rechargeable.
BEST THRUSTING: NAKED ADDICTION
The Naked Addiction 9″ thrusting luxury dildo is a remote controlled that has a suction cup base and is harness compatible.
With the best and safest way to cure silicone, Naked Addiction's silicone is the most premium. Unlike traditionally cured silicones, platinum cured silicone does not use peroxides as part of the curing process.
With IncrediFeel technology, this superior silicone has an ultra realistic feel. Unbelievably soft to the touch, yet firm where needed, the Naked Addiction has hyper realistic textures and veins in the material.
This luxury sex toy has a variety of slow to very fast thrusting actions for varied stimulation. Compatible with most harnesses, this luxury strapon dildo is sculpted to replicate the human body with its realistic feel and shape.
The wireless remote control makes this high end dildo easy to use during solo or couples play. The Naked Addiction dildo has independently controlled vibrations & rotations with 7 speeds. Another famous thrusting dildo is the Lovense Gravity Thrusting Dildo.
BEST ROTATING: FEMME FUNN TURBO SHAFT 2.0
Sculpted to replicate the human body with its realistic feel and sculpted precision tip, the Femme Funn Turbo Shaft 2.0 is a classic shaped remote-controlled vibrating and rotating luxury strap on dildo.
The Turbo Shaft 2.0 rotates in full 360 degrees at 8 powerful vibration modes. The "Boost Button" is excellent for those times that you need a little extra something to get you to the orgasm finish line.
Turbo Shaft's wireless remote control makes it easy to use during solo or couples play.
BEST SQUIRTING: STRAP-ON-ME CUM DILDO
Strap-on-Me Silicone Cum Squirting Dildo is a luxury silicone dildo ejaculator that mimics ejaculation of a real penis.
This luxury squirting dildo gives you a realistic experience of ejaculation like no other. At the desired moment, press the syringe (previously filled with the liquid of your choice) for the dildo to ejaculate.
This ejaculating dildo is equipped with a big-volume 30ml. syringe and plenty of tubing (82cm), which you can cut it to any length you want.
We recommend using a thick or creamy lubricant gel that would be similar to the texture of semen.
Easy to wear, this dildo ejaculator adapts perfectly to your anatomy and becomes one with you. Its flexible shape and firm body offers unparalleled positional comfort. The soft-touch silicone dildo provides a bottom with three outlet pipes in order to adapt to you whether you are left or right-handed.
A suction cup at the base of your luxury dildo makes sure that it securely stays in place against a flat surface. This dildo's ergonomic design is compatible with a harness.
BEST STRAPLESS STRAP ON: TANTUS FEELDOE
Contoured to fit the body perfectly, the Tantus Feeldoe strapless strap on dildo combines the excitement of strap on sex, and mutual penetration, without the need for a strap on harness. Without a harness, you can feel more physically and intimately connected to your partner.
The Feeldoe works by utilizing the internal vaginal or anal muscles to hold the toy's bulb in place while allowing free movement of the shaft of the dildo. This gives a strong hold that allows for thrusting without fear of the toy shifting out of place.
The shaft end of this luxury dildo and silicone sex toy comes up at a natural angle to penetrate your partner's sweet spots for ultimate pleasure. Each Feeldoe has small ridges on the shaft that can rub against the wearer's clitoris during penetration, allowing the wearer and receiver to feel simultaneous internal stimulation.
The vibrating Feeldoe includes a vibrating bullet that can be inserted at the base of the toy (a drop of lubricant in the vibrator cavity allows for easier removal). With the 2.25″ x .625″ waterproof and removable bullet vibrator, you feel more sensation and vibration throughout the entire dildo. Other popular tantus products include the Tantus P Spot Vibrating Dildo.