What Are Suction Vibrators and Sex Toys?
Oral sex, a.k.a. cunnilingus, is an excellent addition to foreplay or instead of penetration. However, to experience oral sex, you need a partner.
Not anymore! You no longer need a partner to experience oral sex thanks to suction vibrators and sex toys!
Suction vibrators and sex toys are a great addition to your sex toy tool box. Many suction stimulators mimic the sensation of a mouth sucking on your clitoris.
Suction sex toys comes in many shapes and sizes. Some feature internal G-spot stimulation, as well. No matter which you choose, you'll enjoy your orgasm!
THE BASICS . . .
---
Why Use Suction Vibrators and Sex Toys?
There are many reasons why you might use a suction vibrator and sex toy:
You don't have a partner to perform oral sex
You like the feeling of oral sex
You have a sensitive clitoris and suction sex toys are more gentle on your clitoris than vibrators
You don't have a lot of time for sexual play and suction often creates fast (and multiple orgasms!)
Oral sex with your partner makes you uncomfortable
Any or all of these reasons are ok and normal. It's ok to enjoy oral sex whether you are alone or with your partner.
The entire point of suction sex toys is to stimulate your clitoris. Oral sex and suction sex toys are just another way to experience pleasure.
Of course, toys are also called toys for a reason – they add pleasure, fun, and playfulness to your sex life and relationship. They let you explore what feels good, add variety to your sexual play, and experiment with new types of sensation.
Plus, suction sex toys never get tired like your partner's tongue!
What Happens If You Don't Like A Suction Vibrator and Sex Toy?
Give it at least 3-4 tries before you judge the toy. Whenever you try something new, the first couple of times you are focused more on the newness and sometimes awkwardness of the situation. Your body isn't used to the sensation and your mind might wander a bit. Also, depending on where you are in your menstrual cycle (or even menopause), your body can react differently to sex toys. Your body has different needs during those times, which can affect how well sex toys can work.
It's also important to remember that everyone is different and has a different body. What works for one, may not work for you.
---
So, there is no one "best" suction vibrator and sex toy out there – there's only the best one for YOU!
---
Will You Like Suction Vibrators and Sex Toys If You Need A Lot of Power?
Maybe not. Generally, suction vibrators and sex toys are not for the power-hungry. However, it is a very different type of sensation, which you might never have tried before. So, it might be worth exploring.
If you are curious as to what a suction stimulator feels like, we suggest starting off with a less expensive option.
Why Do You Want A High-Quality Suction Vibrator?
Premium luxury sex toys are higher quality products. Would you rather have a smartphone or a flip phone? If price were no object, the answer is simple: you would want to have a smartphone.
Why?
---
There are more features, there's more research that goes into it, and it's made better. The same is true with high-quality luxury oral sex toys. They are:
made of body-safe materials (rather than toxic chemicals that are harmful to your body)
quieter
more powerful
rechargeable
waterproof
built to last a long time (and have warranties!)
Luxury sex toy manufacturers maintain rigorous standards for their products. They spend a lot of time and money on research and development. Thus, they stand by their products with at least one-year warranties.
Luxury, quality, and safety come at a price! Remember: you get what you pay for when it comes to sex toys. High-end sex toys are made with body-safe materials. The best materials are non-porous and non-toxic. Medical-grade silicone is often used, which is excellent at transferring vibrations. Silicone sex toys come in many different textures and finishes. Other premium sex toy materials include Elastomed and ABS plastic.
How To Choose A Suction Vibrator and Sex Toy?
Before getting started with suction vibrators, ask yourself these questions:
What size suction vibrator do you want?
Will you use your suction vibrator for alone or during partner sex or both?
What should your suction vibrator look like? Do you want something discreet, where it doesn't look like a sex toy?
Do you want internal stimulation in addition to clitoral stimulation?
Will you be traveling with your suction vibrator? If you will be traveling with your toy, you will want a travel lock.
Do You Need to Use Lubricant?
YES!!
Lubrication during sexual play is important. Lube makes solo sex much more pleasurable. Every sensation is enhanced which will allow you to feel every movement at a heightened level. Also, toys tend to dry up as they are exposed to air, making for uncomfortable re-entry.
Most of the time, our bodies produce enough natural lubricant to be comfortable everyday. However, if you are having sex or using toys, you may need more than what nature provides, especially if you are experiencing hormonal changes, on medications or experiencing stress.
Using personal lubricant is not a sign of a broken body or a failed libido. Instead it's the most normal thing in the world.
We recommend water-based lubricant when using sex toys and silicone-based lube when using non-silicone sex toys or during sex or during sexual play in the shower/bath tub.
Water-Based Lube
Silicone-Based Lube
How To Clean A Suction Vibrator And Sex Toy
It's very important to clean your luxury sex toys before and after each use. Regular soap and water can leave a residue and potentially change your pH making you even dryer. Luxury sex toys should be washed with sex toy cleaner.
THE TOP BEST SUCTION VIBRATORS AND SEX TOYS FOR WOMEN IN 2023
---
Womanizer Premium 2 Stimulator
The Womanizer Premium 2 is a suction vibrator and sex toy that features Pleasure Air Technology. This luxury sex toy creates fast and often multiple orgasms — without over-stimulation — and the new autopilot function.
How does it work? The Womanizer directly stimulates the area around the clitoris using vibration and suction. The pleasure cap is placed over the clitoris, making a seal around the clitoris. This creates a comfortable suction that teases and stimulates the clitoris via microprocessor-controlled pressure waves. The end result is a different kind of stimulation with intense orgasms.
With the new autopilot function, you can experience an orgasm unexpectedly in a new way. The rhythm changes every you use the Womanizer Premium 2. Autopilot is a perfect feature if you are bored with other toys and want a unique experience every single time.
With Smart Silence, this luxury sex toy only starts when it is almost touching the surface of the skin, thanks to its sensor. This not only makes it quieter to use but also makes your anticipation and pleasure even more intense. Other womanizer products include the Womanizer Classic Stimulator.
There are many different Womanizers suction vibrators to choose from depending on your budget and the features you want.
SHOP ALL WOMANIZER SUCTION TOYS
---
Baci Stimulator by Lora DiCarlo
Baci suction vibrator and sex toy by Lora DiCarlo gives you the sensation of a mouth on your clitoris, while delivering two types of clitoral stimulation simultaneously: vibration (stimulator) and suction (clitoral mouth).
The Clitoral Stimulator is designed to rest against your vulva, pressed against the inner labia and in between the outer labia. This allows the unique smooth ridges of the vibrator to thrum throughout the full body of the clitoris – above and below the surface.
Simultaneously, the Clitoral Mouth is designed to be placed over the glans clitoris (the part of the clitoris you can see) or against any part of the vulva. Micro robotics create the sensation of lips and tongue stroking and sucking your clitoris. The clitoral mouth uses airflow technology to mimic the feeling of a human mouth and tongue lightly sucking and stroking over the clitoris, mimicking your partner.
LELO SONA 2 Stimulator
Sona 2 is a powerful suction vibrator that delivers sonic waves that stimulate the entire clitoris (not just the tip, like traditional vibrators).
That means it doesn't rely on vibrations like a conventional vibrator, which only focuses vibrations on external nerve endings. Instead, its mouth rests gently around the clitoris and emits sonic pulses for contact-free stimulation. Therefore, your clitoris will not become sensitive and you can orgasm over and over again. These sonic waves and pulses stimulate the entire clitoris – not just the external part you can see and touch.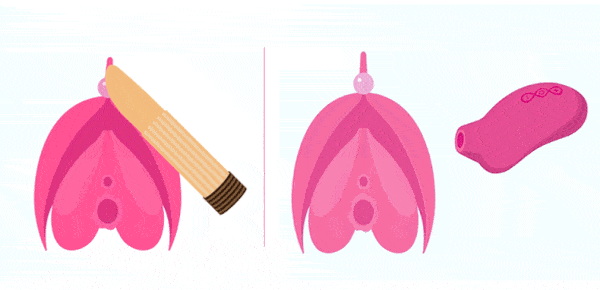 The clitoris is stimulated with a sonic hum for a different kind of orgasm produced by the gentle deep-tissue massage of sonic waves. It's a prolonged climax after a sensual build-up. It's a different, fluttering sensation that resonates through the entire body of the clitoris, building to an orgasm. This orgasm will be unlike anything you have ever experienced.
LELO Sila Stimulator
LELO Sila is a sonic suction vibrator that uses gentle sonic waves for pleasure without directly touching your clitoris. The sensation is gentle yet highly stimulating and very intense.
As gentle waves surge from the tip of your clitoris all the way down, with 8 different modes, Sila pulsates, suctions, and stimulates your entire clitoris including the clitoral legs inside your body.
Easy to hold and designed with a larger mouth than most other similar toys, Sila's softer, deeper, and bigger mouth comfortably surrounds your clitoris.
We-Vibe Melt Vibrator
Melt by We-Vibe is a suction vibrator and sex toy designed for couples to be used during s. Melt surrounds the clitoris with gentle pulsing waves of air and indirect stimulation that leads to fast and often multiple orgasms.
PleasureAir surrounds your clitoris with pulsating waves and gentle suction to massage your clitoris without over-stimulation or needing to stop.
The curved design of this luxury sex toy is comfortable and easy to hold, while the PleasureAir head is located at Melt's tip. Its slim, curved design fits perfectly between you and your partner in any sexual position so that both of you can orgams together.
Turn on Melt manually or use the free We-Connect app to control Melt from across the room or anywhere in the world.Use We-Connect to play and share control of Melt from anywhere, create custom vibes, and play together with other We-Vibe products.
Ose 2 Stimulator by Lora DiCarlo
Inspired by human movement and the human touch, Osé 2 by Lora DiCarlo is a dual stimulation vibrator — stimulating the clitoris and G-spot — for blended orgasms.
Osé 2 combines a G-spot massager and suction to arouse and stimulate both pleasure points simultaneously. With a more accommodating, intuitive fit that has a slightly longer body and more flexibility, you can adjust its position for maximum satisfaction.
The Clitoral Stimulator is designed to replicate the sensation of a mouth and tongue over your clitoris. It presses flat against the vulva and its smooth ridges rest within the outer labia to provide rhythmic thrumming throughout the full body of the clitoris.
Osé's soft G-spot massager mimics the come-hither motion of a finger. Custom settings allow you to determine the length and speed of each stroke against your G-spot.