Cock rings or penis rings have become more popular, especially since more couples are using them as an addition to their sexual play.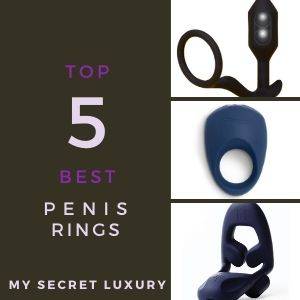 The Basics . . .
What Are Cock Rings?
A cock ring is a male sex toy that is designed to:
Make an erect penis harder and bigger
Maintain an erection for a longer amount of time
Delay and create a more intense orgasm
Worn around the base of the penis (and testicles — if you prefer), cock rings work by constricting blood flow and keeping blood in the shaft of the penis. When the wearer finally does ejaculate, the sensation is much more intense. This is because it took a longer time to ejaculate since the penis is filled with additional blood.
Why Use A Cock Ring?
Cock Rings are used with a partner or solo, as a fun addition to sexual play. Rings are most commonly worn for the following reasons:
To create firmer and longer lasting erections
To have more intense orgasms
To make the penis look longer and thicker
To assist a man who has trouble maintaining an erection
To assist a man who ejaculates too fast
According to Dr. Harry Fisch, MD, FACS, 50% of men orgasm too fast, which results in sex being over too fast. Premature ejaculation is the #1 sexual dysfunction of men. Cock rings are a great noninvasive way to help with this issue and erectile dysfunction. If you are wondering what do penis rings do? We have an article on that too!
Types of Cock Rings
There are many types of rings: adjustable rings; non-adjustable rings; and vibrating rings.
Adjustable and Stretchable Rings
Excellent for beginners
Can be removed quickly if sensations become too intense
Can be worn at the base of penis or behind the testicles
Non-Adjustable Rings
Excellent for advanced users
Little to no flexibility
Worn behind the testicles
Vibrating Rings
Excellent for couples and will stimulate her clitoris
Can also be turned upside down so that it vibrates on his perineum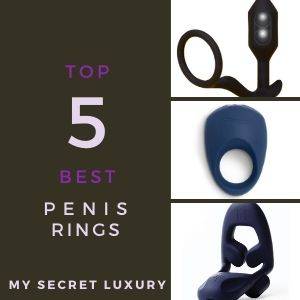 How Do You Wear A Cock Ring?
In most cases, cock rings can be put on by inserting the testicles ball by ball followed by the head of the penis and then the shaft. Personal lubricant can be added to make it a little easier.
Adjustable rings can be put on at any point during an erection by stretching the ring so that it fits snuggly around the base of the penis or behind the testicles.
Non-adjustable rings fit over the shaft and the testicles/scrotum when a man is not erect. Hold the ring under the testicles and insert one at a time. Then, pull the penis through the ring making sure to adjust for comfort. Reverse these steps to remove the ring from a flaccid penis.
How Long Should You Wear A Cock Ring?
A cock ring needs to increase the size of the erection only slightly. If you notice more pronounced swelling, then the fit is too tight and take it off immediately. If a penis ring fits too tightly, it could be hard to remove and could cut off circulation in the penis entirely.
To prevent damage or bruising to the penis, a ring should not restrict the blood flow for more than 20 minutes at a time. Beginners should only wear a ring for 5-10 to make sure it's not too tight. If pain is felt at any time or if the genitals feel cold, the ring should be removed as soon as possible. (Also, if you have erectile dysfunctionn, a blood clotting disorder, any peripheral vascular or nerve disease, or are taking any blood-thinning medication, please check with your doctor before trying a penis ring.)
Here's why you should NOT wear a cock ring for an extended period of time: An erection that lasts several hours can cause blood coagulation in the penis, making it difficult to lose the erection. This is called priapism, a prolonged erection. Since new blood cannot enter the penis, this can be severely painful and cause permanent damage to the erectile tissue. If this happens to you, GO TO THE HOSPITAL.
Also, use common sense and avoid using penis ring substitutes that cause too much constriction like rubber bands, binder clips, or any kind of vice.
How Do You Measure For A Cock Ring?
For rings worn at the base of the penis, take a piece of string or soft tape measure and wrap it around the base of an erect penis. That will give you the circumference.
For rings worn around the penis and testicles, measure and wrap around behind the testicles and as close to the body as you can while the penis is erect for the circumference.
Rings sizes are based on diameter. For the diameter of a ring, divide your measurement by 3.14. For example: If the penis measures 7", divide by 3.14, which equals 2.23". A ring that is smaller than 2.23" but is within .25"-.5" will be needed for a comfortable fit.
How Does It Feel To Wear A Cock Ring?
Many men wonder: how does it really feel to wear a cock ring? They are afraid that it will hurt or it will not allow them to orgasm. Sensation might range from slight discomfort to lots of pressure similar to the way it feels when you get your blood pressure taken. When the cuff around your arm tightens, your arm gets that tingly, tight feeling and feels slightly uncomfortable. Pressure and keeping the blood flow in one area can make nerves super sensitive. Therefore, when the cuff comes off (or when there is finally ejaculation), there is a stronger feeling of relief (or a stronger orgasm). If you want to take it a step further and try cock cages then MSL offers – the Cellmate App Enabled Cock Cage and the Man Cage Chastity Belt.
Are you ready to try one??
See our picks for the
TOP 5 BEST COCK RINGS!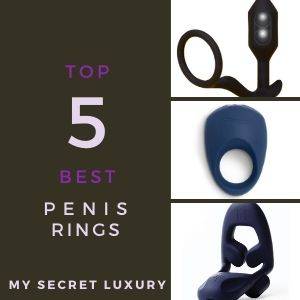 ---