A common question sex educators get asked is: What do penis rings do?
Many people wonder what is the purpose of penis rings and why you would use cock rings?
It's simple — for MORE pleasure!!
As sex toys become more popular and less stigmatized, many people are using penis rings as an addition to their sexual play.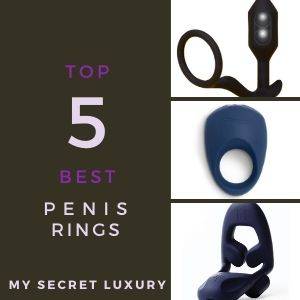 The Basics . . .
---
What Are Penis Rings?
A penis ring is a male sex toy that is designed to:
Make an erect penis harder and bigger
Maintain an erection for a longer amount of time
Delay and create a more intense orgasm
Worn around the base of the penis (and testicles — if you prefer), cock rings work by constricting blood flow and keeping blood in the shaft of the penis. When the wearer finally does ejaculate, the sensation is much more intense. This is because it took a longer time to ejaculate since the penis is filled with additional blood.
Why You Would Use A Penis Ring?
Penis rings are used with a partner or solo as a fun addition to sexual play. Rings are most commonly worn for the following reasons:
To create firmer and longer-lasting erections
To have more intense orgasms
To make the penis look longer and thicker
To assist a man who has trouble maintaining an erection
To assist a man who ejaculates too fast
According to Dr. Harry Fisch, MD, FACS, 50% of men orgasm too fast, which results in sex being over too fast. Premature ejaculation is the #1 sexual dysfunction of men. Cock rings are a great noninvasive way to help with this issue and erectile dysfunction.
Types of Penis Rings
There are many types of rings: adjustable rings; non-adjustable rings; and vibrating rings.
Adjustable and Stretchable Rings
Excellent for beginners because they are easy to put on and take off
Can be removed quickly if sensations become too intense
Can be worn at the base of penis or behind the testicles
Non-Adjustable Rings
Excellent for advanced users
Little to no flexibility
Worn behind the testicles
Vibrating Rings
Excellent for couples and will stimulate her clitoris
Can also be turned upside down so that it vibrates on his perineum
How Does It Feel To Wear A Penis Ring?
Many men wonder: how does it really feel to wear a cock ring?
They are afraid that it will hurt or it will not allow them to orgasm. Sensation might range from slight discomfort to lots of pressure similar to the way it feels when you get your blood pressure taken. When the cuff around your arm tightens, your arm gets that tingly, tight feeling and feels slightly uncomfortable. Pressure and keeping the blood flow in one area can make nerves super sensitive. Therefore, when the cuff comes off (or when there is finally ejaculation), there is a stronger feeling of relief (or a stronger orgasm).
How Do You Put On A Penis Ring?
In most cases, cock rings can be put on by inserting the testicles ball by ball followed by the head of the penis and then the shaft. Personal lubricant can be added to make it a little easier.
Adjustable rings can be put on at any point during an erection by stretching the ring so that it fits snuggly around the base of the penis or behind the testicles.
Non-adjustable rings fit over the shaft and the testicles/scrotum when a man is not erect. Hold the ring under the testicles and insert one at a time. Then, pull the penis through the ring making sure to adjust for comfort. Reverse these steps to remove the ring from a flaccid penis.
How Long Should You Wear A Penis Ring?
A cock ring needs to increase the size of the erection only slightly. If you notice more pronounced swelling, then the fit is too tight and take it off immediately. If a penis ring fits too tightly, it could be hard to remove and could cut off circulation in the penis entirely.
To prevent damage or bruising to the penis, a ring should not restrict the blood flow for more than 20 minutes at a time. Beginners should only wear a ring for 5-10 to make sure it's not too tight. If pain is felt at any time or if the genitals feel cold, the ring should be removed as soon as possible. (Also, if you have erectile dysfunctionn, a blood clotting disorder, any peripheral vascular or nerve disease, or are taking any blood-thinning medication, please check with your doctor before trying a penis ring.)
Here's why you should NOT wear a cock ring for an extended period of time: An erection that lasts several hours can cause blood coagulation in the penis, making it difficult to lose the erection. This is called priapism, a prolonged erection. Since new blood cannot enter the penis, this can be severely painful and cause permanent damage to the erectile tissue. If this happens to you, GO TO THE HOSPITAL.
Also, use common sense and avoid using penis ring substitutes that cause too much constriction like rubber bands, binder clips, or any kind of vice.
How Do You Measure For A Penis Ring?
Penis rings are measured by diameter. This is the measurement across the widest part of the ring's hole. You want a penis ring with a diameter that's smaller than your measurements – this will ensure you have the constriction and tightness that you need. We suggest starting with a penis ring that is a bit smaller than your measurements. The smaller you go, the tighter the penis ring will be.
For rings worn at the base of the penis, take a piece of string or soft tape measure and wrap it around the base of an erect penis. That will give you the circumference.
For rings worn around the penis and testicles, measure and wrap around behind the testicles and as close to the body as you can while the penis is erect for the circumference.
For the diameter of a ring, divide your measurement by 3.14. For example: If the penis measures 7" circumference, divide by 3.14, which equals 2.23". A ring that is smaller than 2.23" but is within .25"-.5" will be needed for a comfortable fit.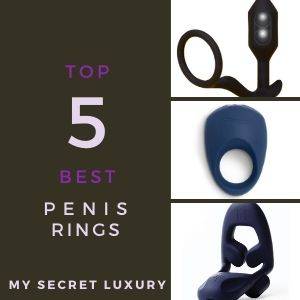 Why Do You Want A Premium Luxury Penis Ring?
Luxury penis rings are higher-quality products.
Would you rather drive a Maserati or a Ford? If price were no object, the answer is simple: you would want to drive a Maserati. Why? It's faster, made with better materials, more exclusive, etc.
The same is true with high-quality cock rings. They are:
made of body-safe materials (rather than toxic chemicals that are harmful to your body)
quieter
more powerful
innovative
rechargeable
waterproof
built to last a long time (or will be replaced if they don't!)
Luxury sex toy manufacturers maintain rigorous standards for their products, spend a lot of time and money on research and development, and stand by their products with at least one-year warranties.
High-quality premium adults toys do NOT have:
rough seams
a rubbery chemical smell like that of a new shower curtain
"jelly" materials
Luxury, quality, and safety come at a price! Remember: you get what you pay for when it comes to adult products.
Do You Need To Use Lubricant With A Penis Ring?
Lube makes masturbation (and sex) much more pleasurable. Every sensation is enhanced which will allow you to feel every movement at a heightened level. Also, toys tend to dry up as they are exposed to air, making for uncomfortable re-entry.
For anal play, lubrication is a must. Unlike the vagina, the anus does not produce natural lubrication. Therefore, lube is necessary. Plus, lube makes anal play more comfortable. Anal lubricant, which is thicker than regular lubricant, stays on the skin longer and provides a more comfortable feeling by reducing friction and sensation.
We recommend water-based lubricant when using sex toys and silicone-based lube when using non-silicone sex toys. A hybrid lubricant is a mostly water-based lubricant with a touch of silicone for a better glide.
Do You Need To Clean Your Penis Ring?
YES!!!
It's very important to clean your penis ring before and after each use. Regular soap and water can leave a residue. Therefore, luxury penis rings should be washed with sex toy cleaner.
Are you ready to try a penis ring??
See our picks for the
TOP 5 BEST PENIS RINGS!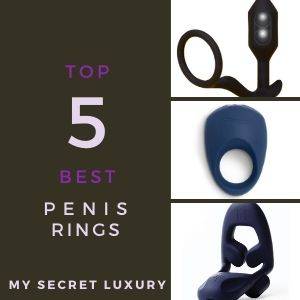 ---