Posted by Sexual Health Educator on 18th Jan 2022
The Ultimate Guide to Vaginismus - Definition, Causes, and Treatment of Painful Sex. For some people, painful sex is a regular occurrence. There are many causes of painful sex.
The Ultimate Guide to Vaginismus
Definition, Causes, & Treatments of Painful Sex
---
This post was last updated on January 18, 2022 at 6:24 p.m.
Most people with vulvas will experience painful sex (dyspareunia) and wonder why sex hurts at some point. For many, this is a one-time or occasional experience. Maybe you didn't spend enough time warming up with foreplay? Perhaps you tried a new position that really didn't work, or something similar.
However, for some people, painful sex is a regular occurrence and has a more longstanding cause. There are many causes of painful sex. An increasingly common one is vaginismus.
---
Vaginismus is involuntary tightening of the muscles in and around your vagina. This causes the vagina to clamp closed. It makes penetration with anything -- a finger, tongue, tampon, penis, sex toy, speculum, etc -- difficult and painful, if not impossible.
The muscle contractions themselves may or may not hurt. However, vaginismus makes attempts at vaginal penetration painful.
Vaginismus, like all sexual problems, also can stress you and your relationship.
Unfortunately, no one really knows. Most likely there's a combination of causes including:
Past sexual trauma or abuse

Psychological factors (including fear and anxiety about it happening)

A response to physical pain
The main symptoms of vaginismus are:
difficult or painful vaginal penetration

vaginal pain during sexual intercourse, a pelvic exam, or when inserting anything into the vagina
Because of this pain, people with vaginismus often get anxious about having sex. Unfortunately, this anxiety can make the vaginismus worse. That's why treatment can include both physical and psychological approaches.
Just because you have vaginismus doesn't mean you can't be aroused or have an orgasm though! While it is uncomfortable and certainly worth looking into treatment, the clitoris isn't usually involved. This is good news because most people with vulvas need clitoral stimulation to experience orgasm anyway. Of course, external luxury vibrators can definitely help with that!
FACT:
About 70% of people with vulvas need clitoral stimulation to orgasm!
Can I treat vaginismus? Can it be cured?
Vaginismus can be both treated and cured. You'll likely be treated with a combination of pelvic floor exercises (Kegel exercises), insertion or dilation training (progressive desensitization), physical therapy, education and pain elimination techniques,, and counseling.
Progressive desensitization is a recommended technique that uses vaginal dilators to train your body how to reverse uncontrollable contractions and the pain so the pelvic floor can relax and respond correctly to vaginal penetration.
Kegel exercises allow you to identify and control you pelvic floor. Kegel exercises help to retrain the pelvic muscles to reduce pain when penetration is involved.
To perform Kegel exercises:
Contract the pelvic floor muscles

Hold for two seconds

Relax
I suggest doing 20 contractions at a time and you can do them as often as you like. When you get used to contracting and controlling your pelvic muscles, you can then try inserting one of your fingers into your vagina and working up to three. Short fingernails and personal lubricant are a MUST.
Insert your finger(s) at least 2-3inches so you can feel the pelvic muscles contracting. It is recommended to NOT use a partner's finger(s) in treating vaginismus because psychologically you might associate your partner with pain.
If you think you have vaginismus, don't use dilators without the supervision of a physical therapist, sex therapist, or other health care provider.
What should I do if I think I have vaginismus?
First, find a gynecologist you trust and tell them what's going on. If you don't love your doctor for any reason, ask your friends or colleagues for a referral or contact your health insurance to find someone in-network.
SEXPERT TIP:
Nurse practitioners (NP) can do full gynecological care and often are more empathetic and holistically trained.
Make an appointment only to talk about the vaginismus. You can bring it up during an annual exam but if you have a lot of questions, it's best to make a separate appointment.
Your healthcare provider will do a pelvic exam to confirm if you have vaginismus.
From there, you should get a care team that includes your gynecologist, a pelvic floor physical therapist, and a mental health therapist, among others. Together, they'll create a plan to manage and work towards curing your vaginismus.
Why do you need to see a therapist?
Psychotherapy or sex therapy can help reduce anxiety and fear about sex or sexual functioning as well as for releasing/reframing traumatic memories.
Lastly, do yourself a favor and take vaginal intercourse off the table for a bit! Let your partner know what's going on, reassure them it's not their fault (it isn't...and it isn't yours either!), and talk about all the other sexy fun activities you can do together.
What about sex? Can I have it?
That depends how you define "sex"! If sex means vaginal intercourse, probably not yet . If vaginal penetration hurts and you keep trying, it'll make you more anxious and can make your vaginismus worse.
However, if sex means all the sexy things you and your partner do, then absolutely! Enjoy making out, massages, oral sex, and handjobs. Explore anal play, sensation play, and BDSM. Use a vibrator on your clitoris or anal opening or nipples. If your partner has a penis, treat him to a masturbation sleeve (bonus: they make handjobs easier!).
The Best Sex Toys
for
Vaginismus

---
BEST WEARABLE DURING SEX: Ohnut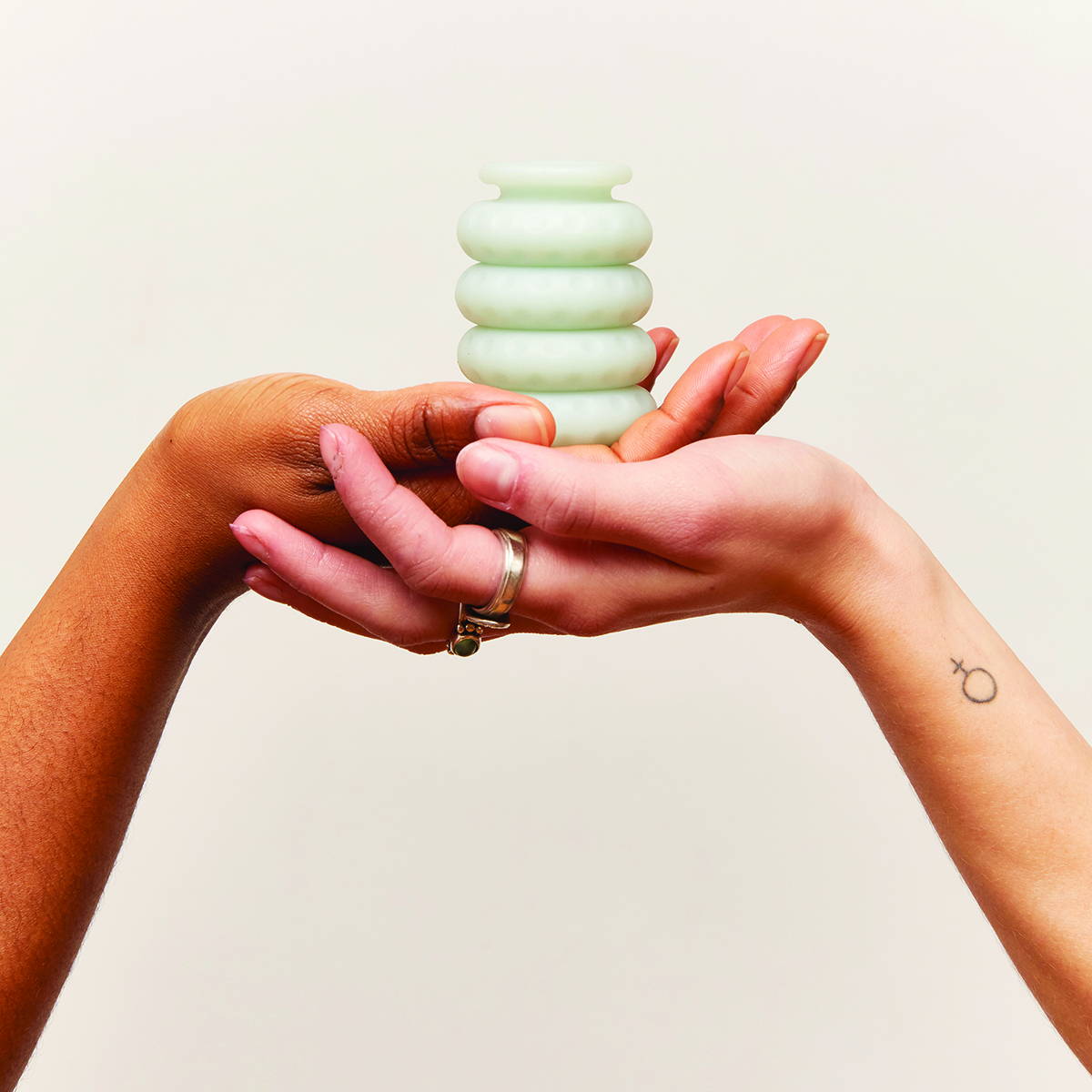 (Price:
$65
Discreet Shipping)
Ohnut is a revolutionary sexual wellness product and aide that allows couples to explore comfortable penetration depths during sex.
Ohnut is adjustable with comfort ridges that compress down and allows your partner to penetrate as deep as your body can allow without pain.
This comfy wearable is worn externally at the base of a penetrating partner so you can adjust how deep feels good - for both of you.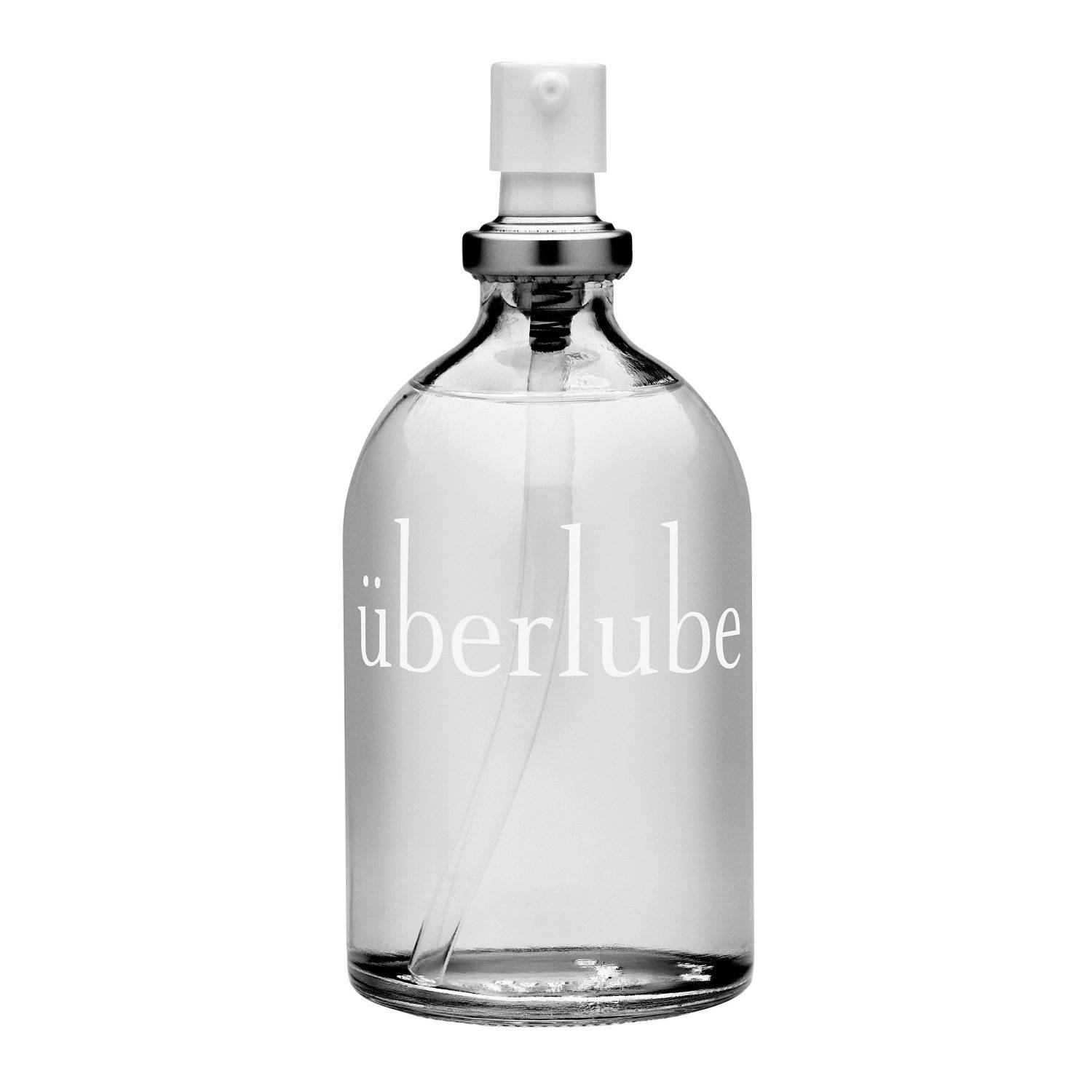 Price:
Starts at $15
(Discreet Shipping)
Use lubricant during sex our masturbation. Lube decreases friction which makes sex feel more pleasurable and lowers the risk of small cuts and tears in the vagina.
Uberlube is a luxurious high-quality silicone lubricant with a velvety feel and only 4 ingredients that enhances intimacy and stays on the surface of the skin for as long as you want it.
This premium lubricant is not only slippery but it has been designed to transfer sensation while reducing friction. The lube continues to last until it is completely rubbed into your skin.
It is not sticky or tacky and a little goes a long way. Uberlube is very thin and not greasy so that you can feel skin on skin (or toy) contact.
When finished, it leaves your skin soft and moisturized. Vitamin E leaves a soft smooth finish similar to a regular moisturizer. It is also an excellent lubricant if you experience vaginal dryness.
Many doctors and therapists recommend Uberlube to their patients, especially if you have sensitivities to other lubricants. This premium lubricant does not contain natural matter, which is less likely to change your pH. This is beneficial if you are prone to yeast infections.
BEST VAGINAL MOISTURIZER: AH! Yes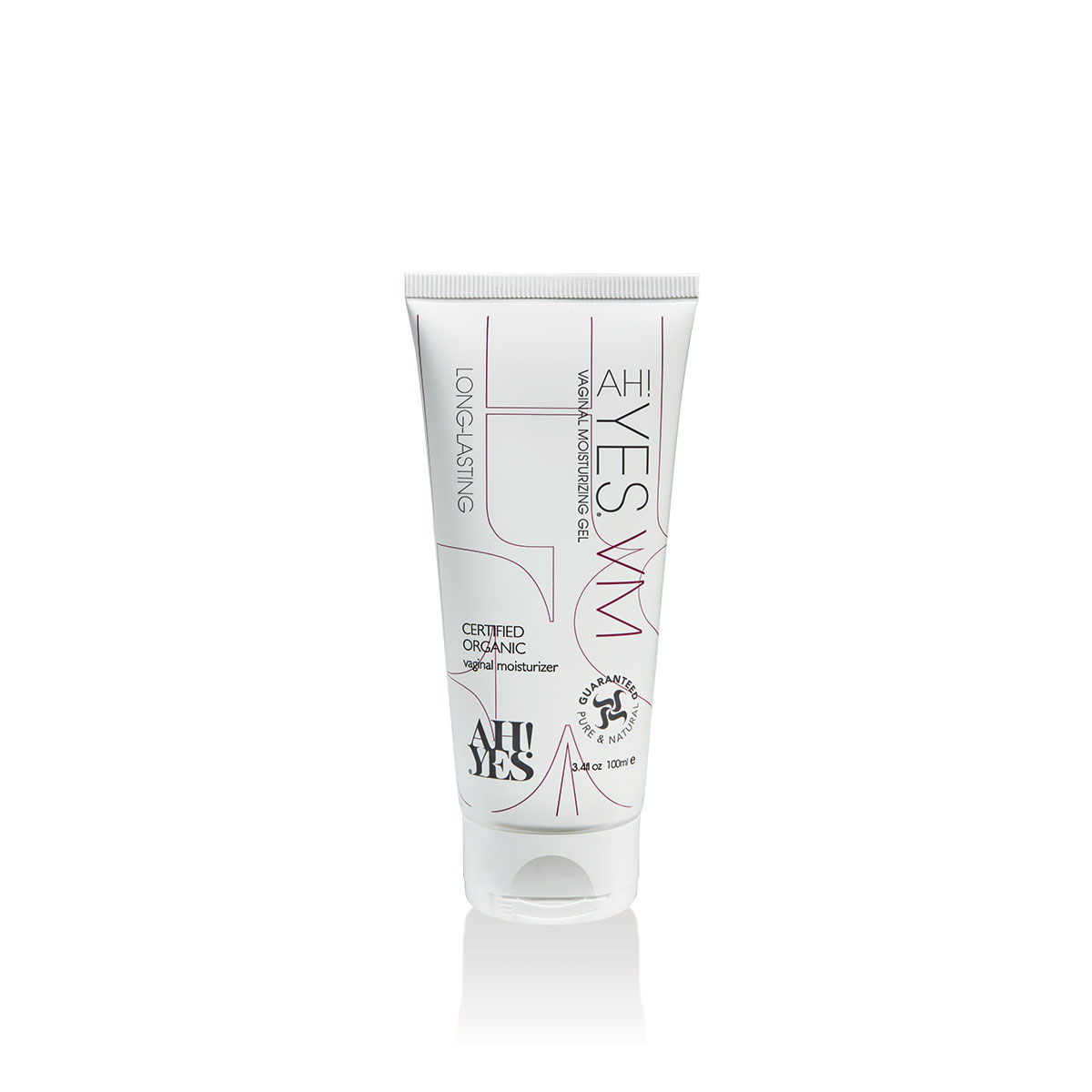 Price:
$14.99
(Discreet Shipping)
Vaginal moisturizers provide a higher level of moisture than a lubricant.
We recommend AH YES! Vaginal Moisturizer because it remains in contact with sensitive vaginal tissues for up to 3 days, which is much longer than regular lubricant. It is formulated with natural, gentle ingredients that replenish vaginal moisture where needed.
AH YES! VM contains bio-adhesive natural hydrocolloids (plant gums) that gently cling to the lining of the vagina and release water where needed, revitalizing, rehydrating and lubricating the vaginal vault. AH YES! VM also helps to restore the naturally acidic pH balance of the vagina.
Sex is so much more than intercourse! This way of thinking may be an adjustment and that's ok.