Painful sexual intercourse and vaginal atrophy commonly occurs in people with vulvas after menopause. Simple and effective treatments mean that you don't have to live with the discomfort it's known to bring.
THE BASICS . . .
What is vaginal atrophy?
Vaginal atrophy (also known as atrophic vaginitis) is when the lining of your vagina gets thinner, drier, and inflamed. About half of postmenopausal people experience vaginal atrophy.
If you are experiencing vaginal atrophy, you are not alone. Painful sexual intercourse is experienced by many other people.
What causes vaginal atrophy?
Having less estrogen in your body leads to vaginal atrophy. Having less estrogen makes your vaginal tissues thinner, drier, less elastic, and more fragile.
You may experience a drop in estrogen:
After menopause
During the years leading up to menopause (perimenopause)
After surgery to remove your ovaries (surgical menopause)
After pelvic radiation or chemotherapy for cancer
As a side effect of certain breast cancer treatments
Other factors also contribute to vaginal atrophy and painful sex. These include smoking, not having given birth vaginally, and lack of sexual activity (solo or with a partner).
Both smoking and lack of sexual activity reduce the amount of blood flow, and therefore oxygen, to your vagina. This makes the tissue less elastic and more fragile. Smoking also reduces the amount of natural estrogen in your body, and people who smoke tend to go through menopause earlier.
What are the symptoms of vaginal atrophy?
While vaginal atrophy is common, not all people with vulvas experience it. Symptoms may start to bother you during perimenopause or may not become a problem until several years into menopause.
Symptoms include:
Painful vaginal intercourse
Vaginal dryness and/or burning
Unusual vaginal discharge
Genital itching
Burning and/or urgency with peeing
More urinary tract infections (UTIs)
Urinary incontinence
Light bleeding after vaginal intercourse
Decreased vaginal lubrication during sexual activity
Vaginal atrophy also increases your risk of vaginal and urinary infections.
What is the treatment for painful sexual intercourse and vaginal atrophy?
While many people resign themselves to the symptoms of vaginal atrophy, there's a lot you can do!
1. Start using a high-quality, body-safe, glycerin-free lubricant during any kind of sexual activity.
We recommend silicone lube because it doesn't dry up and is very slick.
Our favorite is Uberlube, which is a premium lubricant. The best-selling Uberlube is not tacky or sticky and includes Vitamin E, which moisturizes your sensitive skin.
2. Use a vaginal moisturizer.
Vaginal moisturizers provide a higher level of moisture than a lubricant.
We recommend AH YES! Vaginal Moisturizer because it remains in contact with sensitive vaginal tissues for up to 3 days, which is much longer than regular lubricant. It is formulated with natural, gentle ingredients that replenish vaginal moisture where needed.
AH YES! VM contains bio-adhesive natural hydrocolloids (plant gums) that gently cling to the lining of the vagina and release water where needed, revitalizing, rehydrating and lubricating the vaginal vault. AH YES! VM also helps to restore the naturally acidic pH balance of the vagina.
3. Pee immediately after sex.
This helps flush out any potentially bad bacteria and helps lower your risk of UTIs.
4. Have more sex!
YES! You read that correctly!
Getting aroused brings blood flow and oxygen down to your vagina, keeping the tissues supple and healthy. You don't need to have intercourse – a good make out session, fingering, oral sex, sensation play, masturbation, and anything else that turns you on will have similar positive effects.
(And if you need help getting aroused, try ON Clitoral Arousal Oil or ON Arousal Gel. With natural cinnamon oil, these clitoral stimulants help bring the blood flow down to the clitoris, getting you aroused in about 10 minutes or less!)
What happens if these treatments don't help?
If you continue to have sexual pain, a lot of symptoms, or if you have unusual bleeding, discharge, burning, or soreness, make an appointment with a trusted gynecologist. Your practitioner will give you a pelvic exam and run some lab tests.
Persistent symptoms that don't improve with over-the-counter treatments may be helped with vaginal or oral estrogen. Your healthcare provider will discuss if this is a good option for you.
How can you enjoy sex if you experience vaginal atrophy or if sex is painful?
1. Use lube during sex or masturbation!
Lube decreases friction which makes sex feel more pleasurable and lowers the risk of small cuts and tears in the vagina.
See above to learn more about our favorite, Uberlube.
2. Ohnut Wearable for Painful Sex
Ohnut is a revolutionary sexual wellness product and aide that allows couples to explore comfortable penetration depths during sex.
Ohnut is adjustable with comfort ridges that compress down and allows your partner to penetrate as deep as your body can allow without pain.
This comfy wearable is worn externally at the base of a penetrating partner so you can adjust how deep feels good – for both of you.
3. Use external luxury sex toys.
Often called "clitoral vibrators," these external massagers add sensation wherever you'd like: the clitoris, labia, nipples, and anywhere else outside your body that you want extra stimulation.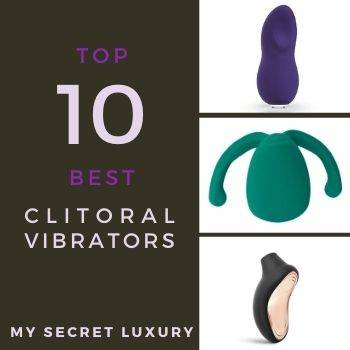 4. Have lots and lots of foreplay.
Experiencing lots of foreplay gives your vulva a chance to be fully aroused. The increased blood flow and natural vaginal lubrication that happens when you're fully turned on can help reduce symptoms of vaginal dryness and burning.
5. Avoid penis-in-vagina intercourse.
Sex doesn't have to equal penis-in-vagina. Self-pleasuring, kissing, a sensual massage, oral sex, fingering, sensation play, and other things can also give you pleasure. If you are in a relationship, anything sexual with your partner deepens your intimacy. After all, the connection is what matters most.
6. Explore anal play!
WHY?? Anal play feels goods because the same nerve that goes to the penis or clitoris also runs through the anus. Plus, the clitoral legs and prostate are stimulated through anal play. Analtoys are also a great option if you want to explore anal play.