Posted by Sexual Health Educator on 17th Jan 2022
Top 35 Best Sex Toys for Men 2022. Buy the best high quality luxury adult toys for women at My Secret Luxury, your luxury adult store. Free Discreet Shipping.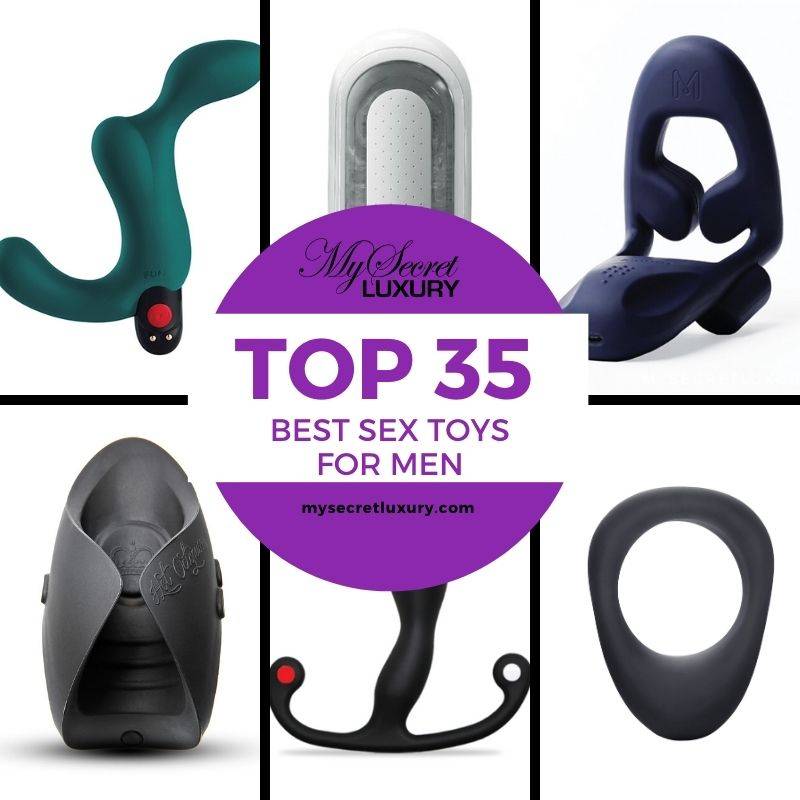 Top 30 Best Sex Toys for Men
---
This post was last updated on January 17, 202 at 5:01 p.m.
Sex toys are no longer just for women. There's been many advancements in sex toys for men since the inception of the Fleshlight back in 1998. It's now easier than ever to find a wide range of masturbation sleeves, male vibrators, cock rings, butt plugs, anal beads, prostate massagers, penis extenders, and more! Of course, you can never have too many sex toys. If you don't like one, there's plenty to try.
Sex toys are just another way to experience pleasure.
Sex toys shouldn't be intimidating. They should be fun—hence the word "toy."
There's no better time to explore pleasure. So, here are our picks for the 30 best sex toys for men.
Why Do You Want A High-Quality Sex Toy for Men?
Premium luxury sex toys for men are higher quality products. Would you rather drive a Toyota or a Ferrari? If price were no object, the answer is simple: you would want to have a Ferrari.
Why?
There are more features, there's more research that goes into it, and it's made better. The same is true with high-quality luxury sex toys for men.
They are:
made of body-safe materials (rather than toxic chemicals that are harmful to your body)
quieter
more powerful
rechargeable
waterproof
built to last a long time (and have warranties!)
Luxury sex toy manufacturers maintain rigorous standards for their products. They spend a lot of time and money on research and development. Thus, they stand by their products with at least one-year warranties.
High-quality premium vibrators do NOT have:
rough seams
a rubbery chemical smell like that of a new shower curtain
"jelly" materials/latex, which contains rubber
Luxury, quality, and safety come at a price! Remember: you get what you pay for when it comes to vibrators. High-end sex toys for men are made with body-safe materials. The best materials are non-porous and non-toxic. Medical-grade silicone is often used, which is excellent at transferring vibrations. Silicone sex toys come in many different textures and finishes. Other premium vibrator materials include Elastomed and ABS plastic.
YES! You Need to Use Lubricant!
Lube makes masturbation (and sex) much more pleasurable. Every sensation is enhanced which will allow you to feel every movement at a heightened level. Also, toys tend to dry up as they are exposed to air, making for uncomfortable re-entry.
For anal play, lubrication is a must. Unlike the vagina, the anus does not produce natural lubrication. Therefore, lube is necessary. Plus, lube makes anal play more comfortable. Anal lubricant, which is thicker than regular lubricant, stays on the skin longer and provides a more comfortable feeling by reducing friction and sensation.
We recommend water-based lubricant when using sex toys and silicone-based lube when using non-silicone sex toys. A hybrid lubricant is a mostly water-based lubricant with a touch of silicone for a better glide.
How to Clean Your Luxury Sex Toys
It's very important to clean your luxury sex toys for men before and after each use. Regular soap and water can leave a residue. Therefore, luxury sex toys should be washed with sex toy cleaner. To extend the life of your masturbator and stroker, we recommend cleaning your toy with a Toy Powder.
35 BEST
SEX TOYS FOR MEN
in 2022

---