No matter the stage of your relationship, everyone deserves a gift on Valentine's Day. Not to say that you shouldn't appreciate and love your partner every day of the year, but since Valentine's Day is about love, it's a good idea to show your partner how much you love and desire them! It's tough to decide what to get the special someone in your life, whether you are a new couple or have been together for many years. Although flowers, candy, and jewelry are nice, they are a bit predictable. Why not get your partner something they can use all year long? Luxury sex toys and accessories make the perfect gifts for Valentine's Day. What better way to show you love someone than giving them the gift of pleasure?
So, here are our top picks for the best Valentine's Gifts for every stage of your relationship:
The Top BEST VALENTINE'S DAY GIFTS FOR EVERY STAGE OF YOUR RELATIONSHIP in 2023
---
NEW COUPLES – Olivia's Boudoir Massage Oil Candle
Start foreplay with a massage oil candle. An intimate massage is a great way to connect to your partner and help them relax. When lit, the Olivia's Boudoir Massage Oil Candle liquefies into a body massage oil.
Massage Oil candles are different from regular candles because they burn at a lower temperature. However, like regular candles, they give the room a warm sensual glow and smell fragrant. To use, when there is enough liquid, drizzle it all over your partner's body.
DATING 1-3 MONTHS – Shhh Satin Blindfold
Now that you've spent more time with someone you know you like, you are ready to try something different. An easy introduction to something different is with a blindfold. When you cover your partner's eyes, their senses are heightened – sound, smell, taste, and especially touch! Specially designed to contour the shape of the face for a snug fit, this eye mask is made of satin and feels as good as it looks. Use the Bijoux Indiscrets Satin Blindfold is an excellent way to begin foreplay. It will keep your partner in the dark – waiting – wanting – begging for more!
DATING 3-6 MONTHS – Womanizer Classic 2
A few more months in your relationship, everyone has had lots of orgasms by now. However, everyone can always enjoy it more! The Womanizer Classic 2 features Pleasure Air Technology that creates fast and often multiple orgasms — without over-stimulation of the clitoris. PleasureAir gently sucks the clitoris into the soft silicone tip and surrounds the clitoris with gentle and pulsating vibration. The combination of suction and vibration leads to stimulation but not over-stimulation or needing to stop. How does it work?  The Womanizer directly stimulates the area around the clitoris using vibration and suction. The pleasure cap is placed over the clitoris, making a seal around the clitoris. This creates a comfortable suction that teases and stimulates the clitoris via microprocessor-controlled pressure waves. The end result is a different kind of stimulation with intense orgasms.
DATING 6-12 MONTHS – Le Wand Massager
If you are in a relationship in the 6-12 months range, you really know that you the person, and you have become very comfortable with them. Therefore, now is a great time to introduce a luxury sex toy that both of you can use. There's nothing sexier then watching your partner masturbate or helping your partner orgasm. It's also fun to hold the high-quality sex toy for your partner and control their pleasure. Le Wand Massager is an ultra-powerful and ergonomic cordless body massager and luxury vibrator. It can be used together during sex, alone during masturbation or as a back massager. Body-safe with a sleek silicone head, Le Wand is designed to rotate 360 degrees. This allows the vibrations to resonate through your body without causing any friction or overstimulation. The flexible neck and a lengthy handle with easy-to-use controls allows for smooth maneuvering. Powerful and focused vibrations in the head of the wand allows for penetrating pleasure. With 10 speeds and 20 rumbly vibration patterns and different attachments, you can have a different experience each time you use Le Wand.
Powerful and focused vibrations in the head of the wand allows for penetrating pleasure. With 10 speeds and 20 rumbly vibration patterns and different attachments, you can have a different experience each time you use Le Wand.
DATING 1 YEAR – We-Vibe Bond
A year into your relationship, you've settled into your relationship and the amount of sex has decreased from the days of walking in the door and tearing your clothes off each other every day. That's why a vibrating penis ring can shake things up a bit. A vibrating ring constricts the blood flow to the penis for harder erections and more powerful orgasms. A vibrating cock ring can also be worn during sex so that she can feel the vibration on her clitoris and vulva. Lastly, it can also be used on a dildo as well as worn on your finger as a finger vibrator.
We love the We-Vibe Bondbecause it's a luxury sex toy and vibrating ring with a quick-release design and custom fit. Bond offers stronger and longer-lasting erections and more powerful orgasms for both partners when worn during sex. With the Custom Fit link you can easily choose between two sizes. Featuring an easy-on quick-release system for comfort and safety, Bond is the only cock ring that can be put on and worn as easily as your watch. When playing in the same room, use the remote control to change vibration patterns and speeds from a distance of up to 3 meters. Bond can also be controlled by the We-Connect app from any distance. Both you and your partner download the We-Connect app to your smartphones. Bond is paired to the phone that remains within Bluetooth® range of the vibrator. Add your partner to share control with an invite from the app.
DATING/LIVING TOGETHER A FEW YEARS – Dame Eva 2 Couples Vibrator
Now that you've been together for over a year or are living together, you are in a routine and are very comfortable with each other. Again, you should always be looking for ways to spice things up in the bedroom. The Eva 2 by Dame is the perfect toy to do just that. Eva 2 is a hands-free and strap-free powerful sex toy and vibrator that can be worn during sex. Small, light, and comfortable to wear, Eva 2's unique flexible wings fit snugly and comfortably under the labia majora. The wings help to keep Eva 2 in place without any straps or panties and can be used in many different sexual positions.
Please note: It may take time to get the placement of Eva 2 just right. All vaginas are different.

NEWLYWEDS – We-Vibe Chorus Couples Vibrator
Congratulations on making a commitment to the one you love! Celebrate this achievement with more fun in the bedroom!
Use the We-Vibe Chorus couples vibrator and sex toy to create more intimacy, trust, and variety in the bedroom. The We-Vibe Chorus can also be used as a solo toy. (Men can also use it along the shaft of his penis during masturbation.)
We-Vibe Chorus, the updated version of the best-selling We-Vibe Sync, is an adjustable couples vibrator designed to be enjoyed with a partner during sex. Chorus is worn by her during sex for extra stimulation to the clitoris and/or the G-spot. The penis also feels the vibration of the toy and presses the toy again the G-spot for extra pleasure.
Chorus brings innovation to the bedroom with an intuitive Squeeze Remote, responsive Touch-sense technology, and a new connectivity standard that ensures couples stay connected. Chorus is adjustable to fit your body so you can feel the vibrations right where you want them. There are two adjustable points to better target the G-spot and clitoris with more or less pressure. The shape is easy to adjust and stays in position – even when changing positions during sex – once you've found the perfect fit.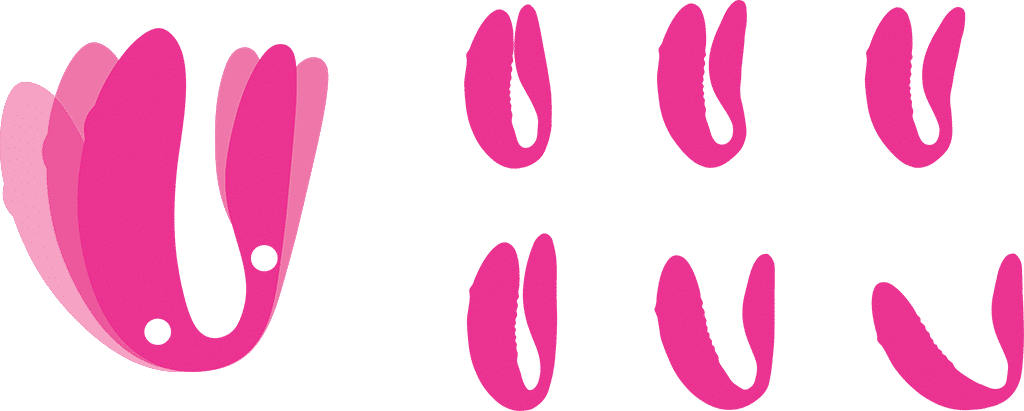 LESS THAN 10 YEARS – ON Clitoral Arousal Oil
Now that you have been together for several years, life has had its ups and downs. You now have more responsibility and never have enough time. That's where ON Arousal Clitoral Oil can help people with vulvas who either might have lost that loving feeling or just need a little more time getting aroused, which is VERY normal.
---
SEX EDUCATOR TIP:
Women need approximately 10 – 40 minutes to get aroused.
Arousal can depend on age, medication, menstrual cycle, lack of sleep, stress, etc.
---
ON Arousal Clitoral Oil allows her to get aroused quicker and also has the benefits of producing a stronger more intense orgasm! This all-natural arousal oil starts at room temperature and then slowly starts to tingle, bringing the blood flow down to the clitoris to kick start her natural lubrication and arousal. It's a game-changer! (Available in Lite, Original, Ultra, Chocolate, and Ice/Cooling) *NOT recommended for people with almond allergies. (If people with penises are having trouble getting aroused, we recommend On Power Glide for Him or ON Sex Drive for Him.)
MORE THAN 10 YEARS – Liberator Wedge Sex Pillow and Positioning Aide
Let's face it – you are not as young as you used to be. Compared to earlier in your relationship, there's less sex and pleasure in your life. That could be due to a variety of reasons, one of which includes the fact that your hurts and it's harder for you to experience the sexual positions you once loved. Meet your new best friend: the Wedge from Liberator, a wedged-shaped sex cushion and positioning aide that's perfect for deep penetration, comfort, and support. The subtle slope and firmness of the Wedge provides support and lift for many positions, including missionary and anal. It also makes new positions easier and more comfortable by deepening the angle of penetration. This makes it much easier to reach the G-spot. Plus, you can use it as a fulcrum point under your knees to help your pelvic thrusts. It also gives you the perfect angle for longer oral sessions without hurting your neck. How to use the Liberator Wedge:
Under your hips, the Wedge will help you achieve different angles.
While on your stomach, the Wedge will lift your hips for different angles and deeper penetration, making access from behind easier.
While on your back, the Wedge will lift your hips granting different positions and access that isn't always achievable.
Under your hips at the edge of the bed so that your partner can stand off the bed and reach you at better height without having to bend their knees so much.
As a headrest during sex
During oral sex