Learn what is pegging sex and what are the top best sex toys and accessories for pegging sex from a sexual health educator. Buy luxury adult sex toys from My Secret Luxury!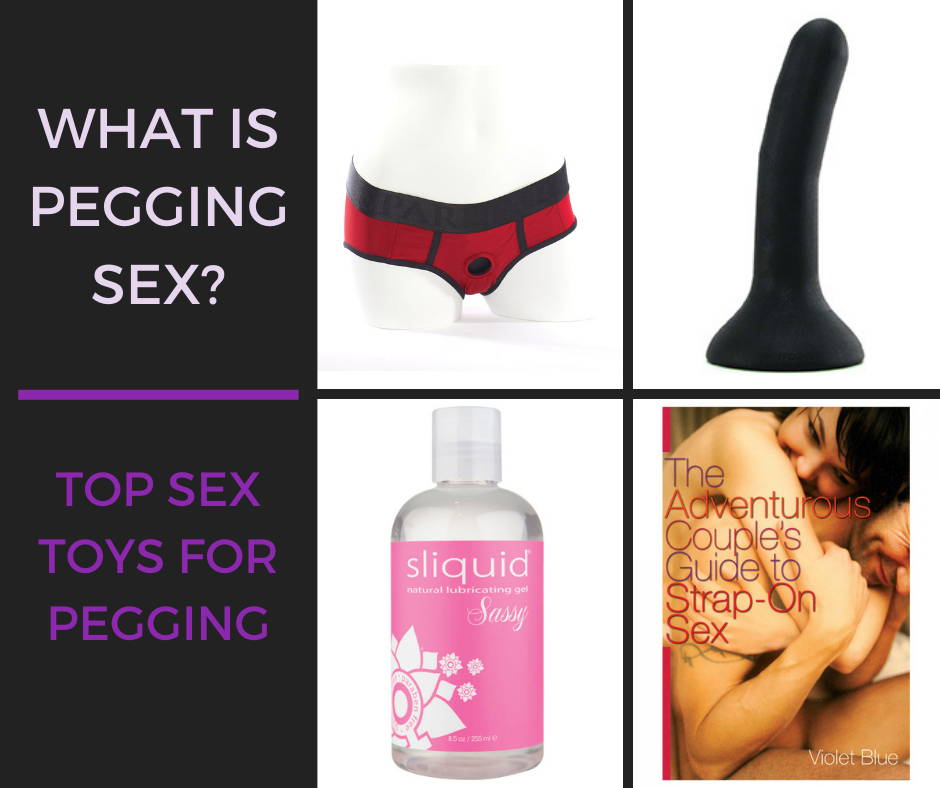 What Is Pegging Sex?
---
Pegging sex: are you a fan?
Many people ask: what is the latest trend in sex toys?
The answer is PEGGING.
THE BASICS . . .
---
What Is Pegging Or Pegging Sex?
Pegging is when a woman wears a strap-on dildo and performs anal sex on a man. However, if a woman performs anal sex on another woman, it is NOT considered pegging.
Pegging sex is just another form of sexual expression that shouldn't be looked down upon. Remember, at one time, masturbation was once taboo too. If you are fan of pegging or want to try it, good for you — it's just another way to experience pleasure – and there's NOTHING wrong with that!
What Sex Toys And Sex Accessories Are Used For Pegging?
A strap-on dildo harness or dildo panties, a strap-on dildo, and anal lubricant.
Why Do Men Enjoy Pegging?
Anal sex is perfect for prostate stimulation. The effect of stimulating the P-spot in men is similar to stimulating the G-spot in woman: a mind blowing orgasm, which is very different from an orgasm that you would have with your penis.
Some men also enjoy being dominated. Many feel that role reversal is very erotic.
Why Do Women Enjoy Pegging?
Pegging is a turn on to some woman because anal play can be very exciting, especially when they see their male partner really enjoying the experience. They can also enjoy the power reversal and enjoy dominating their male lover. If she uses a double-sided dildo, then she also receives pleasure.
How Do You Introduce Pegging To Your Partner?
Whether you are the woman or the man, open communication is always best. Tell your partner that you have this fantasy and you want to try it. If you are a woman, remind him that anal sex does not make him gay, but prostate stimulation resulting in a p-spot orgasm will beat any orgasm that he's ever had. When you say that, he'll probably go for it!
Use a good amount of anal lube, which is thicker and stays on longer.
Also, don't forget to go SLOW, especially if your partner has never been penetrated anally.
Read more about anal sex.
THE TOP SEX TOYS and ACCESSORIES FOR PEGGING SEX
---
Spare Parts Hardwear Tomboi Strap On Harness
The SpareParts Hardwear Tomboi Harness is a strap on harness that looks like briefs with an athletic cut.
Like other SpareParts Hardwear dildo panties, the Tomboi has a durable O-ring and mini-vibe pockets. The adjustable elastic o-ring accommodates most dildos up to 2″ wide. Two internal mini-vibrator pockets (vibrators not included) are stitched above and below the O-ring if you want extra of pleasure for both partners. When the wearer uses a bullet vibrator, it vibrates against the toy and causes light vibration in the fabric. If a bullet vibrator is used against the base of the dildo, vibration travels through the dildo.
This dildo harness slides on and off smoothly, without any chafing buckles, annoying straps, or pinched skin. It also comes with a small pocket inside the harness for a condom or lube.
Spare Parts Hardwear Joque Strap On Harness
SpareParts Joque is a jockey style strap on harness, designed with comfort and versatility in mind. This strap on harness is crafted with multi-layered Nylon or Poly-Spandex and is lined with soft mesh to provide breathability for all-day wear. In addition to the harness not snagging, unique wicking elements in the harness draw moisture away from the body so you can stay cool and fresh.
The Joque harness is also flexible with its patented design that easily adapts to wearer's unique size and shape, becoming a virtual "second skin." Best of all, the unique, stretchable elastic O-ring fits a wide variety of dildos and attachments, including double-sided dildos. Pouches above and below the O-rings allow the wearer to use waterproof bullets (not included) for additional stimulation.

Tantus Feeldoe Strapless Strap On
Designed by a woman for women, every curve and nuance of Feeldoe sex toy is deliberately contoured to fit her body perfectly. This luxury silicone dildo does not require a strap on harness. Without a harness, you feel more physically and intimately connected to your partner.
Using your vaginal muscles, you use the bulb end to hold the Tantus Feeldoe place. The shaft end of the luxury dildo and silicone sex toy comes up at a natural angle to easily penetrate partner. Each Feeldoe has small ridges on the shaft that rub against the wearer's clitoris during penetration.
The Tantus Feeldoe includes a vibrating bullet that can be inserted at the base of the toy (a drop of lube in the vibrator cavity allows for easier removal). With the 2.25″ x .625″ waterproof and removable bullet vibrator, you feel more sensation and vibration throughout the entire dildo. The vibrator has an easy touch on & off button. Three LR44 batteries are included for your immediate enjoyment!
Wet for Her Five Silicone Dildo
Created for those who prefer a non-phallic and simple dildo alternative for penetration, this strap on dildo works like a classic dildo but it does not have the ridges or sharp curves. Five offers the excellent stability when worn with a harness or used for hand-held penetration.
Try the Wet for Her Fusion if the wearer/giver wants added clitoral stimulation thanks to the clitoral nub at the base of the silicone dildo.
Fun Factory Boss Dildo
If you want a larger dildo, the Fun Factory Boss is big in length and diameter.
This harness compatible strap on dildo has a pronounced head that can satisfy women for G-spot stimulation and men for prostate stimulation. Designed to be as realistic as possible with its pronounced glans, veins on the shaft, and slight natural curve, the Boss has a thin base for extra-closeness while using in a strap on dildo harness or dildo panties. Plus, it also adheres to smooth surfaces or walls.
Banana Pants BumpHer Strap On Sleeve
BumpHer is a soft yet firm silicone sleeve that stretches to fit over the base of your favorite strap-on dildo for extra pleasure. The unique double-bump design of the sleeve's protruding nubs will rub in all the right places on your clitoris and vulva during harness play. The flexible and padded dildo base cover is designed to help prevent pubic bruising during sex.
The BumpHer cover is compatible with dildo bases from 1″ to 3.25″ and will also extend over the base of smaller toys to increase stability.

Intimate Earth Soothe Lubricant
As we said earlier – lubricant is VERY important. The anus does not self-lubricate like the vagina.
Intimate Earth Soothe Anal Lubricant offers maximum lubrication for comfort and enjoyment for both partners. This thicker water based lubricant is the only anal lubricant blended with the natural anti-bacterial guava bark extract.

Intimate Earth Daring Anal Relaxing Serum
Intimate Earth Daring Anal Relaxing Serum is an anal desensitizer, specifically designed for men, that relaxes the anal sphincter so that penetration is more comfortable. This anal comfort gel has a unique formula that contains a certified organic extract blend with the natural potency of clove, goji berry, aloe and lemongrass.
Unlike other anal desensitizers that can numb the sphincter and cause tearing, this anal relaxing serum does not have anesthetic effects. Instead, the anal sphincter becomes relaxed and penetration becomes more comfortable.
Intimate Earth Daring Men's Anal Relaxing Serum works quickly and is easy to use. Daring comes in an airless pump and is paraben, benzocaine and DEA free.

The Adventurous Couples Guide To Strap-on Sex
---
Read more about how to choose a strap-on and prostate massagers.
---