There are a lot of different sex toys for men out there, and for a beginner, it can be overwhelming and confusing. You want to try a sex toy but you have lots of questions.
THE BASICS . . .
---
Why Use Sex Toys?
Sex toys are designed to stimulate your most pleasurable areas. This includes the prostate. Of course, you might also want to feel different sensations on your penis.
Toys also let you try things you might not normally do – for example, prostate play or letting someone with a vulva penetrate you anally with a strap-on.
Of course, toys are also called toys for a reason – they add pleasure, fun, and playfulness to your sex life and relationship. They let you explore what feels good, add variety to your sexual play, and experiment with new types of sensation.
Sex toys help you figure out what feels good and brings you to orgasm, all good things to know for yourself and to share with a partner.
Sex toys are just another way to experience pleasure.
What Happens If You Don't Like A Toy?
Give it at least 3-4 tries before you judge the toy. Whenever you try something new, the first couple of times you are focused more on the newness and sometimes awkwardness of the situation. Your body isn't used to the sensation and your mind might wander a bit.
It's also important to remember that everyone is different and has a different body. What works for one, may not work for you. So there is no one "best" toy out there – there's only the best toy for YOU!
Why Do You Want A Premium Luxury Men's Sex Toy?
Luxury sex toys are of higher quality products.
Would you rather drive a Maserati or a Ford? If price were no object, the answer is simple: you would want to drive a Maserati. Why? It's faster, made with better materials, more exclusive, etc.
The same is true with high-quality luxury sex toys. They are:
made of body-safe materials (rather than toxic chemicals that are harmful to your body)
quieter
more powerful
innovative
rechargeable
waterproof
built to last a long time (or will be replaced if they don't!)
Luxury sex toy manufacturers maintain rigorous standards for their products, spend a lot of time and money on research and development, and stand by their products with at least one-year warranties.
High-quality premium adults toys do NOT have:
rough seams
a rubbery chemical smell like that of a new shower curtain
"jelly" materials
Luxury, quality, and safety come at a price! Remember: you get what you pay for when it comes to adult products.
Choosing a sex toy for men can be difficult, especially if you are shopping online. There are lots of sex toys out there. So, how do you know which is the right toy for you, especially if you are a beginner to male sex toys?
Not all toys are created equal, especially if you're just starting out and are looking for toys for beginners. You should look for unique features to help you have a good first few experiences.
The best men's sex toys for beginners:
Are easy and intuitive to use
Don't have too many buttons and the buttons are easy to use
Discreet with a simple shape that's easy to hold
Aren't too strong but has a range of vibrations so that the toy can grow with you
When Do You Use A Male Sex Toy?
Whenever you want! You can use it alone when masturbating or during couples play. There is nothing wrong or shameful about using a male sex toy. It just adds more fun and variety to your sexual play!!
Men's Sex Toy Categories
There are many different types of sex toys for men. Which one is right for you? It all depends on what kind of stimulation you desire.
Masturbation Sleeves and Strokers
Masturbation Sleeves, strokers, masturbators stimulate the penis. These toys provide tightness and textures that are similar to but are still different from other areas that the penis would penetrate. These sex toys for men are not hands-free and require effort for stroking.
Male Vibrators and Vibrators for Men
Vibrators for men or vibrating masturbators stimulate the penis with vibration. Some of these male sex toys are hands-free and can be used whether your penis is hard or flaccid.
Prostate Stimulators and Massagers
The prostate is a chestnut-sized gland, located a few inches inside the anus towards the front of the body and just below the bladder. Sometimes referred to as the "male G-spot" or the "P-spot", the prostate gives you deep sexual pleasure when stimulated. The prostate creates a fluid that protects sperm and helps with ejaculation. So, the prostate important for both reproduction and pleasure.
---
Do you have to pee a lot at night?
People with an enlarged prostate have to pee a lot – the prostate swells and presses against the bladder.
---
A prostate massage stimulates the prostate gland. You can use fingers or a toy for internal prostate massage. The best prostate massagers and stimulators are curved upwards in order to stimulate the prostate.
When experimenting with prostate massagers, you want to relax, start small and work your way up to longer and wider.
Don't forget to use A LOT of anal lubricant (when you think you've added enough, add a little more).
---
A prostate massage can lead to a stronger orgasm. If you experience erectile dysfunction, a prostate massage gives you all the benefits and pleasure of orgasm, without an erection.
Whether you prefer vibration is totally up to you. Prostate stimulators do not vibrate. However, when using your own body's movement, the stimulation of the prostate still occurs. Meanwhile, prostate massagers do vibrate, which adds extra stimulation to the prostate.
Penis and Cock Rings
Penis rings constrict blood flow to the penis to create longer (from 6 seconds to 45 seconds), harder erections and intensify the sensation of your orgasm. A penis ring holds the testicles down and keeps the testes from contracting thus slowing down ejaculation.
Some penis rings stretch while others do not. Obviously, the stretchier the cock ring is, the easier it is to get on and off your penis. Additionally, some penis rings vibrate. Vibrating rings not only vibrate on your penis, but they are meant to vibrate on your partner's vulva and clitoris/anus so that both of you feel pleasure during penetration. When turned upside down, the penis ring can vibrate on your perineum.
Butt Plugs
Why do men use butt plugs?
Men use butt plugs during sex, masturbation, foreplay, or any other type of sexual play because it enhances orgasms and pleasure. The best butt plugs for men are curved to stimulate the prostate/P-spot/male G-spot.
Just like cock rings, butt plugs can also vibrate. The vibration adds extra sensation and pleasure.
Do You Need Lube?
So, now you are willing to try a sex toy. Do you need to use lube with a sex toy?
Personal lubricant, which does not include spit or vaseline, is needed with most men's sex toys.
Why?
Using lube will lead to better stimulation and more pleasure.
Water-based lubricant should be used on silicone and other sex toys, as well as a place holder while your partner's natural lubrication kicks in. You should use silicone-based lube during masturbation, partner sex, and any sexual play in the water. A hybrid lubricant is a mostly water-based lubricant with a touch of silicone for a better glide.
Hybrid Water-Based Lube
Silicone-Based Lube
Do You Need To Clean Your Men's Sex Toy?
YES!!!
Male sex toys can be washed with soap and warm water or sex toy cleaner. Toys should be cleaned before and after each use.
THE TOP 8 BEST PREMIUM MEN'S SEX TOYS FOR BEGINNERS in 2022
1. BEST REMOTE-CONTROLLED MASTURBATOR: Jett by Hot Octopuss
Jett is a best-selling powerful luxury masturbator and sex toy for men that is worn against the frenulum, just below the tip of the penis. For many, the frenulum is the most sensitive part of the penis.
Powered by two custom 'bullet' vibrators, each contains a different sized motor. These different motors deliver contrasting vibration frequencies. You can use each bullet separately or together to find the right strength and frequency of vibration and stimulation for an intense hands-free orgasm.
2. BEST HANDS-FREE MASTURBATOR: Pulse Solo Essential by Hot Octopuss
The Pulse Solo and Duo Masturbator are powerful male vibrators that focus vibration and uses oscillation technology on the frenulum, a very sensitive part of your penis.
The Pulse hands-free male vibrator can be used with a flaccid (or erect penis), making it excellent for men suffering from erectile dysfunction. Pulse SOLO is meant for solo masturbation, while Pulse DUO is meant to be used with a partner because of the remote control and added vibration on the underside of the toy.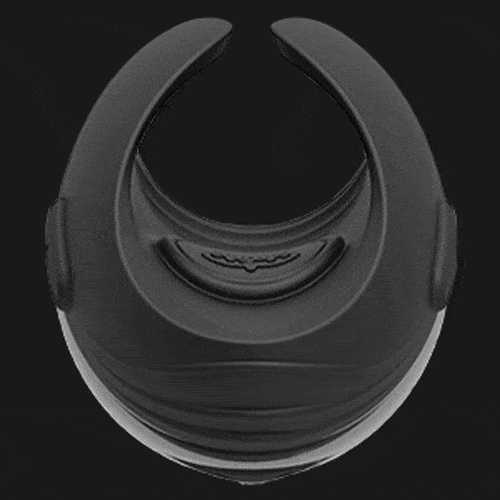 3. BEST STROKER: Tenga Flip Zero
The Tenga Flip Zero is a modern and discreet masturbation sleeve that uses the finest premium materials and the most intricate internal texturing details with added suction for ultimate pleasure.
The opening for the penis provides the perfect seal, preventing lubricant from leaking and forming a strong vacuum seal made possible by the one-way valve.
The internal details provide a different kind of stimulation. The Flip Zero's pressure pads on the side of the toy are soft to the touch and allow for greater stimulation because of the suction it creates. The Flip Zero is also a great way to build stamina.
BONUS: The Tenga Flip Zero can also vibrate!
SHOP TENGA FLIP ZERO VIBRATION
4. BEST STROKER FOR ORAL SEX: Vedo Grip Masturbation Sleeve
The Vedo Grip is an open-ended vibrating masturbation sleeve and compact stroker that will maximize your orgasm during masturbation or oral sex.
Intensify any blow job with Vedo Grip. With a double opening design, your partner can take the head of your penis in their mouth, while Vedo Grip vibrates on your shaft.
The powerful vibrations from the Vedo Grip Vibrating Sleeve will intensify your orgasm with 10 vibration modes. The super soft silicone sleeve has a textured channel with ribs and nubs designed for more stimulation.
Vedo Grip glows in the dark making it easier to use when the lights are off.
5. BEST COCK RING SET: Je Joue Silicone Ring Set
The Je Joue Penis Ring Set is a set of 3 stretchy silicone cock rings in different sizes for more powerful orgasms.
Penis rings use constriction to make erections harder, bigger, and longer-lasting. These 3 luxury silicone cock rings get progressively tighter, allowing you to experiment with different sensations and combinations. The perfect set for anyone looking to work their way up to the most intense and prolonged orgasms possible.
This set of 3 penis rings includes:
Level 1 | Black | Maximum Stretch | Excellent for new users, if you have more girth, and if you want to use the ring around both your penis and testicles.
Level 2 | Green | Medium Stretch
Level 3 | Blue | Minimum Stretch
The super-soft silicone feels great on skin, while the unique non-slip design keeps the ring in place throughout playtime. The level of stretch is less about the size of the penis and more about the level of intensity desired.
Easy to put on, and stretchy enough to be put on at any time – with or without an erection.
6. BEST CUSTOMIZABLE VIBRATING COCK RING: We-Vibe Bond
The We-Vibe Bond is a luxury sex toy and vibrating ring with a quick-release design and custom fit that enhances pleasure for both partners with stronger and longer-lasting erections and more powerful orgasms for both partners.
Worn during sex, this high-quality and comfortable vibrating ring provides clitoral stimulation and enhances pleasure for both partners during sex.
With the Custom Fit link you can easily choose between two sizes. Wear Bond beneath your clothes to make every moment extraordinary, and use it to build up to a more exhilarating experience.
Featuring an easy-on quick-release system for comfort and safety, it's the only cock ring that can be put on and worn as easily as your watch.
7. BEST PROSTATE MASSAGER: Aneros Helix Syn Trident
The Helix Syn Trident has:
A large angled head for greater more focused stimulation
"W" arms for external perineum stimulation
A contoured body that is great for beginners and advanced users
Super soft silicone
With its 4-inch insertable length and curved design, the Aneros Helix Syn Trident is a hands-free sex toy with a self-pivoting mechanism that simultaneously massages the prostate (male G-spot) and perineum giving you the most intense orgasm that you have ever had.
BONUS: The Aneros Helix Syn Trident now vibrates!
---
If you use lots of anal lubricant, which is thicker, anal play will be more comfortable and enjoyable!
---
8. BEST VIBRATING PROSTRATE MASSAGER: We-Vibe Vector
Designed in collaboration with leading prostate experts for comfort, safety, and pleasure, Vector by We-Vibe is a custom-fit vibrating prostate massager thatstimulates both the prostate and the perineum. Since its adjustable, Vector is the perfect prostate vibrator for beginners.
Vector's adjustable head applies firm yet gentle pressure on the prostate, and Vector's base is flexible yet stable while stimulating the perineum. This luxury sex toy has two motors that work together to stimulate both the prostate and the perineum with rumbling vibrations and gentle pressure.
You can control both motors independently and change the speed and vibration modes with the easy-to-use wireless remote control or the free We-Connect app.
---
SHOP ALL MEN'S SEX TOYS FOR BEGINNERS
---