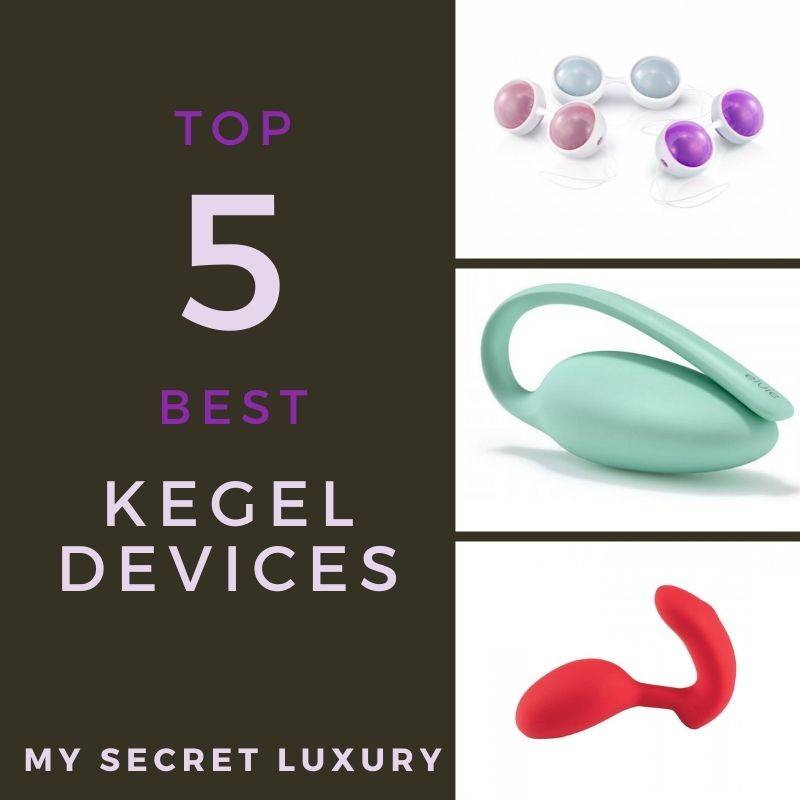 There are many benefits to using a Kegel devices. They help you have longer, stronger orgasms. They also strengthen your pelvic floor muscles, which is very helpful especially if you experience pelvic floor dysfunction. Unfortunately, many people suffer from pelvic floor dysfunction because of a weakened pelvic floor.
THE TOP BEST KEGEL DEVICES IN 2023
---

MOST VERSATILE KEGEL BALLS: LELO Beads Plus
LELO Beads Plus is a set of six interchangeable weighted beads and Kegel balls for pelvic floor strength training so that you can have more intense orgasms and train your body for multiple orgasms.
Each set of LELO's Kegel balls contains a rubber-silenced inner ball that roll freely inside. When placed inside the vagina, the Kegel balls deliver a subtle, movement-induced vibration that motivates your pelvic floor muscles to contract for a comfortable Kegel workout.
Six weighted Kegel balls are included in LELO's set. Using individual beads or the medical-grade silicone girdle to hold two beads in place, you can experiment to find the combinations that suits you best. This modular system of Kegel balls also allows you to build up resistance as your pelvic floor muscles grow stronger with time.
BEST KEGEL BALL SET: Je Joue Ami Kegel Balls
Je Joue's Kegel balls and Kegel device is a progressive, three step 'tease as you tone' set of ben wa balls. Je Joue Ami Kegel Balls allows you to find your perfect starting point and progress to heavier weights in order to make your pelvic floor stronger while doing it in a pleasurable way.
Je Joue's Kegel ball set includes:
Ami 1 | A large, soft and lightweight single ball. If you are new to Kegel exercisers or you're out of practice, start here.
Ami 2 | A medium-sized double ball that's still soft yet slightly heavier. Try Ami 2 if exercising with Ami 1 doesn't challenge you enough.
Ami 3 | A small, hard and heavy double ball. This is the most advanced Ami for experienced users.

BEST OVERALL: Elvie Kegel Device
Whether you are pregnant, just gave birth, or want more and better orgasms, enjoy the benefits of a toned pelvic floor with Elvie, the award-winning Kegel exercise device and trainer.
Featuring breakthrough technology, Elvie is a small, ergonomic, discreet, and portable Kegel exerciser that tracks your pelvic floor and Kegel workouts with personalized workouts developed by physiotherapists and other experts. It uses force and motion sensors to measure pelvic floor movement, assisted by the free app to help you visualize the exercises in real-time. The app also lets you know whether you are doing the exercises correctly.
As your pelvic muscles contract, the on screen gem lifts, allowing you to see your pelvic floor exercises in real time. The six unique games were designed with the help of physiotherapists and experts from Imperial College and University of Oxford. From Speed, which challenges fast-twitch muscles, to Hold which builds endurance, the exercises give the pelvic floor a full workout.
BEST APP: Lovelife Krush
Lovelife Krush is a Kegel device that uses haptic (vibratory) and visual feedback along with voice-guided training programs to tone and strengthen your pelvic floor (PC) muscles through regular Kegel exercise.
Lovelife Krush works with OhMiBod's free TASL (The Art and Science of Love) app to measure the pressure, control, endurance and grip of PC muscles and helps you strengthen them through training challenges. TASL features built-in patterns and uses gamification to help motivate you to achieve training goals that, in turn, will unlock hidden features and rewards. The innovative app can also vibrates making exercise much more fun!
TASL App Features:
Quick Start Guide
Pelvic Training Courses
Voice-Guided Training
Exercise Activity Training
Goal Setting and Rewards
App locking feature for extra security
Krush also works with the free OhMiBod Remote control app allowing your customers to connect with their partners anywhere.
BEST FOR YOUR G-SPOT: Aneros Vivi
Aneros Vivi is a 2-in-1 vibrator and kegel exerciser. This hands-free vibrating Kegel device and luxury vibrator stimulates the G-spot and clitoris.
With its powerful two motors, Vivi pivots inward and upward stimulating the G-spot and clitoris simultaneously, while improving your pelvic floor muscle tone. Plus, you can choose to control Vivi with your smartphone!
Once inserted, the Aneros Vivi is gripped by your pelvic floor muscles, helping you strengthen and exercise your pelvic floor muscles.
Vivi can be used in active/powered/vibrator or manual/unpowered/non-vibrating modes. The active/power mode utilizes the free Vivi App for iOS or Android phones with 12 vibration patterns and an interactive control screen that will allow you to customize the vibrations. Plus, you can control each of the two motors independently.The Vivi app also includes a Kegel workout feature that provides reminders if you wear the Vivi and exercise throughout the day. If you don't want to use your smartphone, the manual mode accesses 9 preset vibration patterns.
BONUS: Femani Wand Dilator Set and Inspire Silicone Vaginal Dilator Set.
THE BASICS . . .
---
Why You Need A Strong Pelvic Floor?
The pelvic floor is a powerful set of muscles that works with your back and abs to hold up your core. These muscles support your uterus, bladder, small intestine, and rectum.
Discovered by Dr. Arnold Kegel in the 1940's, a toned PC (short for pubococcygeus) muscle, situated at the pelvic floor, is essential for pleasure and can lead to stronger orgasms.
Your pelvic floor also plays an important role in supporting your pregnancy and childbirth. Unfortunately, both childbirth and/or natural aging can weaken you PC muscle. This can cause incontinence and the inability to experience orgasms.
Pelvic floor exercise and weight-resistance training with a Kegel exercise device is the best way to strengthen your pelvic floor.
---
Did you know?
More than half of new mothers experience bladder control and pelvic floor problems.
---
What Is Pelvic Floor Dysfunction?
Your pelvis is the home for organs like the bladder, uterus, and rectum. These muscles keep everything in place within your body.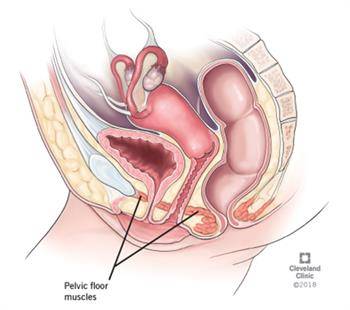 When you go to the bathroom your body tightens and relaxes your pelvic floor muscles. However, if your pelvic floor is weak, your body doesn't stop tightening these muscles and doesn't relax them like it should. This tension means you may have:
Trouble evacuating (releasing) a bowel movement.
An incomplete bowel movement.
Urine or stool that leaks.
What Are The Symptoms Of Pelvic Floor Dysfunction?
Symptoms of a weak pelvic floor for women include:
Painful sex
Constipation
Straining to have a bowel movement
Having urine or stool leakage
Experiencing a frequent need to pee
What Causes Pelvic Floor Dysfunction?
There are many reasons why you can have weak pelvic floor muscles including:
Pregnancy and childbirth especially if you have a long and difficult labor
Advancing age and menopause
Being overweight
Pelvic surgery
Traumatic injuries to the pelvic area
Overusing the pelvic muscles (like going to the bathroom too often or pushing too hard), eventually leading to poor muscle coordination.
Can Kegel Exercise Help Strengthen Your Pelvic Floor?
In addition to pelvic floor physical therapy, Kegel exercises can help strengthen the pelvic floor and can increase both the duration and intensity of orgasms.
To determine whether you're experiencing pelvic-floor weakness, try the "pee test": When you go to urinate, squeeze your muscles and try to stop the flow of urine. If you can not stop your pee, your should do Kegel exercises.
If you have pelvic pain, we recommend speaking to your healthcare provider before starting a Kegel exercise routine.
Of course, the best way to do Kegel exercises is with a Kegel exerciser. Kegel exercisers make sure that you are strengthening your pelvic floor correctly and efficiently.
Types Of Kegel Devices
There are two types of Kegel devices:
Non-Vibrating
Non-vibrating Kegel devices are also called Kegel balls and Ben Wa Balls. After inserted, your pelvic muscles have to be strong enough to hold them inside your body.
We recommend only using Kegel balls with an attached string for easy removal.
Vibrating
Vibrating Kegel devices add an extra layer of stimulation thanks to the vibration. Some people experience an orgasm while using a vibrating Kegel device.
How Do You Use A Kegel Device?
Make sure to use lots of personal lubricant on your Kegel device and on your vulva. Using lubricant insures easy insertion and maximum comfort. Depending on the material, the Kegel device and Kegel balls work best with water-based lubricant .
How Do You Clean A Kegel Device?
It's very important to clean your Kegel devices, exercisers, and Kegel balls before and after each use. Regular soap and water can leave a residue and potentially change your pH making you even dryer. Luxury sex toys should be washed with sex toy cleaner.
When you are ready to start building your pelvic floor strength, here are our picks for the top 5 Best Kegel Devices, ranging from basic Kegel weights to vibrating exercisers to smart devices that give biofeedback via apps.
---
---