Beware Of Buying Sex Toys On Amazon: You Never Really Know What You Are Getting!
---
You can purchase anything you want on Amazon, including buying sex toys. . . and get it in two days if you are a prime member! Plus, Amazon's prices are sometimes too good to pass up.
Some people even believe that "if you can't find it on Amazon, it's not worth having." That might be true, but it's definitely not true when it comes to sex toys.
We never recommend buying sex toys on Amazon (and the same holds true for eBay or similar sites).
Beware of buying sex toys on Amazon. Why? Often, those sites sell counterfeit sex toys, used sex toys (GROSS!!), and mislabeled sex toys with dangerous materials. Unfortunately, Amazon often does not even realize that they are selling fake, used, or mislabeled products. Plus, many of the positive reviews are often fake. The business of counterfeit sex toys is enormous and widespread. Sadly, it is very common on Amazon (and eBay). Also, many stores are not authorized by manufacturers to sell their products. Be wary about sellers that sell products for a "too good to be true price." They are selling products below the MAP (the minimum advertised price allowed by the manufacturer).
If the price is too good to be true, then something is wrong!
Also, if you buy a sex toy on Amazon from a seller other than the manufacturer, the manufacturer might not honor the warranty. When you buy sex toys on Amazon, you never really know what you are getting . . . even if you think the toys are coming directly from the manufacturer.
Comingling Merchandise
Amazon has a huge distribution network of fulfillment centers nationwide. They ship products from the facility closest to the buyer.
For example: Let's say you live in California and you buy a sex toy on Amazon from a seller in Pennsylvania. Amazon's system will find an identical product that is closest to you. Thus, your product is not coming from the seller that you bought from.
In the end, the Pennsylvania seller will get credit for the sale, but you might receive another seller's merchandise.
Here's another example: Let's say you live in New Jersey, and you buy a sex toy on Amazon from a seller in Pennsylvania. The Pennsylvania seller's merchandise is in the same bin as another seller's merchandise from Delaware. Amazon will pick one of the products in the bin (because after all, Amazon thinks that they are all the same). The chosen product could be from the Pennsylvania seller or the Delaware seller. Of course, the Pennsylvania seller will get credit for the sale. Yet, you never know which seller provided the merchandise that you receive.
The two examples above prove why it is difficult for sellers to control product quality. This lack of quality control makes buying sex toys on Amazon very risky.
One seller is authorized to sell a manufacturer's sex toys, while the other is not and sells a fake version. Unfortunately, Amazon can't tell what's real vs. what's fake. This is an opt-in and cheaper program for sellers. So, many sellers take part in this "Comingling" program. After all, they are running a business, and their number one goal is to make money. Thus, they will usually choose the less expensive option to cut costs and raise their margins. "Comingling" is an option for FBA (Fulfillment by Amazon) merchants. It allows for efficiency and speedy delivery.
Sellers can opt out of this commingling system, but it is more expensive for them to do so.
Identifying Fake Reviews
Another reason to beware of buying sex toys on Amazon is that Amazon has a lot of fake reviews that inflate the product's rating. Sadly, sellers hire people to write reviews. You can use tools like Fakespot and ReviewMeta to analyze and identify fake reviews. You can also do some quick detective work when you buy sex toys on Amazon to determine if reviews are fake. Here are our top three suggestions on how to identify a fake review:
The review has written many different product reviews on the same day or a very short period of time.
The review has not written any other reviews.
The review has written only a few other short, vague reviews.
Identifying Fake Toys
China has a huge and far-reaching billion-dollar counterfeiting empire. Footwear is the product counterfeited the most, followed by clothing, leather goods, and gadgets, according to the report from the Organisation for Economic Co-operation and Development.
Why?
Because people don't want to pay a lot of money, they like a bargain, and fake products look 99% like the real thing. Unfortunately, fake sex toys are flooding the market, especially when you are buying sex toys online from Amazon. BEWARE! Why? Because it's so easy. Most sellers use stock images from the manufacturer. Thus, the images on the product page will not help you determine if a product is real or fake. It is very difficult for the average person to spot a fake toy because a real toy looks like a fake toy.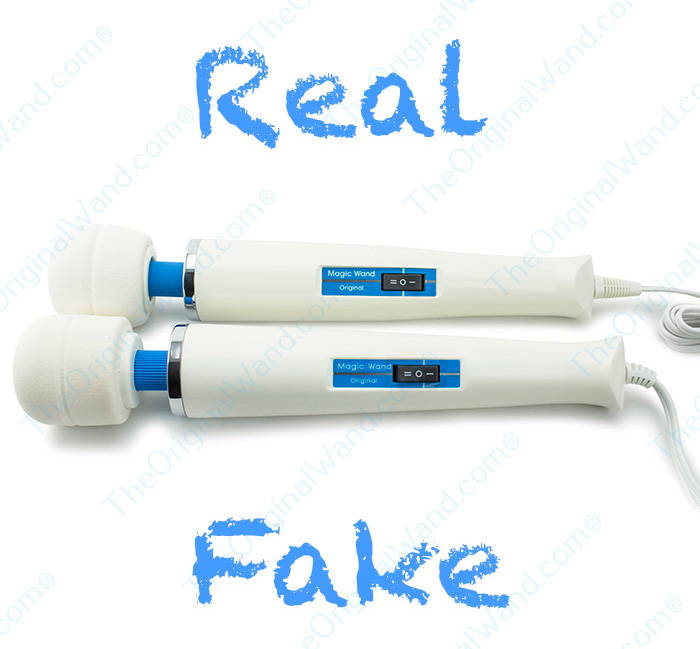 (In case you are wondering, the real Magic Wand Original is shorter than the fake magic wand. Also, the head cover on the real Magic Wand Original fits correctly and snugly. Meanwhile, the head cover on the fake massager is small. Also, notice the difference in the plug section at the base of these massagers and the piece that holds the head to the body of the massager.)
Amazon Does Not Always Partner With Premium Manufacturers
First and foremost, you should only buy products from premium manufacturers who sell high-quality luxury sex toys. Generic or cheap toys are usually mislabeled and made from toxic materials.
All of the premium brands and manufacturers are targets of counterfeit toys. Njoy, a manufacturer of medical-grade stainless steel sex toys, is the most copied luxury sex toy manufacturer. Copiers are companies in Hong Kong, Pakistan, and India, who specialize in metal sex toys. Keep in mind that if you do not buy from the manufacturer or authorized reseller, if something goes wrong with your toy, the warranty won't be honored.
Packaging Can Be Fake
Premium manufacturers understand branding. Thus, high-quality sex toys come with beautiful branded packaging. However, many counterfeit toys are often sent out in generic boxes and bubble mailers. Unfortunately, it can also be very hard to tell the difference between real packaging and fake packaging.
(Can you see the very slight color difference of the box between the real Magic Wand Original and the fake one?)
Sex Toy Material May Be Unsafe
The sex toy industry is not regulated. Thus, any manufacturer can state that the toy is made with a premium material when it is not. (Manufacturers use cheaper and often toxic materials to cut down on costs.)
See our guide to sex toy materials to help you determine what is real vs. not real.
If you think your toy is NOT silicone – boil a non-motorized silicone toy for 3 minutes. If the toy is NOT 100% silicone, it will melt, dissolve, or discolor. Does something not seem right with your glass toy? To test if your metal toy is made with medical grade stainless steel, scratch the surface of the toy. If it reveals another metal, like copper, underneath, then it is not 100% stainless steel.
Identifying Used Sex Toys
Unfortunately, there are sellers out there who sell used sex toys. These sellers accept a return and then turn around and sell that product to someone else. GROSS and very unsafe. You can share sex toys. Premium high-quality sex toys can be sterilized and used between partners. It's one thing to share sex toys with someone you know. Yet, getting a used sex toy when you thought you bought something new is not unacceptable. (This is why many sex toy sellers do not accept returns. Unless a product has been shrink-wrapped, it's not that hard to open a box and make it look like it was never opened.)
Buying Sex Toys On Amazon Help
If you bought a sex toy on Amazon and discovered that it was counterfeit, used, or mislabeled, there are several things you can do to try to get your money back.
Report incorrect product information
Review the seller
Write a product review
Buy Sex Toys from Reputable Sellers
When you buy sex toys from a reputable seller, such as My Secret Luxury you are buying with confidence. My Secret Luxury does not sell fake sex toys or used sex toys. My Secret Luxury is an authorized seller for all premium sex toy manufacturers. My Secret Luxury runs an ethical business. All My Secret Luxury's products come directly from the manufacturers. Thus, they are guaranteed to be 100% real and authentic. My Secret Luxury only represents the best premium high-quality sex toy manufacturers, who stand behind their products. These manufacturers only use the best materials and ingredients. Finally, My Secret Luxury never sells used products. Once an item leaves our warehouse, it can not be returned because we can not verify that it's been used or not.
Final Thoughts . . .
Although Amazon ( Ebay, etc.) is how many of us shop these days, you should beware of buying sex toys on Amazon (Ebay, etc.). Fake toys, used toys, fake reviews, and Amazon's comingling system are a recipe for disaster. Save yourself a headache and buy from reputable stores who sell real products direct from the manufacturer, such as My Secret Luxury!