Liberator Wedge Ramp Combo Sex Pillow
Description
Liberator Wedge Ramp Combo Sex Pillow
"The greatest invention for sex since the bed."
When you add the Liberator Wedge sex pillow with the Liberator Ramp sex pillow, you will revolutionize your sex life and experience a variety of new positions, while adding more fun in the bedroom.
BETTER SEX
The ergonomic design of these positioning aides will make sex more comfortable and give you greater stamina for longer sexual play sessions. The Liberator Wedge Ramp Combo allows you to add creativity to the bedroom and experiment with many different sexual positions. You will never want flat sex again after using the Wedge Ramp Combo!
The Combo gives you lift for deeper penetration, as well as supports your back from soft or memory foam beds. Designed to enhance missionary and from-behind positions, it is also ideal for sixty-nine and oral. The ergonomic angles put you and your partner's bodies in comfortable and stable positions without having to worry about putting pressure on your knees, wrists, or back. Move the Wedge along the top of the Ramp to find the ultimate support you need anywhere on your body.
The Wedge and Ramp combo is extremely helpful for couples with a large height difference. The shorter partner can have their hips raised much higher and many different positions can be more comfortable thanks the Wedge Ramp Combo.
WASHABLE COVER
The microfiber cover ensures that the Wedge and Ramp will cling together firmly, allowing you the freedom to experiment without worrying about either sex pillow slipping off the bed. The soft microfiber cover is removable and machine-washable.
VERSATILE
The Wedge and Ramp can also be used separately. The ramp comes in different sizes to fit all body shapes and sizes.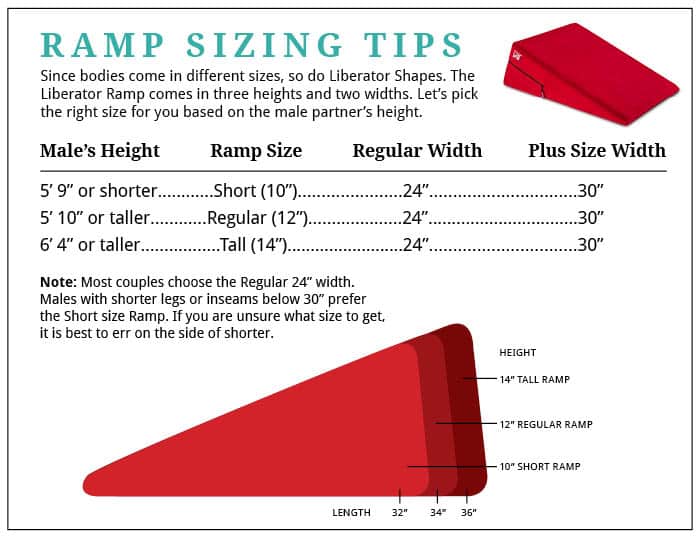 Features:
Angled positioning aides allow for many positions.

Wedge and Ramp can be used together or separately.

Creates better access for missionary and anal sex.

Pillows allow for prolonged oral sex without sore necks.

Creates comfort and support to take weight off knees and backs while providing the perfect angle for ultimate stimulation.

High-density foam supports your body and prevents sinking into a bed while offering angles for maximum satisfaction.

Soft microfiber cover

is removable and machine-washable.

Moisture-resistant liner.

Made in the USA.
Wedge Measures | 24″ x 14″ x 7″
Ramp Measures | 3 sizes to fit any body type. See size guide above.
Available for US Customers Only