Experience more sexual pleasure, mobility, and stamina with Liberator sex furniture, positioning aids, and accessories.
Liberator has been making sex furniture, positioning aids, and bedroom gear in the USA for more than 15 years. Liberators can transform your bedroom into a place where you can have better sex.
How?
With Liberator sex furniture and accessories, you can incorporate different angles, elevations, curves, and motion to help you — no matter your size — find a more satisfying way to intimately connect with your partner. Couples can experience more creative intimacy, which will make sexual play more exciting and fun.
Benefits Of Using Liberator Sex Pillow And Furniture
There are many benefits of using Liberator sex furniture:
Add more positions to your sexual play.
Make all positions more comfortable.
The high-density foam supports your body and prevents your body from sinking into the bed/furniture.
Soft microfiber feels good on your skin.
The cover is removable and machine-washable.
A moisture-resistant liner keeps liquids on the outside and instead of leaking inside.
All Liberator sex furniture and accessories are made in the USA. Each product is made to order by skilled craftsmen. This local manufacturer also uses local sources for their manufacturing process.
Liberator believes in being green. Using its innovative vacuum compression process, Liberator is able to shrink their package size by over 60%. With less space necessary for shipping, Liberator uses less fuel for deliveries and fewer paper products for packaging, reducing their carbon footprint and impact on the environment.
Liberator Sex Toy Mount Pillow
Ideal for solo or couples play, a sex toy mount pillow make using your sex toy so much easier! The super-dense foam supports you while straddling, leaving your hands free for exploration.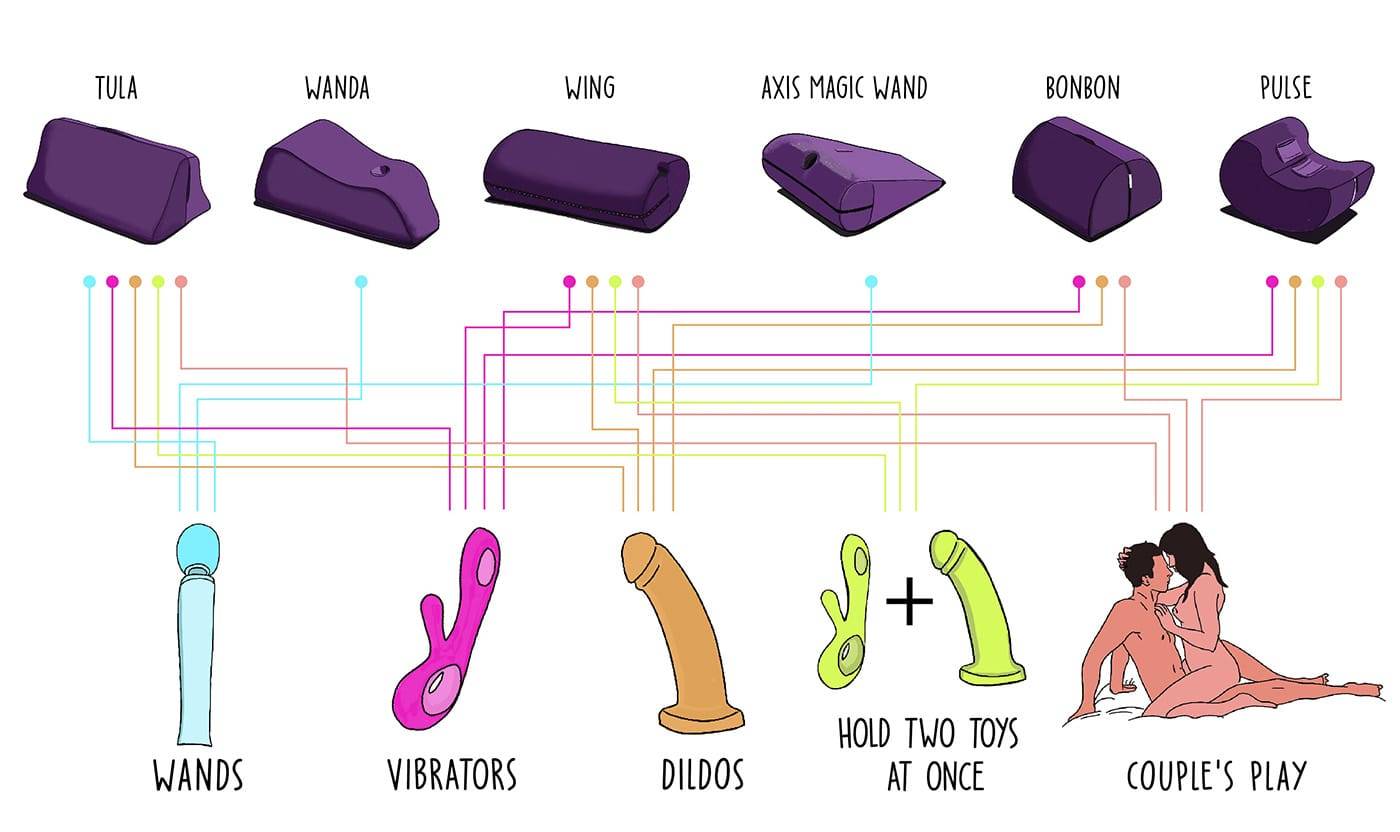 THE TOP 5 BEST LIBERATOR SEX FURNITURE AND ACCESSORIES
---
BEST OVERALL: Liberator Wedge
The Liberator Wedge is a wedged-shaped sex pillow and positioning aid that's perfect for deep penetration, comfort, and support.
The 27-degree slope and firmness of the Wedge provides support and lift for many positions, including missionary and anal. It also makes new positions easier and more comfortable by deepening the angle of penetration. This makes it much easier to reach the G-spot. Plus, you can use the Wedge as a fulcrum point under your knees to help your pelvic thrusts.
Let's not forget oral sex. It also gives you the perfect angle for longer oral sessions without hurting your neck.
BONUS 1: Heart Wedge
The Wedge is also available in a heart shape. The Heart Wedge is perfect for deep penetration, comfort, and support. Perfectly sized for the butt, the Heart Wedge gives you a good incline for deeper penetration and G-spot positioning during sex. Additionally, doubling as a decorative pillow, the Heart Wedge will fit in nicely and discreetly in your bedroom.
BONUS 2: Liberator Ramp/Wedge Combo
SHOP LIBERATOR WEDGE RAMP COMBO
When you add the Wedge with the Ramp, you will never have flat sex AGAIN!! Revolutionize your sex life and experience a variety of new positions while adding more fun in the bedroom with the Wedge Ramp Combo , the ultimate sex furniture for your bedroom.
The ergonomic design and flexible versatility of these positioning aids will give you greater stamina for longer sexual play sessions. The microfiber cover ensures that the Wedge Ramp will cling together firmly, allowing you the freedom to experiment without worrying about either sex pillow slipping off the bed. The Wedge and Ramp can also be used separately. The Ramp comes in different sizes to fit all body shapes and sizes.
In addition to the benefits of each individual sex pillow, when put together, the ergonomic angles put you and your partner's bodies in comfortable and stable positions without having to worry about putting pressure on your knees, wrists, or back. Move the Wedge along the top of the Ramp to find the ultimate support you need anywhere on your body. Similar to the wedge is a furniture – Liberator Pulse Toy Mount Sex Pillow.
Liberator Jaz Motion
The Liberator Jaz Motion is a cushion used for sex to provide lift and comfort to help you experience new sex positions. Jaz's unique curved side enhances your thrusting power and provides a rocking motion. Meanwhile, Jaz's flat side allows you to take advantage of better angeles.
Liberator Flip Ramp
The Flip Ramp is a discreet sex pillow and positioning aid that combines functionality with discretion.
When closed, the Flip Ramp looks like an ottoman. When opened, you can use it to get into more sexual positions comfortably and have more control and stability during sex.
The height and slight curve of the Flip Ramp make it perfect for doggie style sex. It also provides the lift needed for easier girl-on-top position and better access for off-the-bed positions. The Flip Ramp makes sex more comfortable and gives support to take your weight off your knees and back while providing the perfect angle for sex.
Liberator Hipster
Sculpted to follow the contours of your body, the Liberator Hipster cradles your body making sex comfortable and more supportive.
The flowing arches and design of the Hipster will give you and your partner comfortable access to more sexual positions and deeper penetration. The high and low curves are designed to bolster your head, back, and knees to create optimal lift and angles in missionary or from-behind positions. This piece of sex furniture also helps make oral sex more comfortable by boosting the body to provide better access.
Thanks to its slope, the Hipster can also be used to support the neck and back while reading or watching TV in bed.
BonBon Sex Toy Mount
A Liberator Toy Mount sex pillow holds your toy for hands-free stimulation.
The Liberator BonBon is a perfectly shaped piece of sex furniture to hold luxury vibrator or dildo (with or without a base) with a unique "squeeze me" design.
If you are looking for a pillow to hold an electric wand massager, we suggest the Liberator Wanda or Liberator Axis.
The super dense foam of this sex cushion enables you to sit or straddle a luxury sex toy for hands-free solo use or with a partner during sex. Of course, this pillow can also be used during sex and oral sex as well.
BONUS 3: Liberator Fascinator Throw Sex Blanket
Although it's not sex furniture, the waterproof Liberator Fascinator Throw is one of our favorite bedroom accessories.
Why?
Although sex is fun, it can sometimes be messy. Plus, it's very annoying when you stain your sheets, blanket, or couch.
The Fascinator Throw solves that annoying issue during sex.
The interior of this sex blanket is specially lined with a medical-grade moisture-proof barrier to soak up liquid. It is a large double-sided blanket with one side being soft microfiber, while the other side is silky satin.
The best part is that it is easy to clean and machine washable!
BONUS: Here are some honorary mentions of sex furniture for you and your partner: Lovebotz Bangin Bench and Cowgirl Premium Sex Machine.
Final Thoughts
Liberator sex furniture, positing aids, and accessories help you have better sex. Using Liberator pillows and sex furniture allows you to experience more positions, have better control, be more comfortable during sex, and best of all . . . have more fun in the bedroom!