Top 6 Best Luxury Rabbit Vibrators in 2022
---
Made famous thanks to Sex And The City, the rabbit vibrator is one of the best-known sex toys.
The original rabbit, the "Rabbit Habit," inspired hundreds of copies. Created in Japan more than 25 years ago, it was the first vibrator to offer both internal and external stimulation at the same time. The Rabbit Habit featured a bunny rabbit attached to the base of a shaft. The rabbit's details resemble a woman with a caricature face, necklace, and bob haircut.
In Japan, it is taboo to show genitalia. Thus, faces and other details soften their visual impact and disguise their true use. More elaborate designs included swords, kimonos, and other details to represent samurai and geisha characters.
Over 5 million jack-rabbit vibrators are manufactured each year, and that number keeps growing. Today, many rabbit vibrators feature other animals including dolphins, seahorses, monkeys, and birds. Of course, luxury rabbit vibrators do not include many animals.
All rabbit vibrators have a similar structure:
An external part — one or (usually) two ears/arms that rest on your clitoris for targeted stimulation
An internal part — a shaft for internal vaginal stimulation
With both external and internal stimulation at the same time, rabbit vibrators create a blended orgasm. A blended orgasm is two orgasms at the same time…and feels amazing!
THE BASICS . . .
---
How do you choose a rabbit vibrator?
Size
Rabbit vibrators range in size and shaft shape. Shafts can be:
Slim or girthy
Smooth or bulbous

Textured/Ridged or plain

The material can be soft silicone or hard plastic
If you are a beginner, you should try a slimmer rabbit for easy insertion, which will allow you to get used to the new sensations. If you travel a lot, you should also consider a smaller rabbit vibrator.
Shape
A rabbit vibrator that is shaped for optimal G-spot stimulation has either an upward curved or bulbous nose on the insertable arm. These rabbit vibrators may also have a second vibrator in the tip of the rabbit. A G-spot rabbit vibrator provides targeted G-spot stimulation.
Just like the woman in Sex And The City have evolved (and gotten older!), so has the shape of the tradtional rabbit vibrator. A dual stimultion vibrator does not have to look like a traditional rabbit vibrator. No matter what the vibrator looks like, as long as it has an external arm to stimulate the clitoris and an internal arm to stimulate the G-spot, you can achieve a blended orgasm.
External Stimulator Shape
The biggest complaint with rabbit vibrators is the shape of the external arm. Sometimes, the rabbit ears don't line up with the clitoris. The shape determines the surface area of vibration that will be on your body. Larger shapes will give you broader vibration, while smaller shapes will give you more pinpoint vibration.
Some people who have a larger hood over their clitoris need more stimulation. So, they may need a shape that can reach their clitoris more easily, or they may want an external arm with stronger vibration.
There's a bit of trial and error with finding what works for your body. Since no two bodies are the same, what works for you might not work for someone else. Every vulva is different, and we all have different sized genitals. Plus, the distance between the vagina and clitoris varies.
Thus, choose a rabbit vibrator with a flexible clitoral stimulator. If the shaft of the toy is flexible, that's even better. A flexible clitoral stimulator (and flexible shaft) will make it easier to line everything up. That way, you can get the greatest enjoyment from your rabbit vibrator.
External Stimulator Flexibility
How flexible and much pressure does the external nub exert? This is important because the distance between the vagina and clitoris varies. If the external stimulator is flexible, you can move it to a better place to reach and stimulate your clitoris.
If the external stimulator is NOT flexible, it might not reach your clitoris. Or, it might be too stiff and press down too hard on your clitoris, which is uncomfortable. if it doesn't reach the place you want.
Handle
How ergonomic does your rabbit vibrator need to be? Is it comfortable to hold? Where are the controls? Are the controls easy to reach?
Number of Motors
The best rabbit vibrators have at least two motors — one in the shaft and one in the clitoral attachment. Three motors provide triple stimulation for clitoral, vaginal, and anal stimulation.
External Vibration
There are many ways a rabbit vibrator can vibrate. It can feel rumbly or buzzy.
High frequency and short amplitude (size of the vibration) produces a buzzy sensation. Meanwhile, high amplitude and low frequency produces a rumbly sensation. You will only know which kind of vibration you like if you try them both.
Are vibrating patterns important or not? If so, do you need a minimum amount of vibration speeds and patterns?
Internal Vibration
Like external vibration, there are many ways the shaft of a rabbit vibrator can vibrate. Is it rumbly or buzzy?
Do you want the option to control the external and internal vibration separately?
Advanced Functions
Many rabbit vibrators have advanced functions:
Rotating beads – Rotating beads/pearls twist and turn around inside your vagina. The moving beads stimulate the nerve endings in your vaginal canal. This sensation is very pleasurable.

Thrusting – Thrusting in and out mimics penetration.

"Come-hither"/back & forth motions – This motion mimics the motion of a finger(s) stimulating the G-spot.

Internet compatibility – Excellent for long-distance play, your partner can control your rabbit vibrator from anywhere in the world.

Warming sensations
Battery
Many luxury vibrators are rechargeable and eco-friendly. Who wants to worry about batteries? Also, rechargeable vibrators also hold their charge much longer than battery-operated vibrators.
Waterproof
In addition to being rechargeable, many luxury vibrators are waterproof so that you can use your vibrator in the bath or shower.
How to Use a Rabbit Vibrator
1. Warm-up and apply vibration to your clitoris with the ears/external part of the vibrator. Start with a light touch and then do anything that you would do with your hand.
2. Apply lots of lubricant to yourself and the toy.
3. Slowly insert the vibrator's shaft and pull it out. Your body needs to get used to the vibration and shaft.
4. Once you are comfortable with the shaft inside of you, either relax and let the rabbit vibrator do the work or thrust and stimulate your G-spot.
The top 6 BEST LUXURY RABBIT VIBRATORS in 2022
---
BEST SLIM SHAFT: Happy Rabbit Slimline
If you prefer a shaft that doesn't have a lot of girth and is slimmer, we recommend the Happy Rabbit Slimline Vibrator.
A slender luxury vibrator is easier to insert and excellent for beginners who want to experiment with rabbit vibrators.
With two powerful rumbly motors, you can control each motor independently using the simple 2-button interface.
BEST GIRTHY SHAFT: LELO Ina 3
Ina 3 is a very powerful, comfortable, and easy to use luxury rabbit vibrator. Two powerful motors are located in each pleasure point.
The latest version has:
30% more power
A wider range of intensities with 10 vibration patterns
A longer lasting charge for more play time
Ina 3 has a flexible clitoral stimulator, and it is further down the stem for better G-spot pleasure. The external clitoral arm is also flexible so that you can place it in the best spot. Ina's vibrations can move back and forth between the internal part and the external part of the toy.
Ina's slim body allows for easy insertion and ease of movement. Designed with a perfectly curved tip for ideal G-spot stimulation, Ina Wave is a medium to large sized fuller-feeling rabbit sex toy. However, it's vibrations are less powerful than the vibrations targeting the G-spot.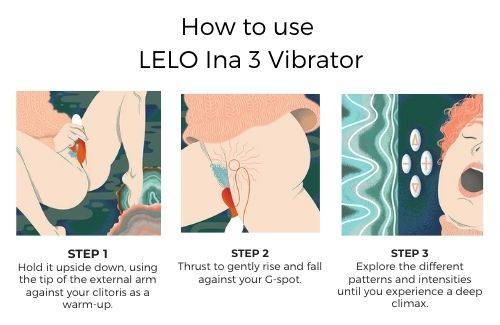 BONUS I: Ina Wave 2 Rabbit
The Ina Wave 2 Rabbit Vibrator is a luxury sex toy with 3 stimulations in 1 toy: external clitoral stimulation, powerful vibrations for an internal massage, and come hiter motion for G-spot stimulation. It has as the 'come-hither' motion, where its tip rises and falls – just like your finger. This helps to naturally and strongly massage the G-spot for amazing G-spot orgasms.
Offering the choice of combining vibrations and wave stimulation across 12 different settings, the controls for Ina Wave 2 house a built-in memory function to return you to your favorite mode the next time you turn it on.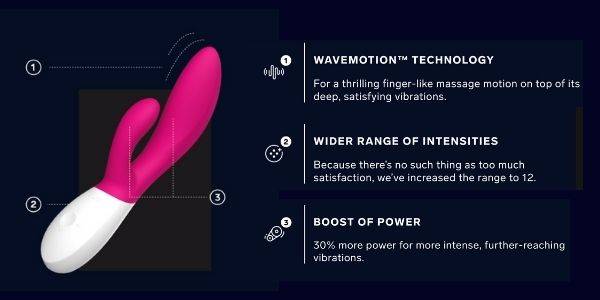 BEST ADJUSTABLE: We-Vibe Nova 2
Nova 2 is We-Vibe's ergonomic luxury dual stimulation rabbit vibrator that that flexes with your movements and adjusts to your body while simultaneously stimulating the G-spot and clitoris for a blended orgasm.
The ergonomic design includes an adjustable internal G-spot stimulator to fit your body. The adjustable shaft provides added stability, is easy to adjust, and then stays in place once you've found the perfect fit.
Unlike other rabbit vibrators, Nova's super soft external arm flexes when you thrust the toy inside of you. The benefit of this unique design allows this luxury sex toy to never lose contact with the clitoris — so that you always stimulate the clitoris.
Nova's ergonomic handle makes this luxury sex toy easy to use thanks to a comfortable grip. The shape is easy to adjust and stays in place once the perfect fit is found, ensuring non-stop, comfortable one-handed pleasure inside and out.
BEST CLITORAL SUCTION: Osé 2 Stimulator by Lora DiCarlo
Inspired by human movement and the human touch, Osé 2 by Lora DiCarlo is a dual stimulation vibrator — stimulating the clitoris and G-spot — for blended orgasms.
Osé 2 combines a G-spot massager and clitoral mouth to arouse and stimulate both pleasure points simultaneously. With a more accommodating, intuitive fit that has a slightly longer body and more flexibility, you can adjust its position for maximum satisfaction.
And with a smaller G-spot massager and a wider range of power on the Clitoral Stimulator, Osé 2 offers you a unique, customizable experience that works across even more bodies.
The Clitoral Stimulator is designed to replicate the sensation of a mouth and tongue over your clitoris. It presses flat against the vulva and its smooth ridges rest within the outer labia to provide rhythmic thrumming throughout the full body of the clitoris. Choose from 10 intensity levels to find just the right amount of stimulation.
Osé's soft G-spot massager mimics the come-hither motion of a finger. A 9.5% smaller shaft helps you get just the right amount of pressure. Custom settings allow you to determine the length and speed of each stroke against your G-spot.
BEST ROTATING: Lovense Nora
Lovense Nora is a remote controlled rotating rabbit vibratory and luxury sex toy for women.
Easily stimulate your G-spot with Nora's rotating head, while the flexible vibrating external arm stimulates your clitoris. Nora's optimized shaft was designed to gently stimulate the right places during thrusting.
Smartphone control makes solo play, foreplay or long-distance play easier and more fun with unlimited vibration patterns and fun local or long-distance play.
BEST THRUSTING: Snail Vibe
The Snail Vibe doesn't look like your typical rabbit vibrator. Created with scientifically backed research and development, the Snail Vibe stimulates your clitoris and penetrates your vagina while simulating sex like no other dual stimulation vibrator.
With two individual motors, each with 5 speeds and 5 modes (resulting in over 600 possible combinations), Snail Vibe allows for customization of both erogenous zones to fit your needs. Snail Vibe offers the greatest amplitude of dual stimulation – 7 times more than other vibrators.
Snail Vibe is a luxury vibrator with a movable clitoral stimulator unlike any other. It boasts the vibrating power of a wand massager, the insertion depth of a dildo, and the dual stimulation of a rabbit vibrator. This luxury sex toy combines eight types of stimulation and replaces all three types of sex toys at the same time.