All men dream of a big penis. According to a study from the Kinsey Institute at Indiana University, 20% of men in the U.S. do not like the size of their genitals.
If you ask the receiving partner, a very big penis can be more of a curse rather than a blessing.
Bigger is not always better – especially when it comes to sex.
Why?
A very big penis can make sex uncomfortable and not fun.
REMEMBER:
Sex should be fun and should NOT hurt.
5 BEST SEX TOYS FOR BETTER SEX WHEN HIS PENIS IS TOO BIG
---
1. Tenga Spinner Masturbation Sleeve and Stroker
The Tenga Spinner masturbation toy and stroker has an internal coil within the double-layered structure, which makes the Spinner twist as you insert. The spinning sensation around your penis sends pleasurable sensations through your shaft with each stroke.
The Spinner can be turned inside out to be washed and reused, and also has a drying stand built in for hygienic drying.
BONUS: If you prefer a masturbation sleeve that is even easier to clean, the Tenga Flip Zero opens completely flat.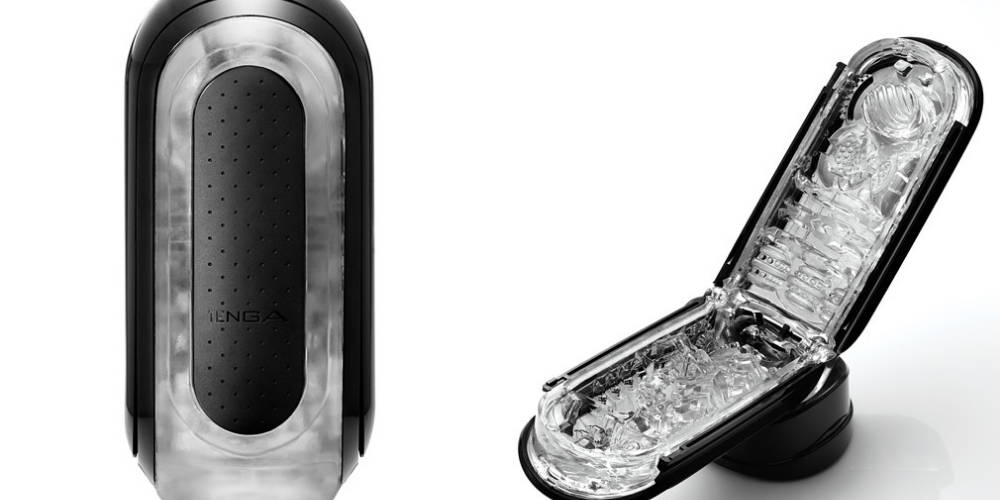 2. ON Clitoral Arousal Oil
Excellent for women, this is an all-natural clitoral stimulant that helps you get aroused. ON Arousal Oil uses a proprietary blend of
essential oils and botanicals including sweet almond oil and cinnamomum cassia to create a safe, natural arousal effect unlike any other.
In less than five minutes, unlike other stimulating gels, ON Arousal Oil offers an immediate warming effect, moving to a buzzing sensation. This combination awakens the nerve endings and increases blood flow so every touch will be more intense. Most importantly, ON's clitoral stimulant allows women to achieve orgasm easier.
3. Uberlube Silicone Lubricant
Lube makes sex better. PERIOD.
Why?
Lubricant makes sex better, more comfortable, and more enjoyable.
Penetration = friction. Friction = micro-tears that can lead to infection.
Everyone has a different baseline and amount of natural lubrication that they produce. Your lubrication can change according to your meds, menstrual cycle, if you are dehydrated, if you are experiencing menopause, and how aroused you are.
Uberlube is a premium lubricant that is not only slippery, but it has been designed to transfer sensation while reducing friction. It is not sticky or tacky and a little goes a long way. When finished, it leaves the skin soft and moisturized.
Recommended by doctors, Uberlube will not affect pH levels and is made with inert ingredients leaving it is scentless and tasteless. This premium lubricant's simple ingredient list makes it widely used by people with sensitivities. Uberlube is non-staining and is 100% waterproof, which makes it excellent for sexual play in the shower or tub.
Other uses for Uberlube :
Reduce chafing and blisters when running, swimming, or biking.
Tames frizz, conditions ends, and is a heat protectant.
Protects hair from harsh environments like chlorine and bromine in pools.
Makes the color on old tattoos more vibrant.
Reduces razor burn and keep skin soft and smooth
4. Ohnut
Say goodbye to painful sex and transform your sex life with Ohnut, a body-safe, soft and stretchy sexual health device and wearable that allows you to enjoy penetration with your partner and not feel pain.
Ohnut is adjustable with comfort ridges that compress down and allows your partner to penetrate as deep as your body can allow without pain.
This comfy wearable is worn externally at the base of a penetrating partner so you can adjust how deep feels good – for both of you.
STEP 1: Stack 3 or 4 rings to start
STEP 2: Lube up shaft or insertable toy
STEP 3: Slide Ohnut down to base
STEP 4: Ohnut is multi-purpose! Don't be afraid to get creative.
5. Tantus Silk Dildo
The Tantus Silk is a perfect dildo and sex toy to work your way up to a very large penis. Smooth and simple, the Tantus Silk is ideal for women who need help with penetration difficulties. The smaller Silk is also excellent as a beginner anal toy.
Available sizes:
Small | 4.25″l x .75″ d
Medium | 5.25″l x 1″ d
Large | 7″l x 1.5″ d
---
THE BASICS . . .
---
Average Penis Size
Researchers at the British Journal of Urology International (BJUI) have found that the average length of a flaccid penis is 3.61 inches, while the average length of an erect penis is 5.16 inches. The average girth is 3.66 inches for a flaccid penis and 4.59 inches for an erect penis.
Does Penis Size Matter To Women?
No….unless it's too big or too small. What is more important to women is penis girth for sexual satisfaction.
What Does "Penis Too Big" Mean to You?
Everyone has a different definition of "penis too big". What's too big for you might be the right size for someone else.
Some people like big penises, especially if they experience vaginal orgasms. A study conducted by the Journal of Sexual Medicine found that women, who have frequent vaginal orgasms, can orgasm more with men with larger penises. (By the way, a thicker penis is also associated
with more sensation at the entrance of the vagina.)
Everyone is different. Everyone likes different things. What feels good and what's too much for you might be perfect for someone else.
If the size of your partner's penis is making sex uncomfortable, it's too big.
A Vagina Stetches For a Baby…Why Can't it Stretch for a Penis?
The vagina stretches to let a baby out. Yet, it often takes hours to get to that point. It also involves hormone changes and lots of pain.
(Sex should be fun, whereas childbirth is NOT!)
Since the vagina doesn't stretch as much as it does during childbirth, relaxing your pelvic floor muscles will help. This will allow you to be more "open" and relaxed.
To find your PC muscles, start peeing and then stop mid-stream. The muscles holding your urine are the same muscles you exercise if you do Kegel exercises. Now contract, then relax those muscles. When you are getting ready to have sex with a big penis, you will want to relax those muscles completely. Take a deep breath and let it out as you try to relax.
Keep in mind that he may never be able to penetrate you deeply; some women have short vaginas, others are longer.
There are things you can do to make sex with a big penis more pleasurable. If your partner has a large penis, sex can still be fun and enjoyable.
13 Tips For Having Great Sex If His Penis Is Too Big:
1. Communicate
Just like anything else in a relationship, talking about what you are feeling and what you need in the moment will help if you partner's penis is too big. Communicating with your partner about how the experience can be better for each of you will make sex with a large pennis possible.
2. Change Your Expectations
Having sex with a large penis takes more time and it might be harder. It is possible that his penis will only partially fit after you try everything. More planning and tools are required, which takes more thought and time.
So, revise your expectations about what you think sex should be. Sex can include anything so long as it's pleasureable, safe, and consensual.
3. LOTS Of Foreplay
No matter what size penis your partner has, everyone needs foreplay. Foreplay is a great way to connect with your partner and help each of you get in the mood. Also, foreplay is also necessary for pleasurable sex.
On average, women need 10-40 minutes before they're fully aroused.
Arousal depends on:
Stress
Medications
Sleep
Diet/Exercise
Body image
Menstrual cycle/Menopause
and more…
What does fully aroused mean??
that blood is flowing to the vulva
the clitoris is hard (because it gets erect just like a penis)
the natural lubrication process has begun
your vagina getting longer and wider
Foreplay is fun and can include:
Massages
Kissing
Handjobs
Fingering
Oral sex
Masturbation
Breast Play
Reading erotica
Watching porn
Cuddling
Remote controlled sex toys
Sexy games
4. You Orgasm First
Have at least one orgasm before the penis enters your vagina. After you orgasm, you are more open, wet, and your body releases a bunch of feel-good chemicals, oxytocin. These help you feel satisfied, and they relax your
muscles. Relaxed muscles include those in and around your vagina. Being more relaxed makes it easier to accommodate a large penis.
5. He Orgasms First
If your partner can get erect after ejaculating, have him orgasm first. The second erection is always a little smaller.
6. Work Up To Penetration
If you know his penis size is an issue, don't start with penetration.
As you get more aroused, have him put as many fingers (or a toy larger than a finger) that will fit comfortably inside you. Remember to breathe and relax. Try to have an orgasm, while your partner's fingers (or toy) is inside you until your orgasm subsides. Each time you do this, he should flex his fingers as you relax, and add another finger (or a bigger toy) as feels comfortable.
Continue this way until you see if you can comfortably accommodate the number of fingers (or larger toy) that are equal to the width of his penis.
7. Choose Positions Where You Are In Control
When your partner's penis is too big, the best positions are those that put you in control of the penetration. We recommend girl-on-top or spooning. You can also try positions that allow for full thrusting with shallow penetration, such as having him enter you while you're flat on your stomach.
When ready, have him slowly enter you, and he should not thrust. Stimulate your clitoris while his penis is in your vagina, without moving unless you are comfortable.
Once the penis is inside and you feel comfortable when he thrusts, you can then switch to other positions that feel comfortable.
8. Use LOTS Of Lube
Lube makes sex feel better and makes the ride smoother. The act of sexual intercourse often creates friction. If there is not enough lubrication, small tears could occur in the vagina, which could increase the risk of urinary tract infections, STIs, and other types of infections. A big penis means that you are more likely to get small tears in your vagina (or anus). Apply lots of lube to the penis and the vaginal opening (or anus).
For anal play, lubrication is a must. Unlike the vagina, the anus does not produce natural lubrication. Therefore, lube is necessary. Plus, lube makes anal play more comfortable. Anal lubricant, which is thicker than regular lubricant, stays on the skin longer and provides a more comfortable feeling by reducing friction and sensation.
Invest in a good lubricant that doesn't have glycerin or parabens. These lubes should be long-lasting but not sticky.
We recommend water-based lubricant when using sex toys and silicone-based lube when using non-silicone sex toys or during sex or during sexual play in the shower/bath tub.
Water-Based Lube
Silicone-Based Lube
9. Use A Condom
When you combine lots of lubricant with a condom, it can make the experience more comfortable. A snug condom can help with the slide factor because it smooths everything out.
10. Breathe and Relax
Pain from previous sexual play or fear can cause your pelvic floor muscles to tighten as a way of protection from harm. Take deep breaths, or try breathing in and out together, Tantra-style.
11. Try Something Different
There's a lot more than penis-in-vagina (penis-in-butt) sex. Sexual play does not have to include or end in penetration.You can end in mutual masturbation, manual stimulation, oral sex, etc.
12. Use Your Hands
During oral sex, if he's too large to take in your mouth, or even fit your mouth around, use both hands at the base of his penis or lower down on his shaft. This way you can control how deep he goes. Try experimenting with different hand-mouth stroking combos.
13. Use Sex Toys
Try a masturbation sleeve or stroker with lubricant. Using a sex toy allows you to not worry about him going in too far. He still gets the feeling of being surrounded by something soft, wet, and
warm. Everyone wins.
Also, vibrators and dildos can relax your vaginal muscles enough to have penetrative sex with a large penis.
Final Thoughts
Similar to tips for anal sex, GO SLOW. Sex should not hurt, and if it does, stop immediately. You can also try anal products instead, such as the Fun Factory Bootie Anal Plug.