Pocket pussy toys, penis sleeves, and masturbation toys are now more accepted and more mainstream. The hottest sex toys for men are pocket pussies, which do their best to replicate the feeling of a real vagina (or anus). Pockey pussy toys add variety and are a great addition to your toy box. Some men even believe that they much better than their own hand.
THE TOP BEST POCKET PUSSY TOYS IN 2023
---

BEST BUDGET POCKET PUSSY: Tenga Spinner
The Tenga Spinner pocket pussy toy and penis sleeve has an internal coil within the double-layered structure, which makes the Spinner twist as you insert. The spinning sensation around your penis sends pleasurable sensations through your shaft with each stroke.
The Spinner can be turned inside out to be washed and reused, and also has a drying stand built in for hygienic drying. Made with 100% body-safe materials, including elastomer plastic, the Tenga Spinner masturbation toy is a great product for everyone's bedroom!
BEST LUXURY POCKET PUSSY: Tenga Flip Zero
The Tenga Flip Zero is a modern and discreet pocket pussy toy that uses the finest premium materials and the most intricate internal texturing details with added suction for ultimate pleasure.
The opening for the penis provides the perfect seal, preventing lubricant from leaking and forming a strong vacuum seal made possible by the one-way valve.
The internal details are very complex and stimulating:
The Ridge Wall's ridges hugs your penis from both sides
The Ripple Dome grasps your shaft while rippling edges stimulate your shaft
An outer layer covers the end orb which stimulates the tip of your penis from all angles
Easy to hold, the Flip Zero's pressure pads on the side of the toy are soft to the touch and allow for greater stimulation because of the suction it creates. The Flip Zero is also a great way to build stamina.
The Tenga Flip Zero has an integrated pivot and a flip-open hinge for seamless insertion, simple use and easier cleaning.
BEST DISPOSABLE: Tenga Egg 6 Pack
The Tenga Egg is a fun, single use, and stretchy pocket pussy toy that is excellent for travel, oral sex, and foreplay!
These small eggs contain a super-stretchable elastomer sleeve that suits most sizes. Adding lube, this sex toy for men can stroke the penis with its different unique internal textures.
Tenga Eggs can be used for solo play to experience different sensations during masturbation or couples play for variety during foreplay.
Tenga Eggs can be for during oral sex. Cut one end off so that there is an opening on both ends. Use the Tenga Egg on your shaft, while the tip of your penis is in your partner's mouth.
BEST FOR ORAL SEX: Zero Tolerance Double Decker
The Zero Tolerance Double Decker Pocket Pussy Toy is a versatile penis sleeve and stroker that doubles your pleasure with two erotic entries!
This two-in-one sex toy for men allows you to choose from a lifelike vaginal entry or a non-anatomical classic round hole shape.
Enjoy the textured, ribbed channel that cradles your penis in all the right places for a nice, tight fit! Intensify any blow job with this pocket pussy. With a double opening design, your partner can take the head of your penis in their mouth, while using this stroker on your shaft.
The Zero Tolerance Double Decker is easy to clean and store. The soft TPE sleeve is removable making it very easy to clean. Easy snap-on caps protect the sleeve when not in use.

BEST AIR PRESSURE: ArcWave Ion
ArcWave Ion is a Pleasure Air stroker and unique pocket pussy toy, where pulsating airwaves stimulate your sensitive Pacinian pleasure receptors in the frenulum.
Experience powerful stimulation based entirely on pulsating airwaves. The ArcWave Ion targets the pleasure receptors in the frenulum at the tip of the penis, creating an intense orgasm. It is an innovative new type of stimulation that is based entirely on changes in air pressure to target highly sensitive nerve endings, leading to a powerful new type of orgasm.
Orgasms can be more intense and more varied. You might feel a more varied build up, waves of sensation, and a powerful release. Pleasure Air uses pulsating airwaves to suck and massage your penis to a brand-new type of orgasm, one that is not achievable by stroking alone.
ArcWave is only on when it should be on. Using advanced sensor technology, ArcWave Ion's stimulation starts and stops automatically as Ion senses skin contact. Smart Silence has 8 intensity levels to choose from, and you will never worry about any unwanted noise again.
BEST SONIC WAVE: LELO F1s V2
The LELO F1s V2 is the updated version of the LELO's luxury male masturbation and pocket pussy toy, which features sonic waves with 2 powerful motors and 10 smart sensors. The newest LELO luxury masturbation sex toy for men has double the power, a more pliable sleeve, and a wider range of sonic intensities.
Dual internal motors to produce a series of intense sensations within the chamber with sonic waves, SenSonic technology
10 highly sensitive performance sensors in which it automatically monitors, controls, and manages your rhythm
Curved grooves run along the inside of the body-safe silicone sleeve for more pleasure
Hands-free with Cruise Control
3-button controls are easy to reach and manipulate
A clear window panel for your viewing pleasure
A free app is your remote control and allows you to access the LELO SDK (Software Developer Kit).
Rechargeable and waterproof
BEST BJ: Vedo Hummer 2.0
The Hummer 2.0 is a sleek suction pocket pussy toy and hands-free BJ machine that simulates a blow job with super-charged suction and electricity!
With a top speed of 180 RPMs and 180 suction impulses per minute, this hands-free, sucking, stroking, BJ machine is very powerful. Hummer 2.0 is a luxury sex toy for men with 9 gears. The first gear allows you to control 6 different speeds – from slow to go – of the BJ machine. The first gear will help you increase your sexual stamina, enhance performance, and intensify those orgasms.
The second through ninth gears are similar to oral simulation. Eight fully-automatic suction modes with 4 minute sessions and unpredictable BJ patterns will give you a completely random, realistic blow job every time. The Hummer 2.0 features a solid motor housing with speed and suction control buttons and nearly 6 feet of tubing. The 6.5 inch deep textured sleeve vibrates on its own with a press of a button. This detachable vibrating stroker can be used with or without the BJ machine.
Coated in firmer, easy to grip silicone, the stroker sleeve is soft and clingy. Fully automated, the Hummer 2.0 is a hands-free and remote-controlled masturbator.
BEST HANDS-FREE: Pulse by Hot Octopuss
If you want a powerful pocket pussy toy to either use alone or with a partner, you should try the best-selling Pulse. This luxury male masturbator and sex toy has powerful oscillation technology. This oscillator — not a vibrator — generates very deep vibrations on the most sensitive area of the penis: the frenulum.
The Pulse hands-free male vibrator can be used with a flaccid (or erect penis), making it excellent for men suffering from erectile dysfunction. Pulse SOLO is meant for solo masturbation, while Pulse DUO is meant to be used with a partner because of the remote control and added vibration on the underside of the toy.
BEST VIBRATING: Tenga Flip Zero Vibration
The Tenga Flip Zero Vibration is a modern and discreet pocket pussy sex toy that uses the finest premium materials and the most intricate internal texturing details with added vibration and suction for ultimate pleasure.
This luxury male vibrator has two vibrating motors inside the elastomer sleeve, which provides rumbly sensations with each stroke throughout the entire masturbator. You can enjoy vibrations by pressing the button on the bottom of the sex toy and enjoy 5 different vibration patterns. The internal structure is designed specifically to complement and enhance the vibration sensations.
After inserting your penis, the pressure pads can be used to manually control the pressure. Or, you can squeeze out the internal air to create a strong vacuum suction. The repeating edges on the inside give a hugging sensation on both sides of the shaft.
The Flip Zero's pressure pads on the side of the toy are soft to the touch and allow for greater stimulation because of the suction it creates. The Flip Zero Electronic Vibration Masturbation Sleeve is also a great way to build stamina.
BEST WARMING: Lovense Calor
Lovense Caloris a versatile compact pocket pussy and sex toy for men that offers so many different ways of using it. Choose whatever you prefer: vibration, squeezing, heating, or depth-control. Control Calor yourself, ask you partner to do it from miles away, or sync it with another toy.
VIBRATION
Choose a power level to match your needs and save it for later. Calor has 3 speeds and you can program up to 10 favorite vibration patterns.
WARMING
The optional heating feature provides warm sensation.
DEPTH-CONTROL
Leave the strength of vibrations up to the toy. The deeper you insert your penis, the more intense the vibrations.
SQUEEZING
A squeezable grip accommodates most sizes and stimulates while you stroke.
Calor is compact and lightweight, which makes it the perfect travel companion.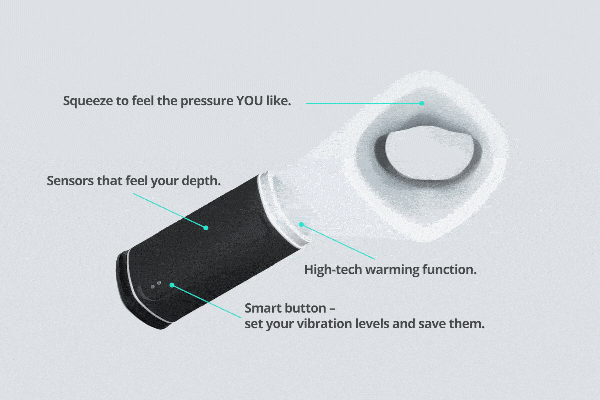 Control Calor yourself or ask your parter to control the toy from across the room or miles away. You can also sync Calor with the Max 2, Gush, Nora, or another Calor. When you move your toy, the other reacts, which allows lovers to connect and play together regardless of the distance!
BEST REMOTE CONTROLLED: Lovense Max 2
Lovense Max 2 pocket pussy and masturbation toy is a multiple-sensation masturbation sleeve with 360 degree contractions and suction.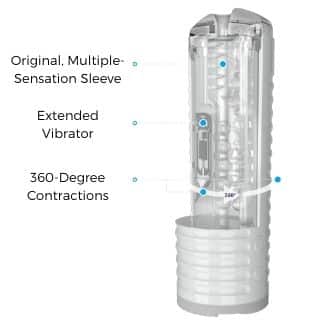 The vibrator sends subtle vibrations throughout the toy. Meanwhile, the air pumps mimic contractions, and the adjustable air vent allows you to control the suction. Max 2 accommodates most sizes and the inner nubs stimulate your penis while you stroke for a unique sensation.
Compatible with the Lovense App, enjoy close-range control, long-distance control, unlimited vibration patterns, sync to music, sound-activated vibrations, set vibration levels. Use your smartphone as a remote control.
BEST REALISTIC: Zolo Thrust Buster
Zolo Thrust Buster is a unique pocket pussy toy with passionate moaning sound effects and 4 modes of automatic thrusting.
Sleek and lightweight, the Thrust Buster is comfortable to hold in your hand, whether it's your hand or your partner's. At the entrance of this sex toy for men, a soft vagina with a detailed clitoris welcomes your penis into a snug tunnel of ribbed texture.
Increase your pleasure and stimulation with erotic audio, which includes orgasmic moaning, panting and oral encouragement. Control the audio with a separate button shaped into a pair of lips.
BEST THRUSTING: Zero Tolerance Thrusting
The Zero Tolerance Thrusting Pocket Pussy is a thrusting masturbation toy that feels like the real thing. Choose from 5 different thrusting speeds with 5 different intensities each that stroke up and down with a powerful motor. The vaginal entry gives way to soft and stretchy interior pleasure nubs that massage and tickle as you slip your penis inside.
The entire pocket pussy toy assembly comes apart for easy cleaning. We suggest cleaning the inner texture with sex toy cleaner. Once clean, use the easy to use twist-off canister lid to protect your pocket pussy toy.
THE BASICS . . .
---
What Are Pocket Pussy Toys?
The best pocket pussy toys or masturbation toys include adult sex toys with a hole and a carved out tunnel for you to insert your penis. Designed in a variety of shapes and styles, some are realistic-looking, while others are more discreet. No matter what they look like, all pocket pussy toys are designed to feel similar to vaginal, anal, or oral sex. When used with lots of lubricant, they create different sensations for your penis.
Why Would You Want A Pocket Pussy Toy?
Sometimes, men want something different from their hand. A pocket pussy toy offers different sensations, whether it is different textures, suction, heat, or vibration.
Pocket pussy toys are fun for solo or partner play. Some open-ended ones can enhance oral sex — your partner can use it to stroke your shaft while they focus on the head of your penis.
Why Do You Want A High-Quality Pocket Pussy Toy?
Would you rather have a smartphone or a flip phone? If price were no object, the answer is simple: you would want to have a smartphone.
Why?
There are more features, there's more research that goes into it, and it's made better. The same is true with premium high-quality pocket pussy toys.
They are:
made of body-safe materials (rather than toxic chemicals that are harmful to your body)
quieter
more powerful
rechargeable
waterproof
built to last a long time (and have warranties!)
Premium sex toy manufacturers maintain rigorous standards for their products. They spend a lot of time and money on research and development. Thus, they stand by their products with at least one-year warranties.
High-quality premium pocket pussies do NOT have:
rough seams
a rubbery chemical smell like that of a new shower curtain
"jelly" materials/latex, which contains rubber
Luxury, quality, and safety come at a price! Remember: you get what you pay for when it comes to pocket pussy toys.
Types Of Pocket Pussy Toys
There are two types of pocket pussy and masturbation sex toys:
Non-Vibrating
Non-vibrating pocket pussy toys are also called strokers or masturbation sleeves. These types of sex toys for men require you to do the work and move the toy up, down, and around your penis.
Vibrating
Vibrating pocket pussy or masturbation toys are also called male vibrators. Some vibrators are hands-free so that you can concentrate on other things.
How Do You Use A Pocket Pussy Toy?
Personal lubricant is definitely needed with pocket pussy toys. In fact, thinner lubes are easiest to use with pocket pussy toys, as they can penetrate all the nooks & crannies! Lube makes masturbation (and sex) much more pleasurable. Every sensation is enhanced which will allow you to feel every movement at a heightened level.
We recommend using a male lubricant that is designed specifically for men. Depending on the material, the best male masturbation toys work best with water-based lubricant. You can also try a hybrid lubricant on your high-quality pocket pussy toys. Hybrid Lube is a mostly water-based lubricant with a touch of silicone for a better glide.
Don't forget the lube!
Once you have lubed up, all you have to do is stick your penis in and start moving the pocket pussy up, down. and around.
Or, if it's a vibrating toy, let the toy do all the work!
How Do You Clean A Pocket Pussy Toy?
It's very important to clean your pockety pussy toy before and after each use. It should be dried completely after cleaning. To extend the life of your pocket pussy toy, we recommend cleaning your toy with a Toy Powder.