Penis rings, male/anal vibrators, and cock rings – these sex toys for men are becoming mainstream as more men (and those with penises) embrace their sexuality. Having a penis doesn't mean that you can't use a sex toy – that's why we've compiled a list of the best penis rings on the market that you can buy in 2023.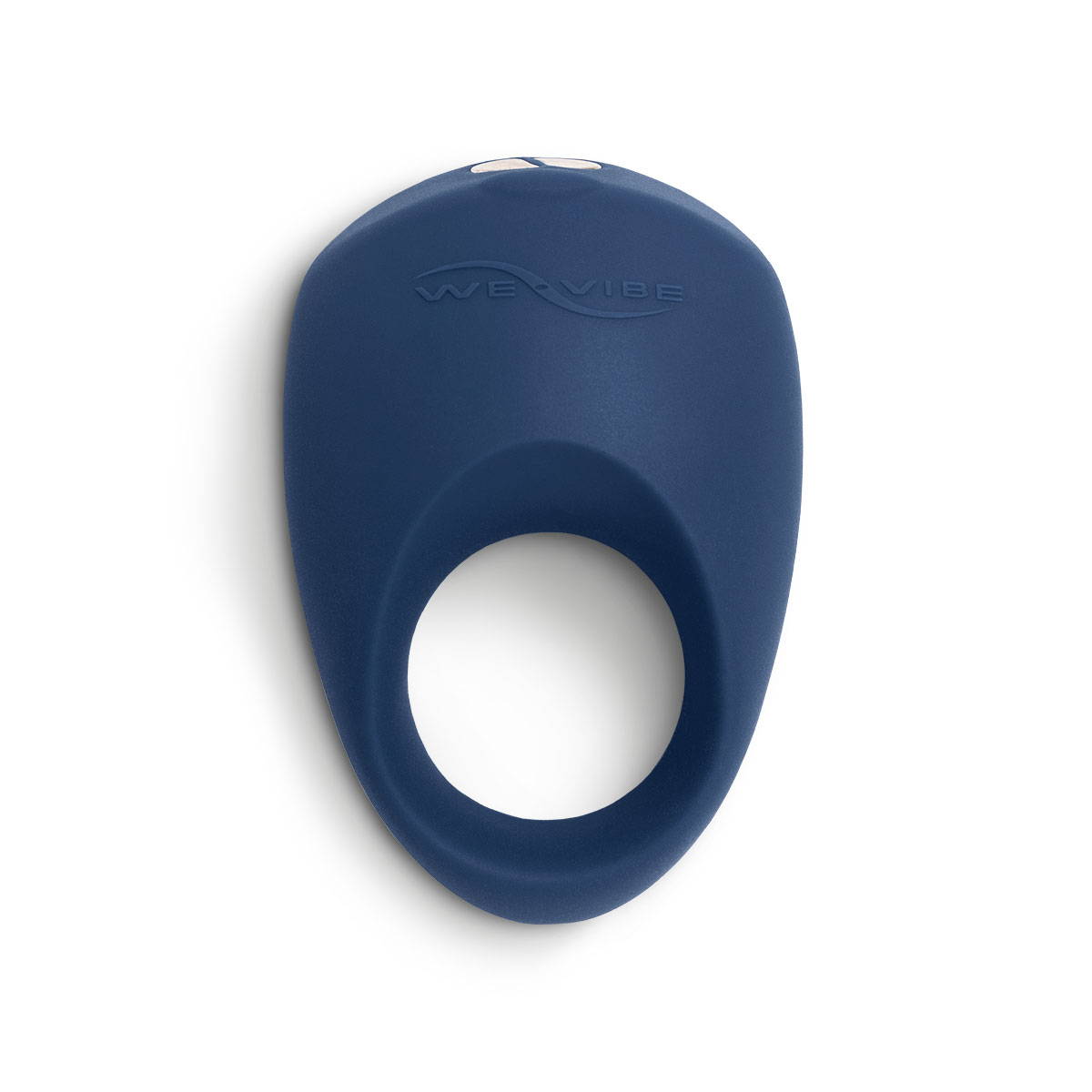 Some of the best penis-focused sex toys are penis rings that constrict blood flow to the penis for longer and hardererections. Using penis rings – whether they vibrate or not – gives you an intense, more dynamic sensation of pleasure.
And, the best part? You can use these toys whether you're in a straight or queer partnership, with a man or a woman – whether you're single or committed, and whether your partner has a penis or a vagina. These penis rings are a great addition to anyone's toy box and add variety and added pleasure to anyone's sex life and sexual experience! Keep reading to find out which penis rings get our 100% recommendation and endorsement.
THE TOP 5 BEST LUXURY COCK RINGS IN 2023
---
BEST NON-VIBRATING: Laid P3
This luxury penis ring stretches to fit your penis and is designed to be worn around the penis and testicles (or penis alone). The Laid P3 penis ring is an excellent ring for beginners and is designed for use by those with a desire for gentle to moderate speed settings.
The innovative shape of the P3 allows it to be used in a variety of ways. When worn up, the P3 also stimulates the clitoris. When worn down, the P3 stimulates the testicles and the perineum. It is made out of 100% body-safe silicone.
Angled for a better and more stable fit, a thicker width provides more stability on the penis and better functionality.

BEST VIBRATING: We-Vibe Bond
The We-Vibe Bond is a luxury sex toy and vibrating ring with a quick-release design and custom fit. Bond offers stronger and longer-lasting erections and more powerful orgasms for both partners.
With the Custom Fit link, you can easily choose between two sizes. Wear Bond beneath your clothes to make every moment extraordinary, and use it to build up to a more exhilarating experience.
Featuring an easy-on quick-release system for comfort and safety, it's the only cock ring that can be put on and worn as easily as your watch. Hands-free clitoral stimulation with powerful rumbly vibrations that both partners will enjoy. When playing in the same room, use the remote control to change vibration patterns and speeds from a distance of up to 3 meters.
Bond can also be controlled by the We-Connect app from any distance. Both you and your partner download the We-Connect app to your smartphone.
BEST FOR COUPLES PLAY: Fun Factory Nos
TheFun Factory Nos vibrating cock ring has a low profile unique shape made to stimulate the clitoris during penetration, so both partners can orgasm at the same time.
The unique shape is designed with both the clitoris and penis in mind. Flexible extensions or fingers on the Nos envelope the clitoris and clitoral glans for more stimulation with two rumbly motors.
Nos is not circular like other cock rings … because your penis isn't! The slightly tapered and flexible interior of this luxury sex toy for men caresses your penis while providing precise pressure on two of your shaft's hotspots, ensuring a comfortable fit and longer, harder erections.
In addition to its unique design, Nos gives your and your partner countless ways to play since this vibrating penis ring can be flipped to face any direction. You can point the vibrating fingers down, for instance in the reverse cowboy position or for doggy-style sex to stimulate the clitoris and testicles at the same time. You can also use Nos during oral sex for added stimulation.
BEST MULTIPLE MOTORS: Mystery Vibe Tenuto
Tenuto's unique design stretches and adapts around the penis & perineum for increased blood flow, extended erection, and prolonged pleasure. Tenuto sex toy for men can be used alone or with a partner and is remote-controlled with the free MysteryVibe App.
Soft, stretchy and comfortable, Tenuto's front three motors are not only designed to stimulate the penis but also deliver powerful vibrations to the partner's labia and clitoris.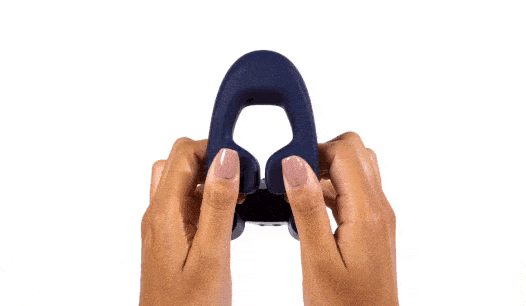 Six strong, anatomically positioned motors have vibrations that travel through the penis to give you and your partner powerful orgasms.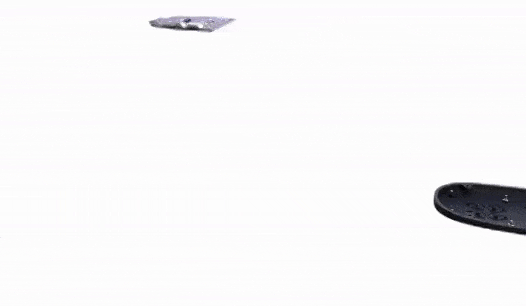 BEST COCK RING AND BUTT PLUG COMBO: b-Vibe Snug and Tug
Snug & Tug combines the erection-boosting power and delayed orgasm of a silicone cock ring with anal stimulation and light prostate play of a butt plug. Oh, and don't forget the perineum massage.
Snug & Tug is based on the popular B-Vibe Snug Plug Collection, a weighted butt plug that offers a sense of fullness in the anus during use. Snug & Tug incorporates a penis ring, which will give you more stimulation as the ring produces longer, stronger erections. The weighted internal butt plug simultaneously stimulates the anal canal and prostate.
The stretchy silicone penis ring is sized to fit most users for a harder, fuller erection. Combined with a weighted plug for a feeling of fullness, excellent anal and prostate stimulation, the ring and plug are connected by a narrow base. The smooth silicone ridge that connects the plug and the ring constantly massages the perineum – a highly sensitive area full of nerve endings and erectile tissue.
The design of this unique luxury sex toy has a flexible narrow base that makes the Snug and Tug easy to insert and comfortable to wear in a variety of sex positions. As you move, your motion will tug gently on the toy, sending waves of pleasure from the base of your penis to your prostate.
Snug and Tug is perfect for partner sex, solo sex, or to enjoy discreetly for extended wear and is also available in a vibrating version.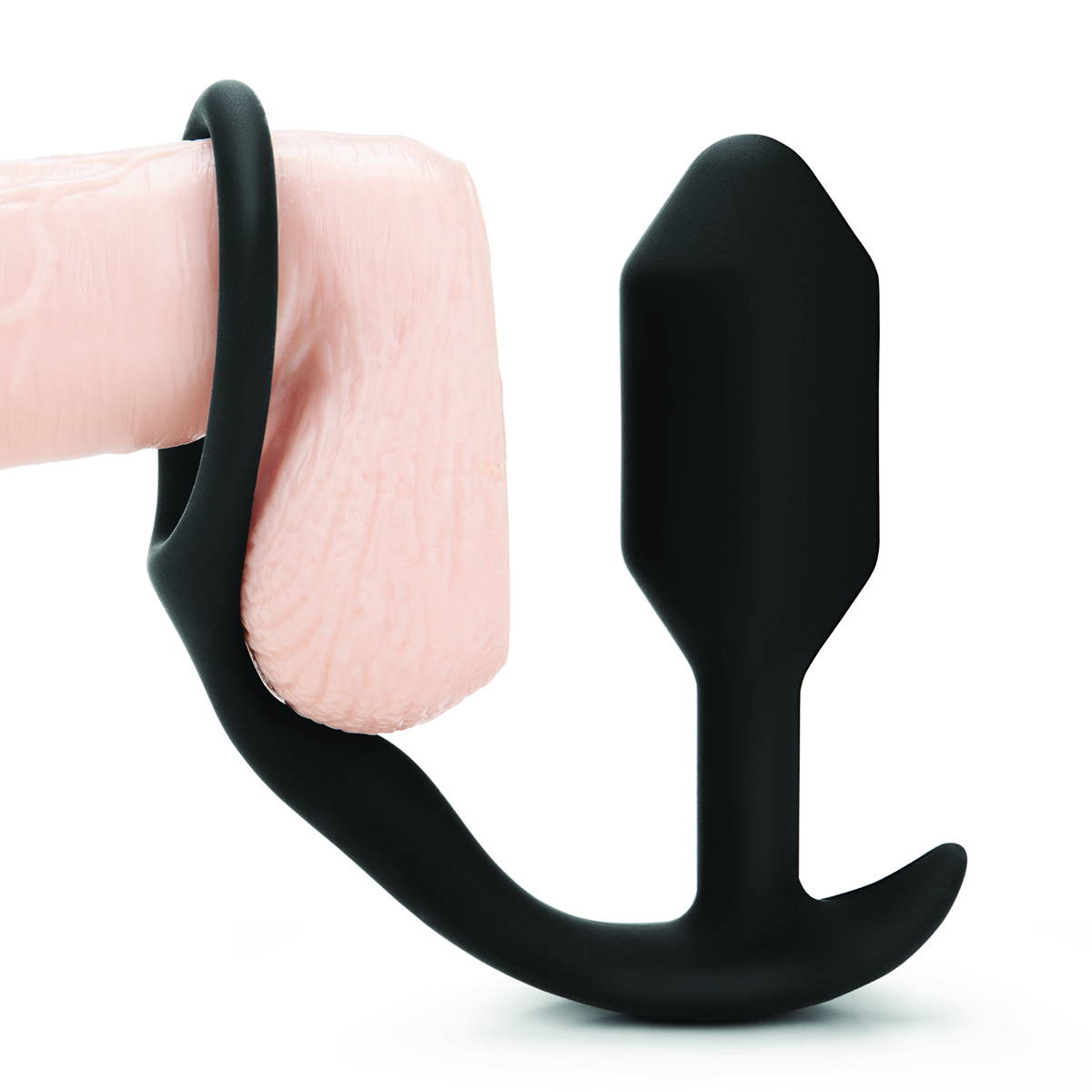 RUNNER UPS
Some runner-ups to this list include:
Thank you for reading this guide!
THE BASICS . . .
---
How Do Penis Rings Work?
Worn around the base of the penis (and balls – if you prefer), cock rings work by constricting blood flow and keeping blood in the shaft of the penis. When the wearer finally does ejaculate, the sensation is much more intense, as the blood flow causes a build-up of "pressure" that is released during orgasm. Suffering from erectile dysfunction? Expert advice from sex therapists states that using penis rings are an amazing way to positively aid the intimate life of anyone with issues surrounding ED. Why? Because a penis ring allows the wearer to stay harder for much longer, and often delays orgasm, which leads to more lengthy bedroom play.
When Do You Use A Penis Ring?
Rings are most commonly worn for the following reasons:
To create firmer and longer-lasting erections
To have more intense orgasms
To make the penis look longer and thicker
To assist someone who has trouble maintaining an erection
To assist someone who ejaculates too fast
For use during solo or partner play!
Did you know that premature ejaculation is the #1 sexual dysfunction for anyone with a penis? Cock rings are a safe and fun way to help with premature ejaculation and erectile dysfunction, which can result in poor sexual confidence and shame.
How Do You Use A Penis Ring?
Personal lubricant is definitely needed with penis rings, which will make rings easier to put on and lead to greater satisfaction. Depending on the material of the toy (which should be made from some type of medical-grade material), most toys work best with water-based lubricant and not lube that is oil-based.
Hybrid Water-Based Lube
Silicone-Based Lube
Adjustable rings can be put on at any point during an erection by stretching the ring so that it fits snuggly around the base of the penis or behind the testicles.
Non-adjustable rings fit over the shaft and the testicles/scrotum when the penis is not erect. Hold the ring under the testicles and insert one testicle into the ring at a time. Then, pull the penis through the ring, making sure to adjust it for comfort and to prevent injury or irritation. Reverse these steps to remove the ring from a flaccid penis – a non-adjustable ring should only be removed once the penis is no longer rigid.
Stretchy, adjustable rings fit most penises. They may look too small but when stretched, they are fitted to the penis without piercing the skin or causing any pain. And one of the perks of using a penis ring is that you don't have to be engaging in partner play. These rings are amazing for masturbation and self-pleasure.
How Long Should You Wear A Cock Ring?
A cock ring needs to increase the size of the erection only slightly. If you notice more pronounced swelling, then the fit is too tight and take it off immediately. If a penis ring fits too tightly, it could be hard to remove and could cut off circulation in the penis entirely.
To prevent damage or bruising to the penis, a ring should not restrict the blood flow for more than 20 minutes at a time. Beginners should only wear a ring for 5-10 to make sure it's not too tight. If pain is felt at any time or if the genitals feel cold, the ring should be removed as soon as possible.
(Also, if you have erectile dysfunction, a blood clotting disorder, any peripheral vascular or nerve disease, or are taking any blood-thinning medication, please check with your doctor before trying a penis ring.)
Here's why you should NOT wear a cock ring for an extended period of time:
An erection that lasts several hours can cause blood coagulation in the penis, making it difficult to lose the erection. This is called priapism, a prolonged erection. Since new blood cannot enter the penis, this can be severely painful and cause permanent damage to the erectile tissue. If this happens to you, GO TO THE HOSPITAL.
Also, use common sense and avoid using penis ring substitutes that cause too much constriction, like rubber bands, binder clips, or any kind of vice.
How Does It Feel To Wear A Cock Ring?
Many people wonder: how does it really feel to wear a cock ring? They are afraid that it will hurt or it will not allow them to orgasm.
Sensation might range from slight discomfort to lots of pressure similar to the way it feels when you get your blood pressure taken. When the cuff around your arm tightens, your arm gets that tingly, tight feeling and feels slightly uncomfortable. Pressure and keeping the blood flow in one area can make nerves super sensitive. Therefore, when the cuff comes off (or when there is finally ejaculation), there is a stronger feeling of relief (or a stronger orgasm).
How Do You Measure for a Cock Ring?
Penis ring sizes are based on ring diameter. This is the measurement across the widest part of the ring's hole. You want a penis ring with a diameter that's smaller than your measurements – this will ensure you have the constriction and tightness that you need. We suggest starting with a penis ring that is a bit smaller than your measurements. The smaller you go, the tighter the penis ring will be.
For rings worn at the base of the penis, take a piece of string or soft tape measure and wrap it around the base of an erect penis. That will give you the circumference.
For rings worn around your penis and testicles, measure and wrap around behind the testicles and as close to the body as you can while your penis is erect for circumference.
For the diameter of a ring, divide your measurement by 3.14. For example: if your penis measures 7″ in circumference, divide by 3.14, which equals 2.23″. A ring that is smaller than 2.23″ but is with .25″-.5″ will be needed for a comfortable fit.
Are Expensive Cock Rings Worth the Money?
Luxury sex toys and cock rings are higher-quality products.
Would you rather drive a Maserati or a Ford? If price were no object, the answer is simple: you would want to drive a Maserati. Why? It's faster, made with better materials, more exclusive, etc.
The same is true with high-quality luxury penis rings. They are:
made of body-safe materials (rather than toxic chemicals that are harmful to your body)
quieter
more powerful
innovative
rechargeable
waterproof
built to last a long time (or will be replaced if they don't!)
Luxury sex toy manufacturers maintain rigorous standards for their products, spend a lot of time and money on research and development, and stand by their products with at least one-year warranties. There are cock rings such as the Lovense Diamo Vibrating Cock Ring and Perfect Fit Speef Shift Penis Ring that offer high performance in an affordable budget purchase.
High-quality premium cock rings do NOT have the following:
rough seams
a rubbery chemical smell like that of a new shower curtain
"jelly" materials
Luxury, quality, and safety come at a price! Remember: you get what you pay for when it comes to adult products.
How Do You Clean a Cock Ring?
Cock rings can be washed with soap and warm water or sex toy cleaner.
---
---