Butt Plugs, vibrating butt plugs, anal vibrators and anal toys – all these anal sex toys for any gender are becoming mainstream fast!
Anal play has become a popular way to experiment in the bedroom and can be an incredibly pleasurable option to add to your sexual play.
Some of the best anal toys are butt plugs. The anus is rich with sensory nerve endings and pleasure points, which can lead to longer and harder orgasms.Using butt plugs — whether they vibrate or not — gives you different sensations of pleasure.
Many men and women use these anal toys during masturbation, foreplay or sex. They are a great addition to anyone's toy box and adds variety and more fun!
THE TOP 5 BESTBUTT PLUGS IN 2023
---
1. BEST REMOTE CONTROLLED: We-Vibe Ditto Vibrating Plug
Ditto is a premium vibrating butt plug is a remote-controlled vibrating plug that is slim and flexible at the base. It is easy to insert and comfortable to wear, making it perfect for beginners or advanced users. Thanks to Ditto's asymmetrical shape, you can wear it in a variety of positions.
Ditto stimulates with gentle pressure and rumbly vibrations and can be controlled by the remote or the free We-Connect app.
2. BEST DUAL MOTOR PLUG: Hot Octopuss PleX with Flex
PleX with Flex is a customizable and remote controlled vibrating butt plug with a unique flexible base that uses Hot Octopuss' patented Treble and Bass Technology.
Unlike conventional butt plugs that are rigid, PleX with Flex is designed to fit your body with extra comfort. Offering the ultimate comfort and targeted prostate stimulation, PleX features a flexible base that bends up to 90 degrees.
Ergonomically designed for comfort and vibration transfer, PleX with Flex is perfectly sized for all levels of experience. PleX features a smooth bulb shape that is tapered to deliver orgasmic vibrations to your booty as well as pinpoint prostate stimulation for those looking for incredible prostate play.
The Treble motor at the tip emits powerful high-frequency waves, while the Bass motor in the body delivers deep, rumbly vibrations. Adjust the Treble and Bass to find your perfect customized frequency.
This luxury anal toy features 5 variable speed settings with an additional 5 different pleasure patterns to hit just the right spot each and every time.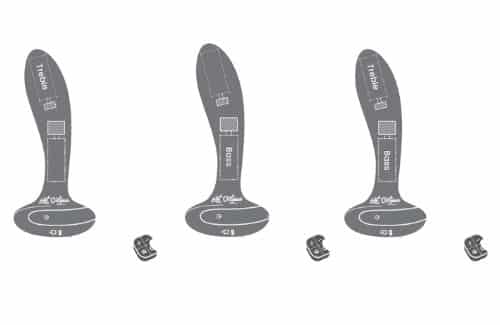 PleX includes a remote control, enabling seamless switching between settings without ever needing to touch the toy.
3. BEST WARMING PLUG: Tilt by Lora DiCarlo
Tilt is a dual vibration warming butt plug and luxury sex toy. This hands-free sex toy can be worn anally or vaginally while sitting, standing, or in a multitude of positions during partner sex or solo play.
Tilt is a multi-purpose, contoured G-Spot/P-spot butt plug with two independently-controlled motors for simultaneous G-spot/clitoral or P-spot/perineal stimulation. Its motors deliver powerful, intense, rumbly vibrations internally and externally, simultaneously stimulating two pleasure points at once. The sculpted external arm allows for simultaneous clitoral or perineal stimulation, while the internal arm stimulates your G-spot or P-spot.
Often seen in mainstream tech design, Tilt's warming function makes it even more comfortable to use, which make your experience more pleasurable. Tilt warms quickly to 104° F / 40° C, just above your body temperature, for a natural, sensual heat that feels like a warm partner.
The benefits of warmth can help stimulate your blood flow, relax your external muscles during use, and enhance your overall pleasure for a more enhanced sensory experience from start to finish.
4. BEST RIMMING PLUG: b-Vibe Rimming 2
The b-Vibe Rimming Plug is a vibrating butt plug that incorporates rotating beads for an intense rimming sensation. Paired with strong vibrations from its powerful motor located in the tip of the butt plug, you will feel amazing sensations! The Rimming Plug caters to fans of oral stimulation of the anus, aka analingus. The rotating beads can work together or independently of the vibration.
Featuring an LED wireless remote control that works from up to 30 feet away, this butt plug is also fun for couple's play.
5. BEST POWERFUL PLUG: Lovense Hush and Hush 2
Available in 4 sizes, Hush and Hush 2 have rumbly vibrations and are extremely powerful compared to other luxury anal toys. Hush can be customized to a wide range of vibration levels. The app allows you to choose a power level which matches your individual needs.
Hush and Hush 2 are:
Sleek and smooth
Designed for comfortable short or long-term wear
Have a neck that was designed to ensure it STAYS PUT during use
Have an ptimized base is comfortable, but flared enough to ensure it's safe
Hush and Hush 2 are remote controlled. Smartphone control makes solo play, foreplay, or discreet public play easier and more fun!
BONUS 1 – BEST NON-VIBRATING PLUG: Fun Factory Bootie
The Fun Factory Bootie Butt Plug is a simple and super soft silicone butt plug that offers flexibility with the necessary firmness. The Bootie is a comfortable butt plug that fits perfectly between the cheeks and is curved for prostate pleasure (but pleasurable for those who do not have a prostate too!). It's an excellent choice for beginners.
BONUS 2 – FOR PENISES ONLY: b-Vibe Snug & Tug Weighted Butt Plug and Cock Ring
Snug & Tug combines the erection-boosting power of a silicone cock ring with perineum massage, anal stimulation, and light prostate play.
Snug & Tug incorporates a penis ring, which will give you more stimulation as the ring produces longer, stronger erections. The weighted internal plug simultaneously stimulates the anal canal and prostate.
Snug & Tug is based on the popular B-Vibe Snug Plug Collection, a weighted butt plug that offers a sense of fullness.
The stretchy silicone penis ring is sized to fit most users for a harder, fuller erection. Combined with a weighted plug for a feeling of fullness, excellent anal and prostate stimulation, the ring and plug are connected by a narrow base. The smooth silicone ridge that connects the plug and the ring constantly massages the perineum – a highly sensitive area full of nerve endings and erectile tissue.
The design of this unique luxury anal toy has a flexible narrow base that makes the Snug & Tug easy to insert and comfortable for extended wear, as the soft silicone fits between the cheeks. As you move, your motion will tug gently on the toy, sending waves of pleasure from the base of your penis to your prostate.
The combination of a delayed orgasm from the penis ring with intensified stimulation from the internal prostate stimulation is perfect for partner sex, solo sex, or to enjoy discreetly for extended wear.
b-Vibe has added even more sensation to the mix with the addition of vibration. With 4 vibration intensities and 6 patterns, deliver intense pulses of pleasure to the prostate and anal canal.
BONUS 3 – Rianne S Butt Plug Set
The Rianne S Butt Plug Set is a set of 3 silicone butt plugs in graduated sizes and is an ideal training kit to further explore and discover anal play. Each plug has a gem-like stone on the flange for a touch of booty bling.
THE BASICS . . .
---
Why Anal Play?
Anal play feels goods because the same nerve that goes to the penis or clitoris also runs through the anus. Plus, the clitoral legs and prostate are stimulated through anal play. Some people say prostate orgasms are more pleasurable!
If you're first starting out with anal play, especially penetration, the number one rule is: to go SLOWLY. For penetration, start small with fingers, a butt plug, or a small dildo and work your way up with regards to both length and girth. In porn, it seems like they jump right in with a penis, but the actors are actually warmed up beforehand.
What is a Butt Plug?
Butt plugs are one of the most popular anal sex toys and are easily identified by its shape. These anal sex toys have a wide flared base (or handle/loop) and a long "neck" with a tapered head that widens out, usually into a bulb shape. The tapered designed allows for insertion, while the flared base keeps the butt plug in place so that it can't slip into the anal canal. The "neck" is the slimmest point of the butt plug and is where the anal sphincters will relax and squeeze around the "neck," keeping the plug securely in place.
Some butt plugs have one or more bulges near the tip, which increases sensation upon insertion and removal but also makes it harder to insert and remove.
A butt plug can also allow you to enjoy hands-free anal stimulation for an extended period of time because they are meant to stay in place. We recommend starting off slow and wearing your butt plug for a short amount of time and then work your way up to longer periods as you get more comfortable. Many people prefer a narrow flared base and smaller "neck" because it is a more comfortable fit between the butt cheeks for prolonged wear.
Anal Play Myths
There are many myths surrounding anal play. Unfortunately, people focus more on myths than on facts.
Myth #1: Anal Play Is Dirty
FACT: Anal Play Cleanliness Concerns can be easily addressed.
If you are mindful not to transfer anything directly from the rectum or anus into the vagina or mouth, you should be fine. Showering or using an enema before play or using barriers can help to minimize cleanliness concerns. Properly cleaning anal toys is very important in order to get rid of bacteria.
Myth #2: Anal Play Will Make Me Gay
FACT: The sexual behaviors that you engage in or like is not the same as your sexual orientation.
What makes you gay is not what you do, it's who you do it with. PERIOD.
Anal play is just another way to experience pleasure.
Myth #3: Anal Play Is Going To Hurt
FACT: If you start slow or experiment by yourself before playing with a partner, you will get used to the sensation.
The key to anal play is to not be goal-oriented and to go slow. Any tension or rushing can lead to pain. As with anything else, stop as needed if you experience any pain.
If you are still nervous that anal play will hurt, you can use an anal desensitizer.
PLEASE NOTE: Desensitizers can shut down your body's pain response and can actually numb the good feelings too.
Benefits of a Butt Plug
Everyone including straight, gay, men, women, couples, and singles can benefit from using a butt plug.
Butt plugs are not just used to help make anal sex easier. Since these anal sex toys are hands-free, they allow you to use your hands in other ways. Butt plugs can be combined with all kinds of sexual play, including vaginal intercourse, masturbation, and oral sex.
Butt plugs apply pressure to erogenous zones and create the feeling of "fullness". This pressure and feeling of "fullness" are what enables many people to orgasm both vaginally and anally. By inserting a butt plug, the amount of space in the pelvis is reduced, and as a result, the vagina feels tighter. The firmer pressure and additional texture provided by a butt plug also make the vagina feel different and more pleasurable to her partner.
As the pelvic floor muscles begin to contract during orgasm, the anal muscles contract around the plug and making the spasms feel stronger and harder. Orgasmic contractions around a butt plug feel more intense than without, improving the strength and duration of your climax and intensifies your pleasure.
A butt plug creates more pressure on the back vaginal wall, increasing the level of sensation she experiences – whether from a dildo, vibrator or a penis. Many women also enjoy using a butt plug while receiving oral sex or during vaginal penetration. During orgasms, contractions around a butt plug feel more intense than without the butt plug and stimulate the nerve endings around the anus.
Let's not forget that the clitoris is estimated to have 8000 sensory nerve endings and some of those nerve endings reach as far as the anus. In addition to the shared connection of sensory nerves, a thin membrane is all that separates the vaginal cavity from the rectal cavity. Therefore, direct stimulation of the G-spot or clitoris during anal sex helps some women achieve orgasm.
For those with a prostate, some curved butt plugs can reach and stimulate the prostate, which can result in a deeper, more intense and longer-lasting orgasms.
Butt Plugs Sizes
Butt plugs vary in sizes depending on the user and how comfortable you are with anal play. A beginners butt plug typically has the widest point that is no more than 1″ in diameter and an insertable length of 2″ to 3.5″. The more advanced you become, the larger in length and width you will want to experiment with.
Butt Plugs Materials
Butt plugs can be made out of many different materials, the most common being silicone, glass and metal.
Medical grade stainless steel can be used for temperature play (heated and cooled), feel very smooth, and is easy to clean. However, metal butt plugs are heavy and not flexible.
Glass can also be used for temperature play, is lighter than metal and is easy to clean.
The most popular material is silicone. Premium silicone is body-safe, easy to clean and flexible for insertion and removal.
Butt Plugs Types
Not only are there many different sizes and materials of butt plugs, but there are also many different types of butt plugs that sex experts recommend for a safe anal play.
Vibrating Butt Plugs
Many people prefer vibrating butt plugs because of its relaxing qualities. Vibrating butt plugs help relax the sphincter muscles and stimulate the G-spot or P-spot. These types of plugs are especially awesome for beginners, because the vibrations massage away muscle tightness.
Vibration also adds more sensation to the sensitive nerves in and around the anus. Many premium vibrating butt plugs have the vibration at the tip, which can transfer vibration to the prostate, or the perineal sponge and the anterior fornix erogenous zone (also known as the a-spot).
If you use a vibrating butt plug during partner penetration, your partner will also be able to enjoy the vibrations as well. They will receive stimulation through the vaginal wall from the vibrating plug while it is inside your anus.
Warming Butt Plugs
Warming butt plugs are an excellent choice for beginners because they help stimulate blood flow, relax your external muscles during use, and adds to your overall pleasure for a better experience.
Weighted Butt Plugs
Weighted butt plugs — some vibrate and some do not vibrate — are great to wear during sex or even while out an about. Weighted plugs use a small set of internal weights to create a feeling of fullness and movement.
Textured Butt Plugs
Textured butt plugs are excellent for intermediate or experienced users and can be used both anally or vaginally to experience new sensations. They feel good in the rectum because our rectum bends and twists and reflect your body's natural curves.
How Do You Use A Butt Plug?
First and foremost, when used correctly, experimenting with a butt plug should NEVER hurt. Everyone has 2 sphincters: the outside sphincter, which you control and the inside sphincter which is further inside your body and you have less control of. Pain occurs when you do not wait for these muscles to relax. Always remove the butt plug immediately if it becomes irritating.
It's equally important to use a lot of lube, relax, and communicate well. Unlike the vagina, the anus does not make any of its own lubrication.
Lots and lots of personal lubricant on the plug and your anus is definitely needed with butt plugs (or any kind of anal play), so that it will be easier to insert the plug. Depending on the material of the toy, most toys work best with water-based anal lubricant, which is thicker than regular water-based lubricant but still feels wet. We always recommend thicker anal lubricant because it protects you from harmful bacteria and helps with a more comfortable experience.
Our favorites are:
We recommend that your first butt plug should be smooth with no ridges or bumps. Insert the plug slowly lying down rather than sitting.
Once you are no longer a beginner, you can move up to a plug with ridges or bump and/or a larger size, although you may only be able to wear it for a few minutes. Increase this period of time that you wear the butt plug until you're able to keep the plug in place for up to six hours.
Women might find it helps to have an orgasm first or at least have lots of foreplay before experimenting with a butt plug. This helps to relax the body, including the muscles of the anus which automatically clench when we're stressed, overwhelmed, worried, self-conscious, rushed, or uncomfortable.
Butt Plugs can be washed with soap and warm water or sex toy cleaner.
Products To Clean A Butt Plug
It's very important to clean your butt plugs before and after each use to make sure that you get rid of any harmful bacteria. Luxury anal toys should be washed with anti-bacterial sex toy cleaner.
Thank you for reading this guide!