Top 30 Best Sex Toys for Men
Sex toys are no longer just for women. There's been many advancements in sex toys for men since the inception of the Fleshlight back in 1998. It's now easier than ever to find a wide range of masturbation sleeves, male vibrators, cock rings, butt plugs, anal beads, prostate massagers, penis extenders, and more! Of course, you can never have too many sex toys. If you don't like one, there's plenty to try.
---
Sex toys are just another way to experience pleasure.
Sex toys shouldn't be intimidating. They should be fun—hence the word "toy."
There's no better time to explore pleasure. So, here are our picks for the 30 best sex toys for men.
Why Do You Want A High-Quality Sex Toy for Men?
Premium luxury sex toys for men are higher quality products. Would you rather drive a Toyota or a Ferrari? If price were no object, the answer is simple: you would want to have a Ferrari.
Why?
There are more features, there's more research that goes into it, and it's made better. The same is true with high-quality luxury sex toys for men.
They are:
made of body-safe materials (rather than toxic chemicals that are harmful to your body)
quieter
more powerful
rechargeable
waterproof
built to last a long time (and have warranties!)
Luxury sex toy manufacturers maintain rigorous standards for their products. They spend a lot of time and money on research and development. Thus, they stand by their products with at least one-year warranties.
High-quality premium vibrators do NOT have:
rough seams
a rubbery chemical smell like that of a new shower curtain
"jelly" materials/latex, which contains rubber
Luxury, quality, and safety come at a price! Remember: you get what you pay for when it comes to vibrators. High-end sex toys for men are made with body-safe materials. The best materials are non-porous and non-toxic. Medical-grade silicone is often used, which is excellent at transferring vibrations. Silicone sex toys come in many different textures and finishes. Other premium vibrator materials include Elastomed and ABS plastic.
YES! You Need to Use Lubricant!
Lube makes masturbation (and sex) much more pleasurable. Every sensation is enhanced which will allow you to feel every movement at a heightened level. Also, toys tend to dry up as they are exposed to air, making for uncomfortable re-entry.
For anal play, lubrication is a must. Unlike the vagina, the anus does not produce natural lubrication. Therefore, lube is necessary. Plus, lube makes anal play more comfortable. Anal lubricant, which is thicker than regular lubricant, stays on the skin longer and provides a more comfortable feeling by reducing friction and sensation.
We recommend water-based lubricant when using sex toys and silicone-based lube when using non-silicone sex toys. A hybrid lubricant is a mostly water-based lubricant with a touch of silicone for a better glide.
Hybrid Water-Based Lube
Silicone-Based Lube
How to Clean Your Luxury Sex Toys
It's very important to clean your luxury sex toys for men before and after each use. Regular soap and water can leave a residue. Therefore, luxury sex toys should be washed with sex toy cleaner. To extend the life of your masturbator and stroker, we recommend cleaning your toy with a Toy Powder.
The Top 35 BEST SEX TOYS FOR MEN in 2022
---
PENIS SLEEVES, STROKERS, & NON-VIBRATINGMASTURBATION TOYS
B Swish Bhandy Classic Pearl
Bhandy is an open-ended compact stroker that is excellent for blow jobs. The silky soft interior texture of the Bhandy Classic Pearlwill intensify your orgasm during oral sex or masturbation. The super soft 100% body-safe TPE sleeve of this compact stroker has a textured channel designed for more stimulation.
Tenga 3D
Tenga 3D is a masturbation sleeve and stroker with internal details for added stimulation.
To use, turn the Tenga 3D inside out. Add plenty of lube. Insert your penis while squeezing out trapped air. Start stroking. Squeeze it during use for the desired amount of tightness and to create a tight feeling around the shaft of the penis. When finished, turn the Tenga 3D inside to clean. Place on provided stand to dry and use provided cover.
Tenga Eggs – 6 pack
Tenga Eggs are unique strokers with internal details that are fun and convenient for travel. These disposable masturbation sleeves come inside of an egg-shaped container, and each has a unique texture.
Similar to the Tenga 3D, to use, turn the Tenga Egg inside out. Add plenty of lube. Insert your penis while squeezing out trapped air. Start stroking. Squeeze it during use for the desired amount of tightness and to create a tight feeling around the shaft of the penis.
Tenga Flip Zero
The Tenga Flip Zero sex toy for men is a masturbation sleeve and stroker with intricate internal texturing details, which make for distinct pressures and sensations. Squeeze Flip Zero's pressure pads for added suction and completely open this stroker for easy cleaning.
VIBRATING MASTURBATION TOYS
---
ArcWave Ion
Take your orgasm to the next level with the ArcWave Ion, Pleasure Air stroker and masturbator. This luxury sex toy for men features pulsating airwaves/changes of air pressure that stimulate your sensitive Pacinian pleasure receptors in the frenulum at the tip of the penis, creating an intense orgasm.
Fun Factory Manta
Turn your penis into a vibrator with Fun Factory Manta when you slide this easy to hold male vibrator between your bodies. You can also slide the Manta down your shaft for a blowjob accessory that feels like your partner is circling the back of the penis for a deep-throat feel.
Jett by Hot Octopuss
Worn against the frenulum, below the tip of the penis, Jett's flexible and stretchy sleeve expands, enabling you to easily go from flaccid to erect – completely hands-free.
Powered by two custom 'bullet' vibrators, each contains a different sized motor that are adjustable to meet your pleasure needs. These different motors deliver contrasting vibration frequencies.
Lovense Max 2
Lovense Max 2 Masturbator is a multiple-sensation masturbation sleeve with 360 degree contractions and suction.
The vibrator sends subtle vibrations throughout the toy. Meanwhile, the air pumps mimic contractions, and the adjustable air vent allows you to control the suction. Use the buttons on the Max 2 sex toy for men or the app to change the air pump settings and adjust the tightness.
Max 2 accommodates most sizes and the inner nubs stimulate your penis while you stroke for a unique sensation.
Compatible with the Lovense App, enjoy close-range control, long-distance control, unlimited vibration patterns, sync to music, sound-activated vibrations, set vibration levels.
LELO F1S V2
LELO F1s V2 is the first hands-free sex toy for men that features sonic waves with 2 powerful motors and 10 smart sensors.
In addition to standard vibrations, which tingles the nerve endings of the skin's surface, one of F1s' motors emits powerful sonic waves that penetrate deep into your penis, pleasuring your penis from all directions at once. Sonic waves plus vibration will help you achieve the most deep and overwhelming orgasms of your life.
The Cruise Control setting ensures that your F1s will never experience a power drop during vigorous use.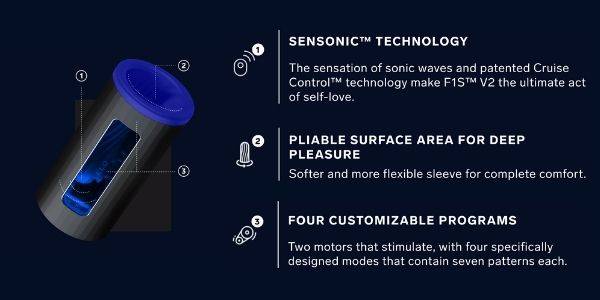 Man Wand Pump One
Experience the Man Wand Pump One Masturbator and sex toy for men with multiple functions for more pleasure! Experience pleasure with 3 suction modes, 7 vibrating modes, and a warming function. The powerful Man Wand Pump One does it all!
The silicone inner textured sleeve of the Pump One adds more stimulation for even greater pleasure!
PULSE SOLO Essential by Hot Octopuss
The best-selling vibrating masturbator and male vibrator focuses on your frenulum, the most sensitive part of the penis for many men. Pulse is a hands-free sex toy for men and can be used whether your penis is hard or flaccid. It's an excellent sex toy for men with erection difficulties and mobility issues.
The Pulse SOLO Essential is the entry-level Pulse with 3950 RPM. If you require a remote control and MORE power, then we recommend the Pulse SOLO Lux.
PULSE DUO by Hot Octopuss
Similar to the Pulse SOLO Essential and Pulse SOLO Lux, the Pulse DUO is designed with couples' play in mind. It comes with a remote control and the underside also vibrates.
If you want more power (4450 RPM) and two remote controls, then should try the Pulse DUO Lux.
Tenga Flip Zero Vibration
The Tenga Flip Zero Electronic Vibration Masturbator is a modern and discreet vibrating masturbator that uses the finest premium materials and the most intricate internal texturing details with added suction for ultimate pleasure. Two motors provide rumbly sensations with each stroke and easy cleaning make this an excellent male vibrator to build your stamina and increase your pleasure!
VEDO Hummer 2.0 BJ Machine
The Hummer 2.0 simulates a blow job with super-charged suction and electricity!
With a top speed of 180 RPMs and 180 suction impulses per minute, Hummer 2.0 is a very powerful hands-free, sucking, stroking, BJ machine and masturbator. The second through ninth gears are similar to oral simulation. Eight fully-automatic suction modes with 4 minute sessions and unpredictable BJ patterns will give you a completely random, realistic blow job every time.
The 6.5 inch deep textured sleeve vibrates on its own with a press of a button. The detachable vibrating stroker can be used with or without the BJ machine.
COCK RINGS
Je Joue Mio
A super stretchy cock ring, Mio will give you a better orgasm and vibrate on your partner's clitoris, as well. Simple to use and powerful rumbly vibrations, Mio is excellent for beginners.
Laid P3
Designed to be worn around the penis and testicles (but can also be worn around just the penis), the stretchy Laid P3 cock ring has a unique asymmetrical shape is angled for a better and more stable fit. P3's thicker width provides more stability on your penis and better functionality.
MysteryVibe Tenuto
With 6 powerful motors, Tenuto's unique design stretches and adapts around your penis and perineum for increased blood flow, an extended erection, and prolonged pleasure during solo or partner play.
Tenuto is remote controlled with the free app and can be used in many different positions with your partner.
Perfect Fit Speed Shift
If you are nervous that a cock ring won't fit around your shaft, try an adjustable ring. The Perfect Fit Speed Shift is an adjustable cock ring with a quick release tab and 17 different size adjustments. The .2 inch increments are designed so that every penis can get the perfect fitting ring.
If your Speed Shift is too tight or you are ready to take it off, use the quick release tab for easy removal. The quick release tab also makes this a perfect cock ring for beginners.
Tantus Super Soft
The Super Soft silicone penis ring from Tantus is an excellent cock ring for beginners because it is super soft and very stretchy. Made with 100% ultra-premium silicone, you don't have to put on the penis ring before your erection occurs; the silicone is stretchy enough so that you can put it on anytime.
We-Vibe Pivot
Pivot stretches around the base of your penis with the right amount of pressure to constrict your blood-flow for a better orgasm. Pivot's raised head vibrates so your partner receives clitoral stimulation. Remote-controlled with an app on your phone so you can control it remotely.
PROSTATE MASSAGERS
Aneros Helix Syn Trident
Aneros Helix Syn Trident Prostate Massager is a prostate stimulator that is super comfortable and smooth for a mind-blowing prostate orgasm. Its shape is designed for easy insertion, while also stimulating the perineum. This sex toy for men is great for addition to masturbation or as an added boost during partner play.
Fun Factory Duke
The Fun Factory Duke sex toy for men is an excellent prostate massager to use with a partner: during blowjobs or stimulation. Because of it's unique design, it will stay in place.
A removable waterproof bullet vibrator makes this 2 toys in 1.
LELO Hugo
LELO Hugo is a remote controlled hands-free luxury prostate massager with 2 powerful motors for bigger and better orgasms.
Hugo's motors are located in the tip to stimulate the prostate and in the base to stimulate the perineum for dual stimulation. Hugo comfortably surrounds your prostate with powerful vibrations both externally from your perineum and internally from your anus.
LELO Loki Wave
LELO Loki Wave is a prostate massager with a lots of girth and fullness, two motors, and innovative WaveMotion technology, which curls back and forth in a 'come-hither motion' for a pleasurable prostate massage.
Loki Wave does all the work for you with its 'come-hither motion', while it massages your prostate and stimulates your perineum.
We-Vibe Vector
Vector by We-Vibe is an adjustable vibrating prostate massager and male sex toy with two motors thatstimulates both the prostate and the perineum.
Vector's adjustable head applies firm yet gentle pressure on the prostate, and its base is flexible yet stable while stimulating the perineum.
Njoy Pfun Plug
The Pfun Plug Prostate Massager by Njoy is an ergonomically smooth stainless steel sex toy for men that a delivers firm and controlled prostate massage.
Mirroring the curves of your body, the larger rounded head delights while the second smaller bulb delivers additional stimulation. Whether manually controlled or activated with your own muscles as a hands-free sex toy, the Pfun Plug can be heated or cooled for even more stimulation.
ANAL TOYS
B-Vibe Snug Plug
The Snug Plug is an ultra-comfortable, weighted butt plug. Featuring a unique torpedo shape and thick flexible neck, its soft ridges provide internal stimulation of the anal canal as they move inside the body.
Each Snug Plug provides a satisfying feeling of fullness. Snug Plugs feature progressively heavier weights, ranging from 1.9 oz. grams to 12.3 oz.
b-Vibe Novice Vibrating Butt Plug
Excellent for beginners who want to experience vibration in their anal play exploration, the b-Vibe Novice is a remote-controlled vibrating butt plug. With a powerful motor located in the tip, this tiny anal sex toy has offers lots of pleasure. Made from super soft silicone, the b-Vibe Novice butt plug has 6 vibration speeds and 15 vibration patterns for endless pleasure combinations.
b-Vibe Rimming 2 Butt Plug
The b-Vibe Rimming Plug 2 is a powerful vibrating butt plug that incorporates rotating beads for an intense rimming sensation. The rotating beads can work together or independently of the vibration.
This remote-controlled vibrating anal sex toy also stimulates the prostate, which can trigger full body orgasms.
b-Vibe Triplet Anal Beads
B-Vibe Triplet Anal Beads are remote-controlled vibrating anal beads with two powerful motors that are tapered and flexible for easy insertion and comfort.
They are excellent to use during masturbation and the remote control make it very easy to use. Beginners can start by inserting one bead and work their way up to all three beads.
Fun Factory Bootie Ring
The Fun Factory Bootie Ring combines the erection-boosting power of a cock ring with perineum massage, awesome anal stimulation, and some light prostate play for an amazing orgasm. As you move, your motion will tug gently on the toy, sending waves of pleasure from the base of your penis to your prostate.
The Bootie Ring is perfect for extra-curious beginners and advanced users. Use it for solo play or with a partner for the kind of orgasms that only happen when you're hitting multiple erogenous zones at once.
Njoy Pure Butt Plug
The Njoy Pure Plug is a stainless steel butt plug with a bulbous head, a narrow stem, and loop handle for easy insertion and removal.
Cast in 316 medical-grade stainless steel, Njoy Pure Plug is a heavy sex toy retains heat and cold beautifully for temperature play.
PENIS EXTENDERS
Bathmate Hydromax Hydropump
Make your penis longer with the Bathmate Hydromax Hydropump. This penis pump and sex toy for men utilizes water pressure (versus air pressure), which is a much stronger and more consistent method to increase performance, draw blood into the erectile tissue, and kick-start your body's lymphatic system.
Perfect Fit Fat Boy
The Perfect Fit Fat Boy is a penis extender that adds girth and length to your penis. The Fat Boy sleeve is a comfortable hollow strap-on that gives your penis that extra girth or length without it being too large for your partner. It is ultra-real feeling and super strong. The Perfect Fit penis sleeve is also excellent to use if you have trouble staying erect.
Fat Boy sex toy for men stays in place by hooking onto your scrotum with the opening hole at the base of the sheath. This also gives you a pleasing pull on your scrotum for more pleasure during masturbation or penetration.
Vedo Penis Pump
The Vedo Penis Pump does all the work for you! This penis enhancement pump and sex toy for men uses an automatic vacuum system to gently, safely, and gradually draw blood into the shaft of your penis, causing it to swell and become erect for stronger and firmer erections!
With 7.15 pounds of force per square inch, you will enjoy thicker and harder erections. Using negative pressure, the Vedo Penis Pump helps send blood to your penis, increasing the size and quality of your erection. A tight seal at the base of the pump, helps to keep blood in the penis shaft.