Posted by Sexual Health Educator on 25th Jul 2022
Best New Sex Toys | Buy high quality luxury adult sex toys for men, women, and couples at My Secret Luxury, your luxury adult store. Free discreet shipping.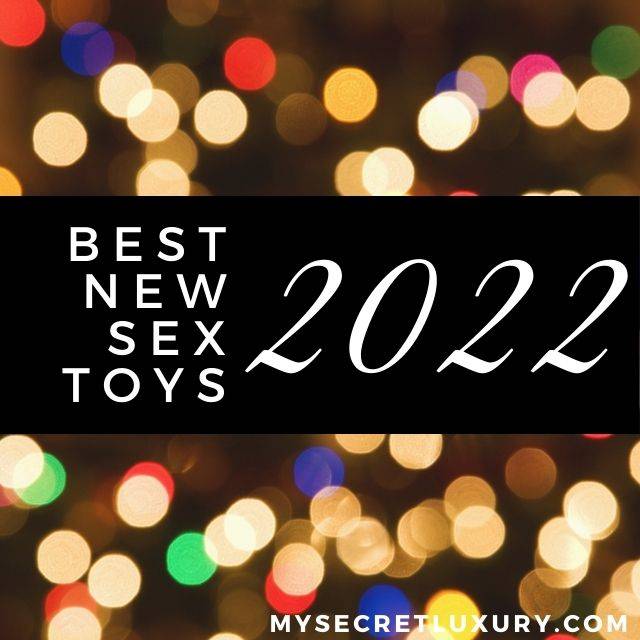 ---
This post was last updated on July 25, 2022 at 1:47 p.m.
Sex toys, whether used alone or with a partner, just keep getting better and better.
There's no better time to buy high quality luxury adult sex toys and products than in 2022! Before we share our list for the best sex toys in 2022, we want to remind you of a few things.
---
Sex toys are just another way to experience pleasure.
YES! You Need to Use Lubricant!
Lubrication during sexual play is important. That is because lube makes sex BETTER and makes sex more comfortable. The act of sexual intercourse often creates friction. If there is not enough lubrication, small tears could occur in the vagina, which could increase the risk of urinary tract infections, STIs, and other types of infections.
Just as important, lube makes sex much more pleasurable. Every sensation is enhanced which will allow you to feel every movement at a heightened level.
For anal play, lubrication is a must. Unlike the vagina, the anus does not produce natural lubrication. Therefore, lube is necessary. Plus, lube makes anal play more comfortable. Anal lubricant, which is thicker than regular lubricant, stays on the skin longer and provides a more comfortable feeling by reducing friction and sensation.
If you are using sex toys, it's always smart to use personal lubricant. Toys tend to dry up as they are exposed to air, making for uncomfortable re-entry.
Most of the time, our bodies produce enough natural lubricant to be comfortable everyday. However, if you are having sex or using toys, you may need more than what nature provides, especially if you are experiencing hormonal changes, on medications or experiencing stress.
Using personal lubricant is not a sign of a broken body or a failed libido. Instead it's the most normal thing in the world.
Clean Your Sex Toys Before and After Each Use!
It's very important to clean your luxury sex toys before and after each use. Regular soap and water can leave a residue and potentially change your pH making you even dryer. Luxury sex toys should be washed with sex toy cleaner.
Why not use soap? Soap can leave a residue that might affect your pH if you have a vagina. Plus, using an anti-bacterial toy cleaner is better for you and your toy.
It's just as important to store your sex toys properly, which will extend the life of your toys and prevent damage.
Never store your sex toys together. Sex toy materials, especially the less expensive materials, can react badly towards each other. So, it is best to keep it safe and not let any of your toys touch one another.
Most luxury sex toys come with their own storage bag. However, if yours does not, you can store them in socks or in something specifically designed for sex toy storage.
---
REMOTE CONTROLLED VIBRATING BUTT PLUG: PLEX WITH FLEX BY HOT OCTOPUSS
PRICE TAG:
$99
(Free discreet shipping)
PleX with Flex is a customizable and remote controlled vibrating butt plug with a unique flexible base that uses Hot Octopuss' patented Treble and Bass Technology.
Unlike conventional butt plugs that are rigid, PleX with Flex is designed to fit your body with extra comfort. Offering the ultimate comfort and targeted prostate stimulation, PleX features a flexible base that bends up to 90 degrees.
Ergonomically designed for comfort and vibration transfer, PleX with Flex is perfectly sized for all levels of experience. PleX features a smooth bulb shape that is tapered to deliver orgasmic vibrations to your booty as well as pinpoint prostate stimulation for those looking for incredible prostate play.
PleX has 2 powerful motors. The Treble motor at the tip emits powerful high-frequency waves, while the Bass motor in the body delivers deep, rumbly vibrations. Adjust the Treble and Bass to find your perfect customized frequency.
PleX with Flex includes a remote control, enabling seamless switching between settings without ever needing to touch the toy.
APP CONTROLLED VIBRATING BUTT PLUG: LOVENSE HUSH/HUSH 2
Available in several sizes depending on your experience, Lovense Hush vibrating butt plug is a very powerful vibrating anal toy that can be controlled by your smartphone for close-range or long-distance play.
Sleek and smooth
Designed for comfortable short or long-term wear
Neck was designed to NOT move during use
Optimized base is comfortable, but flared enough to ensure it's safe
The Hush anal toy has rumbly vibrations and is extremely powerful compared to other anal toys. Hush can be customized to a wide range of vibration levels. The app allows you to choose a power level which matches your individual needs.
Booty Beads are the most flexible anal toy. A sequence of beads connected to a strong powerful motor bend and flex in every direction while providing powerful vibrations from end to end.
Bring Booty Beads into the shower or bath for extended play thanks to their waterproof capabilities. Premium silicone and bending action make this toy super easy to clean and maintain. Booty Beads are also rechargeable and have a travel lock.